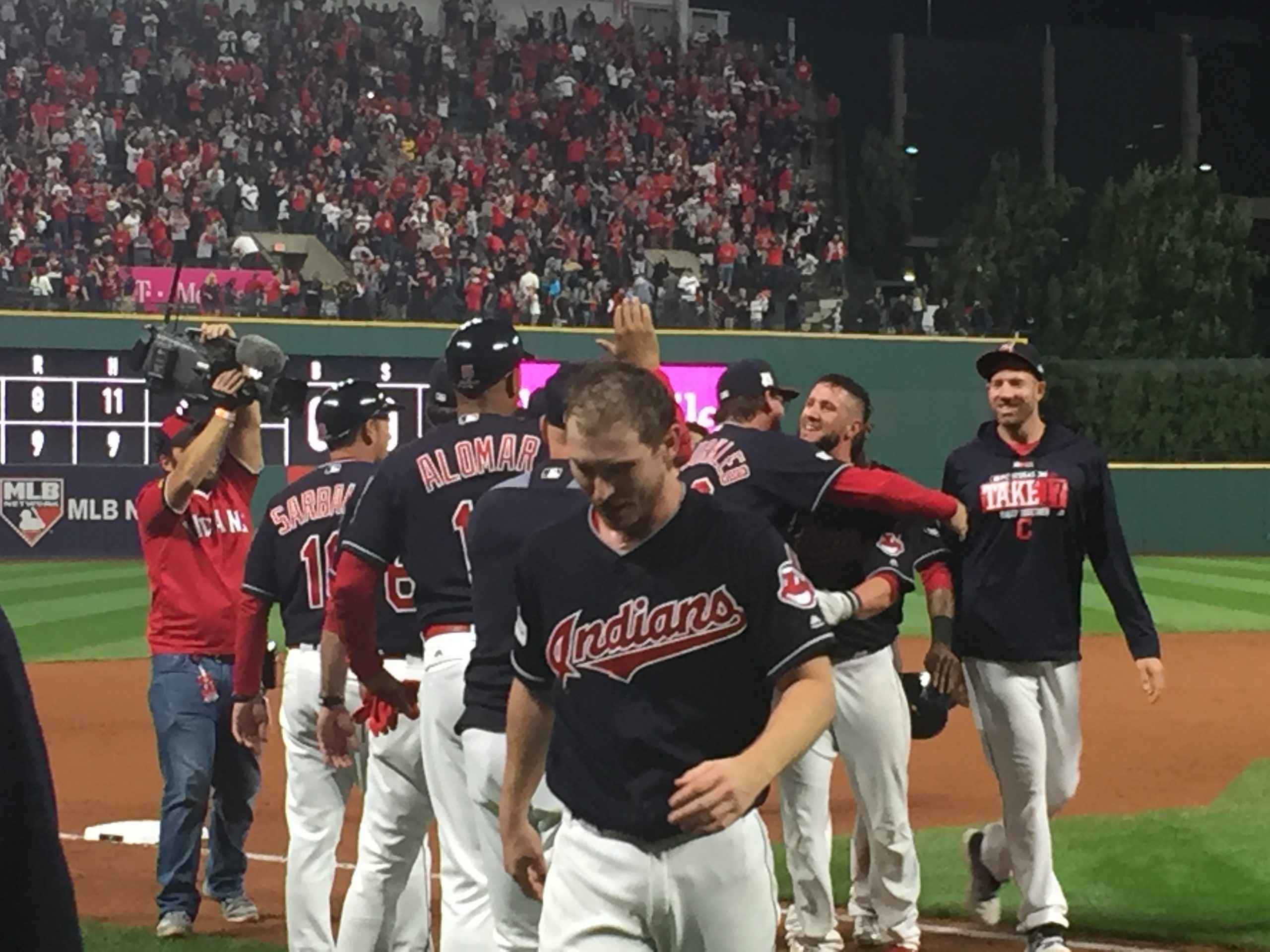 CLEVELAND– For the back half of the 2017 MLB season, it seemed as if the Cleveland Indians had forgotten how to lose.
In the final three games of their ALDS series against the New York Yankees, it seemed as if the opposite was true.
Rather than playing in Game 1 of the American League Championship Series on Friday, the Indians saw their season come to a crashing halt on Wednesday night after losing their third straight game to the Yankees.
"Nobody wanted the season to be over," manager Terry Francona said. "It doesn't wind down. It comes to a crashing halt."
In the hours since their unexpected Game 5 loss, questions like "Why?" and "How?" have permeated the air. The short answer is that the last three games felt like a series of worst case scenarios.
The bats went silent. The presumed Cy Young winner wasn't himself. The defense made mistakes that should be reserved for Goodyear, Ariz. in spring training.
For five games, the team had a combined .171 batting average. The top of the order, it seemed, couldn't buy a hit. Francisco Lindor went just 2-for-18 in the series. Jose Ramirez was 2-for-20. Jason Kipnis was slightly better at 4-for-22. Edwin Encarnacion didn't record a single hit, but granted, he only had seven at-bats after missing three games with an ankle injury. In his place, Michael Brantley was just 1-for-11 at the DH position.
"They pitched well, they made adjustments, and we didn't," Lindor said. "I didn't make the adjustments. You don't win when you don't make adjustments. It's tough. … When I had people on base I didn't come through, I didn't help my team."
For the second straight game, it also didn't help that Corey Kluber was not himself.
Through two starts in the 2017 Postseason, Kluber posted a 12.79 ERA in six and one-third innings of work, while giving up 10 hits, nine runs, and four homers. Two of those homers that came from Didi Gregorius in Game 5 were good for three runs, and ultimately, enough to win the game and the series.
The lack of efficiency has led many to speculate that Kluber was injured, as he looked like a shell of his usual self.
"I don't want to get into details right now," Kluber said after the loss. "I was healthy enough to go out and pitch."
And while the pitching wasn't the same as it was during the regular season, the team also lacked defensive efficiency. The team that made the fewest errors in the American League this season made seven in the final two games of the series.
"It's tough, it's disappointing because I think a lot people expect big things from us, and we just didn't play good baseball the last three games," catcher Roberto Perez said. "They did a pretty good job of taking advantage of our errors and that was the game, we beat ourselves."
"We know what we're capable of, we're capable of beating anybody, but this series we weren't, they outplayed us," Andrew Miller said. "It stinks to have to think about going home, working out, and getting ready for next year and do it all again, because it's a grind to get here."
Ultimately, the unexpected halt to the 2017 season will leave players and fans with a lot of unanswered questions and a lot of 'what ifs' well into spring training.
The 2017 Indians had the weight of a city's expectations on their shoulders, given all of their accomplishments in the regular season. One hundred and two regular-season wins. A 22-game win streak. Reaching 2 million tickets sold for the first time since 2008.
But despite all of the accomplishments, and all of the draw, the Postseason showed just how cruel it can be.
"This game's tough, this game is a lot tougher than people make it out to be," Jason Kipnis said. "I think when you have that season, over 100 wins, it makes it that much harder when you don't finish the job. We know what we're capable of, the fans know what we're capable of."
And yes, the team relinquished a huge series lead for the second straight year. But it doesn't matter that in 2017, the Indians are heading home in the first round after holding a two-game lead, rather than after holding a 3-1 lead in the World Series.
"You don't want to lose, it doesn't matter if you lose in the first round, second round, third round," Lindor said."It just so happens that in the past two years we have gone on a three-game losing streak to finish the season. It's tough. I continue to say we'll learn from it and I believe we have a great group of guys here. I love every one of them."
The Cleveland Indians no longer have October, but they once again have the promise of next year.

NEO Sports Insiders Newsletter
Sign up to receive our NEOSI newsletter, and keep up to date with all the latest Cleveland sports news.