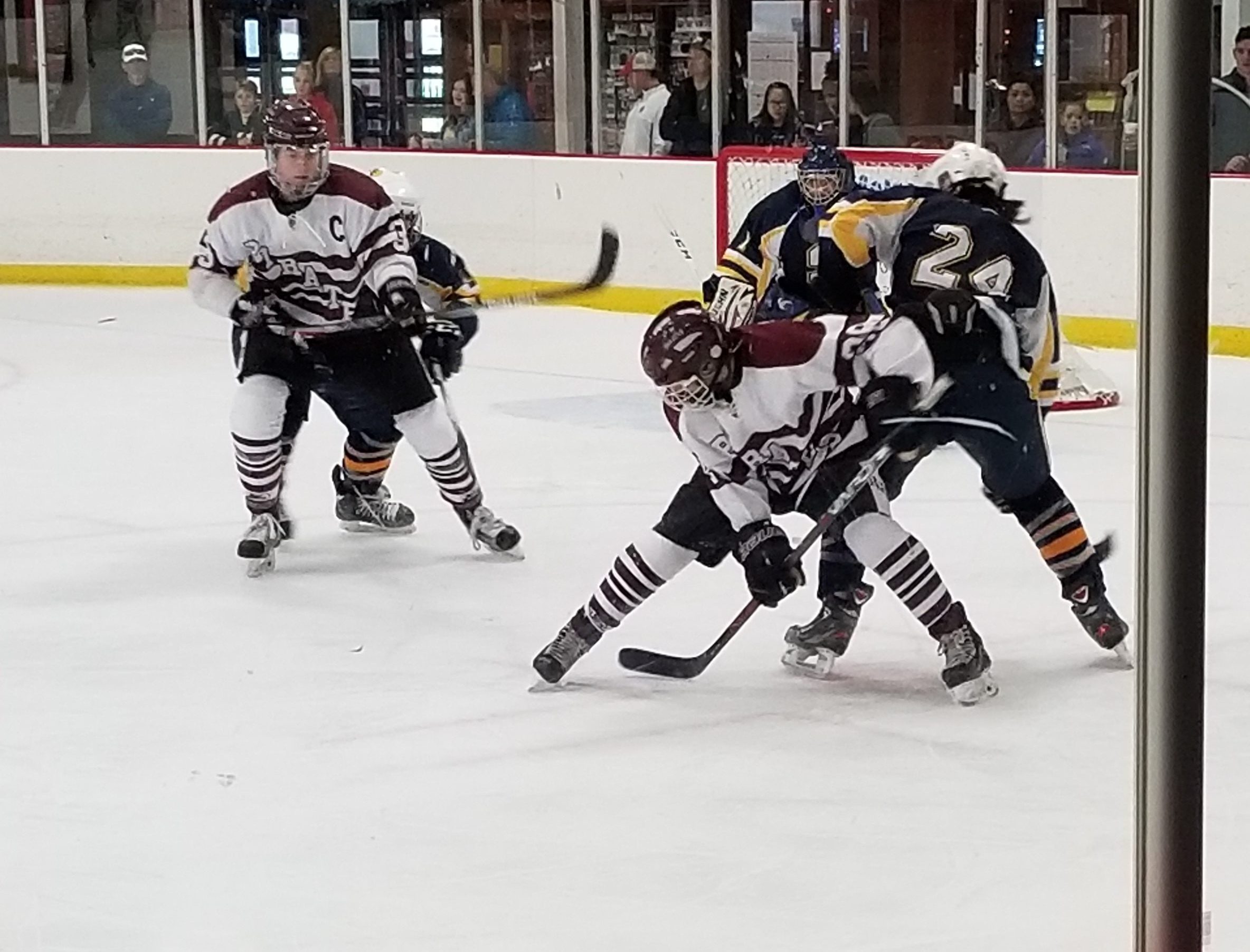 ROCKY RIVER, Ohio- The high flying Rocky River Pirates playing at home against the hard-hitting Hudson Explorers.  This game was a thrilling ride.  The Pirates scoring right out of the gate at the 13:10 mark off a rebound shot goal by team captain Teddy Stueber on the power-play. Rocky River in the first period continued to pound shots on Hudson goalkeeper Wicolas Tomasulo within minutes of the Pirates scoring their second goal still in the first period. Hayden Wewer scored the goal with a wrist shot, with Aiden Dempsey on the assist.
Rocky River consistently won the face-offs. , keeping the puck over in Hudson's side of the ice. Hudson was more aggressive physically with big checks from Blake Lori and Brady Ludwig. Hudson didn't get their first shot to the goal until 6:34 mark.  In the first period, 10 seconds later, a penalty on Hudson's Matthew Robert gave Rocky River the second power play of the game. The penalty resulted in a breakaway goal to Brady Ludwig all alone. Hudson's biggest mistakes was in losing the majority of the faceoffs and not clearing the puck out of their side of the ice.  Hudson continued to let their goalie be screened by the Rocky River offense.  Not taking shots on the goal was the biggest reason Hudson lost this game.
With forty-five seconds left in the first period, Rocky River's Aiden Dempsey scored his second goal of the game. The Dempsey marker would be the last goal of the game for Rocky River.  The second and third periods were mostly the same, but Hudson made a goalie change. William Hannon played lights out the rest of the game, not letting Rocky River score for the rest of the game with 33 saves.
Rocky River's defense almost had a shutout with 1:17 left in the game but forward Eric Halford scored the only goal for Hudson.

NEO Sports Insiders Newsletter
Sign up to receive our NEOSI newsletter, and keep up to date with all the latest Cleveland sports news.