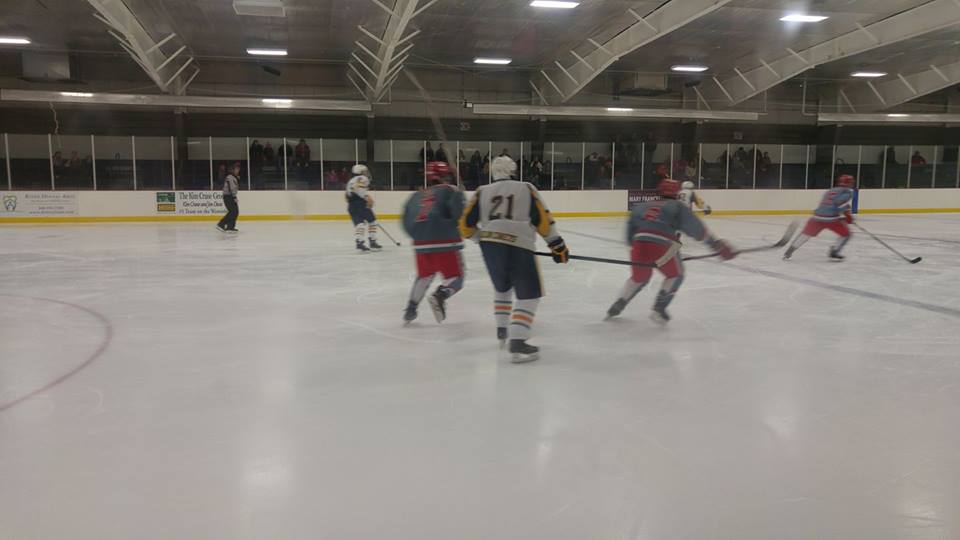 After three straight blowouts began the day at the Tim Alexander Memorial Tournament, Solon and Mentor would engage in an instant classic.  A battle of wills that saw 4 lead changes, 4 ties, and in the end, a goal by Nicholas Wu with 36 seconds left to win the game for Solon 4-3.
Solon goaltender Michael Nagy was kept busy early and often in this one as the Mentor Cardinal attack peppered him with some serious shots.  Nagy played well in the first period, and kept the Cardinals at bay.  He carried that theme with him the rest of the game as well.  A stout effort by Nagy.
It wasn't until a power play with 11 seconds to go in the first period, that the Mentor Cardinals finally broke through to tie the game at 1.  Solon had scored earlier on an incredible slapshot from the blue line by William Furlong.
The second period would feature several hard shots and roughing penalties were called.  Solon would take advantage of one of the roughing calls, and use the power play advantage to score and reclaim the lead at 2-1 with a little over 12 minutes left to play in the period.
Mentor was not to be detoured however and kept the constant pressure on Nagy.  The shots from the Cardinals came at a wicked pace and they quickly went on a run and took a 3-2 lead.  Solon continued to show their heart as well, tying the game again, this time at 3-3 as the second period came to an end.
The third period once again saw Mentor take the lead at 4-3, before Solon quickly answered with a power play goal to make it 4-4 with just under 10 minutes left to play.  The play was ultra-physical and the hard hits just kept coming.
With just over three minutes to go, the game remained tied as the intensity continued to increase.  90 seconds to go, still tied as the fans rose to their feet and it became a madhouse.  Both teams leaving it all on the ice.  Solon would have just enough, to edge out Mentor in the end for the 5-4 victory.
Box Score
Mentor 1 2 1 = 4
Solon 1 2 2 = 5
Scoring Summary
Solon Goal. Period One. 8:29 by William Furlong.  Unassisted
Mentor Goal. Period one. 0:11 by Alec Weaver. Unassisted
Solon Goal. Period Two 12:02 by Mikey Rapposelli.  Unassisted
Mentor Goal. Period Two 8:09 by Alec Weaver from Jack Perish.
Mentor Goal. Period Two 6:32 by CJ Will from Zach Burke.
Solon Goal. Period Two 1:39 by Charles Gortz from William Furlong.
Mentor Goal. Period Three 11:09 by Adam Contorno from Kyle Backston
Solon Goal.  Period Three 9:40 by Charles Gortz from William Furlong.
Solon Goal. Period Three 0:36 by Nicholas Wu.  Unassisted
Power Play Summary
Solon 4:58 Period One. Failed to convert.
Mentor 1:02 Period One.  Converted.
Solon 13:47 Second Period.  Converted
Solon 10:42 Third Period. Converted
Mentor 6:57 Third Period. Failed to convert.

NEO Sports Insiders Newsletter
Sign up to receive our NEOSI newsletter, and keep up to date with all the latest Cleveland sports news.