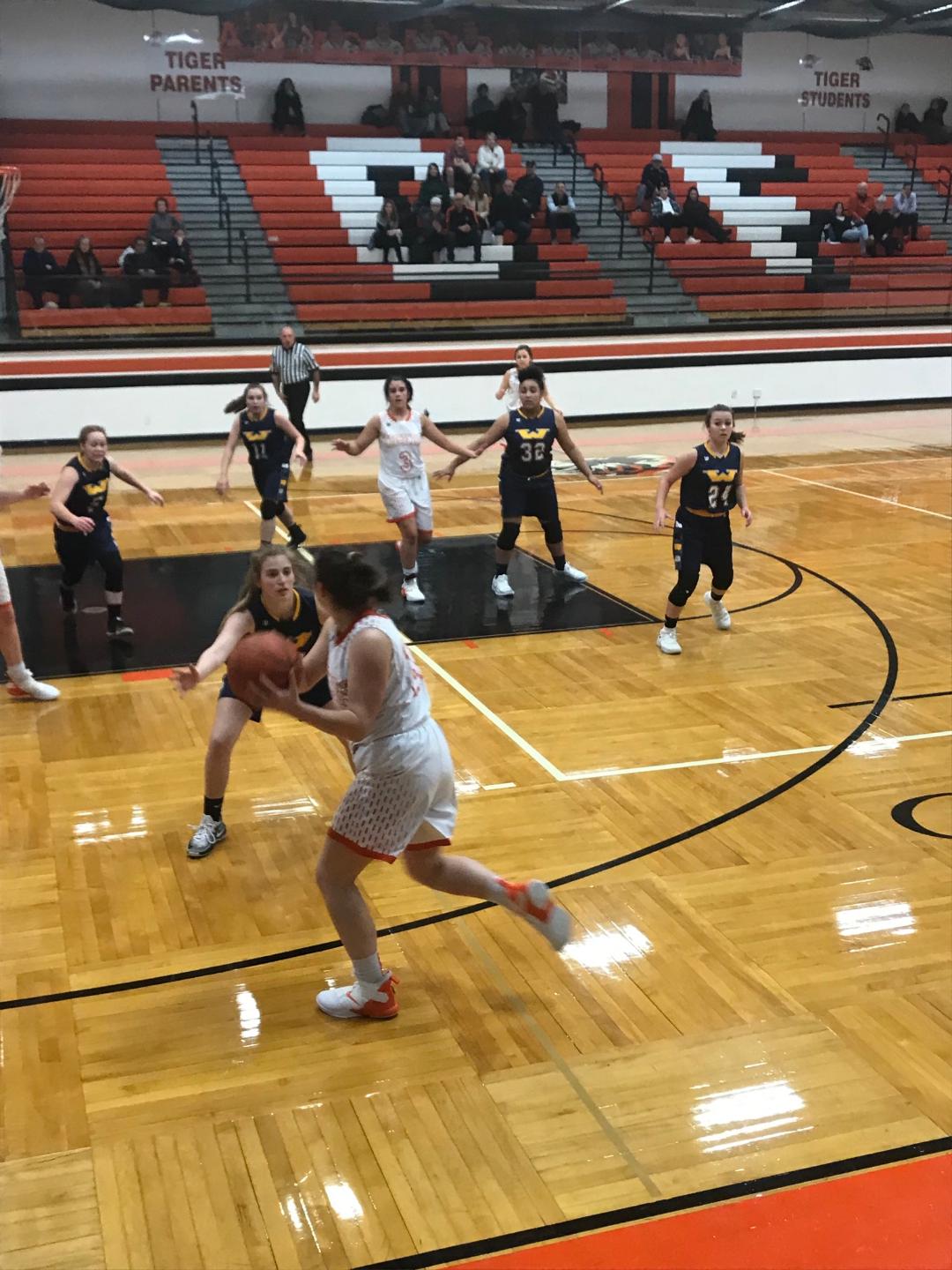 By Anthony Alandt
CHAGRIN FALLS, OHIO – The Chagrin Falls girls basketball team walloped the Wickliffe Blue Devils 62-25 in front of their home crowd. The Blue Devils now fall to a 2-10 record that has landed them seventh in their division.
Chagrin was led by Junior Bella Dalessandro who went for 14 points. She was helped along by her fellow junior Carolyn Bencko who chipped in another 14 points, 6 of which came from behind the arc.
Eleven different Tigers scored points in the decisive win over Wickliffe, whose majority of points came from junior Stephanie Martin, who went for 9 points.
The Tiger girls jumped out to a commanding lead and ended the first quarter up an astounding 19-3 and never really let up from then on.
Head coach Brittany Anderson used a man-to-man method on the defensive end of the ball that led to stopping anything of substance that Wickliffe tried to get going.
The Blue Devils were out hustled in the first quarter, losing many battles for offensive rebounds and repeatedly getting beat to lose balls.
Senior Sierra Chase was the only Wickliffe player to score a point in the first quarter, a three that came with just four ticks left in the first quarter.
Wickliffe came out of the brief break in a 2-3 zone, as coach Anthony Wilson tried anything to stop the lady Tigers from scoring.
This effort was to no avail, as Chagrin continued to rain down points on the Blue Devil's defense and the first half ended with Chagrin Falls up 32-9.
Chagrin senior center Lydia Thombs chipped in a helpful 8 points and overmatched the Wickliffe defenders for rebounds on either side of the court.
Almost every Blue Devil that drove to the hoop was met by no less than three orange and white jerseys and were no match for the 1-on-1 that Chagrin stuck with throughout.
A combination of missed shots by Chagrin Falls and very few open looks for Wickliffe led to the first points coming after three minutes of scoreless play to start the second half off a layup from Wickliffe junior Bridget Burkett.
Entering the final quarter of play, Chagrin was up 54-16.
The fourth quarter was essentially a wash, and finished with a few underclassmen from Chagrin getting some valuable playing time.
Chagrin has now won their third straight game and moves to 12-3 on the season. They will square off against Orange High School home on Saturday the 19th.
Wickliffe now moves on to an away game versus Cardinal on Saturday in hopes to get back on the winning side of things.