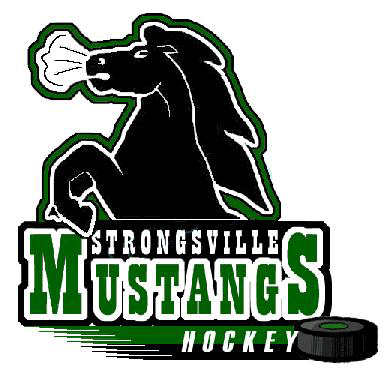 By: Jaret Andrews
BROOKLYN, Ohio- The nightcap of this action-packed day of hockey saw the Strongsville Mustangs taking on the Green Wave of Holy Name. Strongsville is coming off of a dominant effort against the Rangers of Lakewood. The Mustangs blew out Lakewood 6-0. Strongsville has yet to give up a goal this tournament, also shutting out Benedictine 4-0 in the opening round. Their opponent, Holy Name, also haven't conceded a goal this tournament, so something had to give. The Green Waves have outscored their opponents 21-0 so far this tournament. Beating Garfield Height 11-0, and then defeating Parma 10-0. Holy Name's high powered attack allows them to compete with anyone in the state. And Strongsville's grit keeps them in every contest they are in. The winner of this one will move on to play St. Eds In the next round.
The defense of these two teams was on display through the first period. Strongsville decided to go with Luke Bell between the pipes in this game, despite Clay Larissey pitching a shutout in the Mustangs previous game. This decision paid off for Strongsville. Luke Bell made some of the most impressive stops of the tournament that I have seen. Turning back 10 shots from the Green Wave attack. But not to be outdone, Ross Conforto for Holy Name was just as impressive. Conforto turned away 11 shots in the first. In the most evenly matched period of hockey of the tournament so far, both teams had power-play opportunities. Both teams weren't able to convert due to heroic efforts from both goalkeepers.
The second period saw more even play between both teams. Both teams had 11 shots on goal, but the major difference? Luke Bell had 11 saves and Ross Conforto only had 9. The Mustangs were able to take the lead off of a perfectly executed break. Logan Schramm found the back of the net (assisted by Schuette and Rajecki) at the 2:47 mark of the frame. The teams continued to trade possession back and forth. While on another break, Strongsville's Greg Williams rebounded his own miss to push the Mustang lead to 2-0 with 5:30 to play in the period. 2-0 would remain the score going into the third period. With Luke Bell balling out between the pipes, getting back into this game proved to be a tall order for Holy Name.
The Namers came into the third period with something to prove. They went on the attack early and often. Tyler Guarniere finally got one by Bell, cutting the lead in half. After a Holy Name player took a shot at Bell after a glove save, the Mustangs came to their goalie's defense. A scrum ensued which saw two Mustangs and two Green Waves go to the box, giving the Mustangs a 5-4 advantage. After a dreadful power play, Strongsville conceded another goal, this time Patrick Ehlert. That goal tied the game with 1:31 to go, and completely shifted all of the momentum into Holy Name's corner. That lead The Namers game-winning goal. The Green Wave took the lead about 30 seconds later thanks to a top-shelf wrister from Guarniere. And with 56 seconds to play, Strongsville had no rebuttal, falling to Holy Name 3-2. These two teams looked evenly matched on paper, and their play definitely didn't disappoint. Hats off to both teams on an exciting and suspenseful matchup. It was a true pleasure to watch. Holy Name will move on to play St. Edwards on Saturday.

NEO Sports Insiders Newsletter
Sign up to receive our NEOSI newsletter, and keep up to date with all the latest Cleveland sports news.