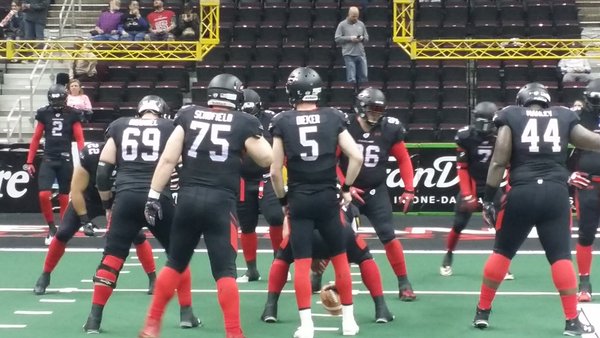 From the moment the Gladiators kicked off to start the game, things didn't go as planned. It took Philly less than 2 minutes to move down the field and score an easy touchdown. Philly completely dominated the first quarter and ending it with a 21-7 lead where Cleveland QB Chris Dieker had 2 interceptions and was held to only 1 touchdown to Dominick Goodman after a 33 yard run. Dieker was hit multiple times in the first quarter due to lack of support from his offensive line.
The second quarter was more of the same as the first. Philly added 5 more touchdowns with Dan Raudabaugh throwing for 2 more scores and Dieker threw 3 more pick six's. DB Joe Powell for Cleveland picked off Raudabaugh for a pick six of his own to give the Gladiators hope of a comeback. The first half was ugly as the game seemed to get out of hand for the Glads as Philly completely beat them on all fronts and led at the half 55-21.
The Glads started the 3rd quarter with a solid drive to once again give the team a glimpse of hope for a possible comeback as Larry Beavers ran in a 4 yard score. Powell picked of Raudabaugh for his second pick six of the night that cut the lead to 55-34. Darius Reynolds, who had a decent game, found the endzone for his 3rd touchdown and once again put the Soul up 62-34
With 11:06 left in the game, the Gladiators get an early score from Dieker running the ball in the endzone from the 1 yard line. The Glads attempted an onside kick by Adrian Treviano and it was recovered by Cleveland and scored but an illegal touching penalty brought the ball back to the nine yard line for the Soul and yet another score for Raudabaugh put the Gladiators in a 69-41 hole. Dieker was hit hard and left the 4th quarter due to injury and Luke Collis came in to finish off the game but by then the game was all but over and the Soul spoil the home and season opener for the Gladiators and hand them a 69-41 loss.
Raudabaugh finished 21-33 233 yards with 7 TD and 2 int. Reynolds ended the night with 8 catches for 79 yards and 3 TD. Dieker was 19-35 with 2 TD and 4 int. Goodman finished with 77 yards and 1 TD. Philly moves to 1-0 and the Glads are 0-1. Cleveland hosts Tampa bay and Philadelphia plays Jacksonville in Philly.

NEO Sports Insiders Newsletter
Sign up to receive our NEOSI newsletter, and keep up to date with all the latest Cleveland sports news.