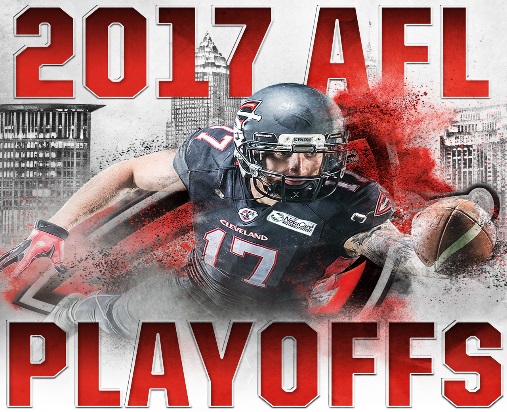 CLEVELAND – The AFL's Cleveland Gladiators, proudly presented by Unique Home Solutions, announced Tuesday that the team has clinched a berth in the 2017 AFL Playoffs, alongside the Philadelphia Soul and Tampa Bay Storm. Included below is the AFL's updated Week 17 Playoff Picture.
CLINCHED – Philadelphia Soul (Clinched home field advantage), Tampa Bay Storm, Cleveland Gladiators
Baltimore Brigade (4-8) can clinch a playoff berth:
With a Baltimore win
With a Washington loss
(Due to an oversight in the AFL Playoff scenarios, Baltimore was misinformed that they had clinched a playoff berth earlier this week.)
NOTE: With the possibility of Baltimore, Cleveland and Washington finishing the regular season with a 4-10 record, please note the tiebreaker procedure in that scenario according to the AFL Operations Manual: Section 5 – Playoffs and ArenaBowl.
REMAINING POSTSEASON SEEDS (#2 – #4) – THREE OR MORE TEAMS:
(Note: If three or more teams are tied, follow steps until one team is eliminated.
Once two teams remain, revert back to Step 1 of the two-team tiebreaker to
determine who advances.)
Head-to-head (best winning percentage in games between the clubs)
Strength of schedule
Best net points in all games
Coin toss
Criteria #1 (as of Week 16)
Cleveland        3-2*     (.600)
Baltimore        3-3       (.500)
Washington     2-3       (.400)
(* By virtue of this tiebreaker scenario, the Cleveland Gladiators have clinched a playoff spot since they cannot finish below Baltimore and Washington)
REMAINING 2017 AFL SCHEDULE
Week 17 – July 29
1:00 p.m. – Philadelphia Soul (11-1) at Baltimore Brigade (4-8) on AFLNow & Twitter
7:00 p.m. – Cleveland Gladiators (4-9) at Washington Valor (2-10) on CBS Sports Network
Week 18
August 4 – 7:00 p.m.– Washington Valor at Baltimore Brigade on AFLNow
August 5 – 7:00 p.m. Tampa Bay Storm (10-3) at Philadelphia Soul on CBS Sports Network
All times Eastern