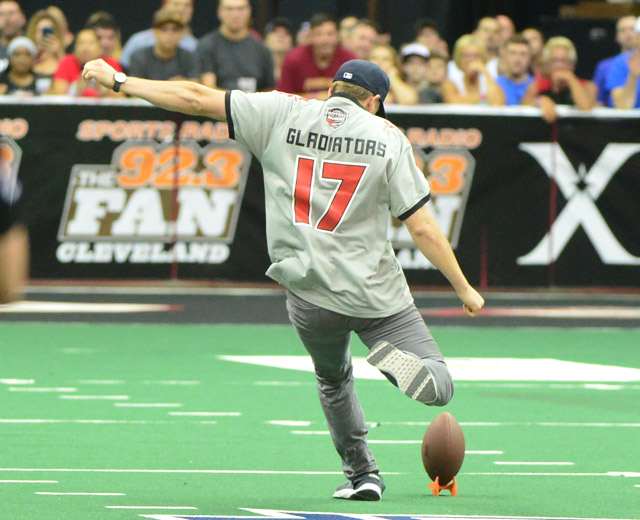 GLADIATORS ANNOUNCE "KICK FOR YOUR SEATS" PROGRAM FOR
2018 GLADIATORS FOOTBALL ALLIANCE MEMBERS
All fans placing a $50 initial payment per seat toward 2018 season tickets will have the opportunity to kick a field goal on the turf at The Q to win their seats for free! 
CLEVELAND – The AFL's Cleveland Gladiators, proudly presented by Unique Home Solutions, announced Thursday that all fans placing an initial payment of $50 per seat toward a 2018 Gladiators Football Alliance membership will have the opportunity to win their seats for free through the team's newly-unveiled "Kick For Your Seats" Program. 
Fans making their initial payment and setting up a monthly installment plan for a minimum of two seats for the 2018 season will have the opportunity to attempt a field goal from the 20-yard line at The Q on one of two non-game dates (Thursday, June 29th or Tuesday, July 11th). Fans with two seats will receive the opportunity to kick once, fans with four seats will get to kick twice, while those with six seats will receive three kick attempts, and so on.
With each successful kick worth the value of two seats, based on the amount of seats on their account and their number of kicks made, fans will have the ability to win a portion or all of their 2018 seats for free. Kicks will be made by the primary Gladiators Football Alliance account holder. If the primary account holder is physically unable to kick, an immediate family member may kick on behalf of the primary GFA member.
New Gladiators Football Alliance members also receive an exclusive member jersey, free tickets to the remaining 2017 Gladiators regular season home games and more. For more information on the Gladiators' "Kick For Your Seats" Program, visit ClevelandGladiators.com.
—————————————————————————
Tickets for every Gladiators home game start at just $10 and are on sale now! Full and partial season ticket memberships are also available and provide you with the best seat locations, custom member benefits and the lowest ticket prices. All tickets can be purchased by visiting ClevelandGladiators.com, calling (216) 420-0000, visiting The Q Box Office or any Northern Ohio Discount Drug Mart. Be sure to follow the Gladiators on Twitter @clegladiators, or on Facebook at www.facebook.com/clevelandgladiators.
There are two more opportunities for fans to experience the Gladiators Tailgate Zone during the remaining home games of the 2017 regular season as the team hosts "Go Pink Night" on Saturday June 24th and "Fan Salute Night," presented by the Brew Kettle, on Saturday, July 8th. Fans can purchase all-inclusive Tailgate Zone tickets for only $49 by visitingwww.clevelandgladiators.com/tailgatezone or by calling (216) 420-2550.
The Cleveland Gladiators are part of the Cleveland Cavaliers and Quicken Loans Arena organization and also owned by a group led by Cavaliers Majority Owner and Quicken Loans Founder and Chairman Dan Gilbert. The group also owns and operates the Cleveland Monsters of the American Hockey League playing at Quicken Loans Arena and the Canton Charge of the NBA G League playing in nearby Canton, Ohio at the Canton Civic Center.