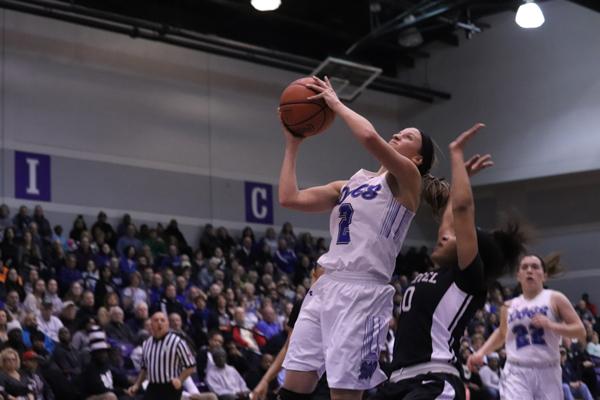 By Paul Ross
Photography: NEOSI / Opique
For Akron Buchtel going up against top ranked Poland Seminary in the final OHSAA DII State Poll was always going to be a challenge on paper.
The Lady Griffins have shown throughout this season they are ready to face challenges as they did with their comeback victory over Norton to win their first District Title in nearly 30 years.
Poland Seminary was a new and different test.
On the season Poland Seminary was (25-0) and looking to stay undefeated as it looked to move one step closers to Division II State Final Four. The first quarter was a feeling out process for both teams.
With 2:33 Left in the 1st quarter Buchtel held its largest lead at 11-7.
But Poland Seminary would go on an 7-0 run to end the quarter at 14-11.
With Junior Javaan Rogers of Buchtel and Junior Kailyn Brown of Poland Seminary each pacing their respective teams with four points each.
Akron Buchtel was handling the full court press and converting it chances despite the fast pace. Early in the second Rogers picked up her second foul and had to go to the bench.
Without one of their top players and primary ball handlers, the Lady Griffins started to see all the hard work from the first quarter fade away as Poland Seminary went on to out score them 13-1 in the second quarter.
A number of unforced turnovers in the quarter lead to the halftime advantage for Poland Seminary at 27-12.
Akron Buchtel (19-6) showed the heart of a champion and never backed down despite the odds.
The Lady Griffns out scored Poland Seminary 13-11 to end the third quarter behind six points from Senior Imani Jackson at 38-25.
The great play from Brown and Senior Sarah Bury continued into the fourth. Poland Seminary (24-0) Closed out the 4th quarter with a 21-13 advantage.
In the 4th the quarter the Bulldogs made 11 /17 free throws to remain undefeated.
Final Score
Poland Seminary 59 – Akron Buchtel 38
Leading Scorers:
Poland Seminary
K. Brown – 15
S. Bury – 14
M. Kluchar – 8
Akron Buchtel
I. Jackson – 13
J. Rogers – 10
D. Nash – 6
Notes: Poland Seminary (24-0) Vs. Akron STVM (17-9) on 03/08/2019 at 7:00pm at Barberton HS