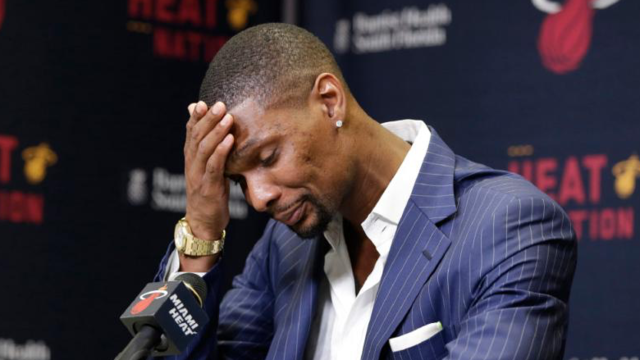 Feb. 9 will be a milestone day in the NBA.
No, it's not the beginning of all-star weekend. Nor is it the famed trade deadline.
Feb. 9 will mark one year to the day that Chris Bosh last played an NBA game for the Miami Heat. This means that Feb. 9 is also the first day that the Heat can exercise the Injury Exclusion Clause.
In other words, the Heat will be able to waive Bosh, and if he never plays an NBA game again, the money it pays him will never count against their salary cap situation.
But what if he does play again? In his last two seasons, Bosh averaged 20 points and seven rebounds per game. This season will be the first since 2005 he won't be named to the All-Star game. He was also the focal point of the pick and roll defense that made the LeBron James Miami Heat teams so successful.
So why wouldn't an NBA team take a flyer? Because of the risk involved, teams could get a top-flight player (assuming he's still close to the player he was) for next to nothing. Doctors will ensure he is ready to play before their team signs him, and if it pans out, you get to screw the Heat's salary cap situation in the process.
In today's NBA, Bosh is as valuable a player as you can find. Bosh is capable of being a primary option offensively, and he's athletic enough to guard smaller players on switches.
He was never a great rim protector—even in his "Heatles" heyday, he allowed opponents to shoot 58% within six feet of the rim. But his competence guarding switches is far more valuable. You can find a seven footer capable of successfully deterring drives to the rim on most NBA benches, but many of them can't play for extended periods in the small-ball era.
Let's say you're the Spurs. One of your main problems is your starting center (Pau Gasol) brings offensive versatility and silky passing but is a liability on defense. But your backup (Dewayne Dedmon) brings all the defense without the offensive skill set of Gasol.
Bosh won't protect the rim like Dedmon or pass quite as well as Gasol, but he's as close as you'll get to an available hybrid of the two. He would immediately become coach Gregg Popovich's most playable center against the Death Star Warriors.
Or maybe you're the Toronto Raptors. Man, if only you could find a small ball center that gives you a deadly lineup to match the Cavs' fire power. But you also need him to be able to defend either Channing Frye or Kevin Love in the Cavs' all-shooting lineups.
The Raptors have been involved in trade rumors involving both Paul Millsap and Serge Ibaka. If Bosh is any semblance of what he was, he's a better offensive option than both.
Neither Ibaka nor Millsap has never averaged as many points in a season as Bosh has for his career, and he is capable of keeping up with Cleveland's stretchy bigs.
Most importantly, they wouldn't have to give up anything to get him.
If and when Bosh becomes available, it will be because the Heat are certain he will never play an NBA game again.
But for NBA teams with aspirations of contention in as top heavy a season as we've ever seen, what's the harm in a workout and physical?

NEO Sports Insiders Newsletter
Sign up to receive our NEOSI newsletter, and keep up to date with all the latest Cleveland sports news.