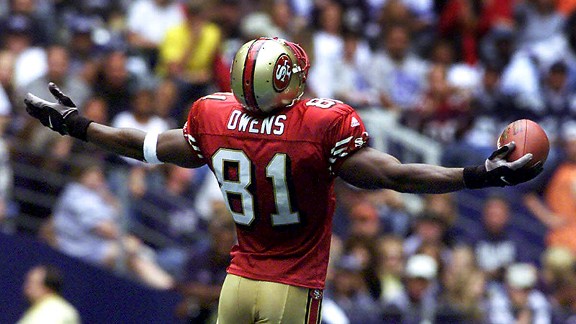 This weekend's second straight Terrell Owens omission from the NFL Hall of Fame once again allows a nasty stigma in Professional sports to rear its ugly head.  The Hall of Fame can be turned into a popularity contest and allow bitterness and rumors to keep excellent players out of it.
That stigma is not true most times, but sadly, this time, it is.
Before I get to Terrell Owens, it must be noted that the MLB Hall of Fame is every bit as guilty as arguably 3 of their greatest all time players, are not in the Baseball Hall of Fame.
The MLB all time Hit King Pete Rose, who finished his career with a total of 4,256 hits, far more then anyone else to ever play the game, is not in the MLB Hall of Fame.  Reason being, he bet on games he managed.
Well, I should say, "while he managed".  All evidence would support that he never threw a game as a player or manager, but it doesn't matter.  The greatest hitter in the history of baseball is left in the cold when it comes to it's greatest honor.
One could say the same thing for its greatest homerun hitter Barry Bonds,  Barry holds the single season home run record with 73 in 2001, and the all time Career Home Run Record with 762
In 22 years in the big leagues with the Pirates and Giants, he never once failed a drug test.  However, because his trainer Greg Anderson got busted for selling HGH along with Victor Conte, that's all it took and now Bonds has also been blackballed.
One can't forget about MLB's greatest pitcher of the Modern Era.  Roger Clemens finished with 7 Cy Yong awards, 354 Victories, 4,672 strikeouts and multiple 20 strikeout games.  It doesn't matter, once again (steroids), or, "rumors of steroid use" will keep him out of Baseballs Hall of Fame, most likely forever.
This all leads me to Owens.  Who played the game cleanly, never got busted for drugs and rose to the occasions in several big moments.  He even played in the Superbowl with a broken ankle and would have been the games MVP had Donovan McNabb not start puking in the huddle during crunch time.
Owens finished his career with 15,934 career receiving yards, good enough to rank second in NFL history, and his 153 receiving touchdowns are third.  He is easily one of the greatest players to ever play the game.
However, because of his locker room drama pretty  much anywhere he went, the media turned sour on him and currently are keeping him away from an honor that he rightfully deserves.
Things need to change, you can't keep Owens out and allow a known womanizer and awful teammate in Walter Payton to go into the Hall of Fame, and keep Owens out for the same reason.
There have been steroid rumors about men such as Mike Piazza, Ivan Rodquiguez and Ken Griffey Jr, yet they are all MLB Hall of Famers while never proven guilty Clemens and Bonds are not.
I don't pretend to be a genius, or the ultimate problem solver, but I'm not paid to be either.  The NFL and MLB must re-organize and redo they way they choose who gets inducted in the Hall of Fames, and it must happen quickly!

NEO Sports Insiders Newsletter
Sign up to receive our NEOSI newsletter, and keep up to date with all the latest Cleveland sports news.