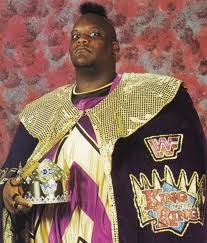 Click here for Part 2 of 10 in the series
PHILLY, Pa – The 1995 WWF King of the Ring Pay Per View took place in front of the hostile ECW crazed Philly crowd and went down as a clunker.
In an 8 man tournament that featured first ballot WWE Hall of Famers such as Shawn Michaels, Undertaker and Yokozuna, the tournament was won by Mabel. Yes, you are reading that correctly.
Not only that, but none of those 3 legends even made it out of the first round. Those places were reserved for such greats as Road Dog and Savio Vega. No need to go into detail, other than pointing out the fact that during his coronation, the hostile Philly crowd peppered "King Mabel" with cups of beer and soda pop. It was a risk by WWF creative, and it failed.
I will say this for their sake, the WWE kept the ball rolling and gave Mabel several chances. Even allowing him to challenge and lose to Diesel in the main event of SummerSlam 95 later that summer.  Mabel would then go on to injure several men in the ring with shakey work.  Such as Diesel and eventually breaking The Undertakers orbital bone.  It is crazy to look back at that card, featuring so many legends, and walk away with Mabel on top?
A five star classic by Bret Hart can usually save any sour pay per view, sadly even Hart couldn't save this one as his match was a "Kiss My Foot Match" against Lawler. It didn't deliver and the boo's just kept coming. Even with a ring general like Hart in there, Lawler clearly didn't have it anymore.  This was the third straight year that the WWF tried to place Lawler in the main story line of the event, simply because he had "The King" in his name.
They would try that two more years before finally calling that angle for good. The WWF would continue to challenge Hart in 95 by having him take on Wrestling Dentists and Pirates, until finally making the smart decision to put the belt back on his shoulders.
The main event was WWF Champion Diesel teaming with Bam Bam Bigelow to take on Tatanka and Sid. This was fresh off the face turn for Bigelow following his epic failure against Lawrence Taylor in the main event of WrestleMania 11. The match was decent until Sid walked out of the match for no apparent reason. Wrapping up one of the worst if not "the worst" King of the Ring Pay Per View of all time.
Just a strange night, in front of an angry crowd that pretty much went along with a bad year in the WWF. Maybe their worst!
That's okay though, because 1996 would go down as one of the best!

NEO Sports Insiders Newsletter
Sign up to receive our NEOSI newsletter, and keep up to date with all the latest Cleveland sports news.