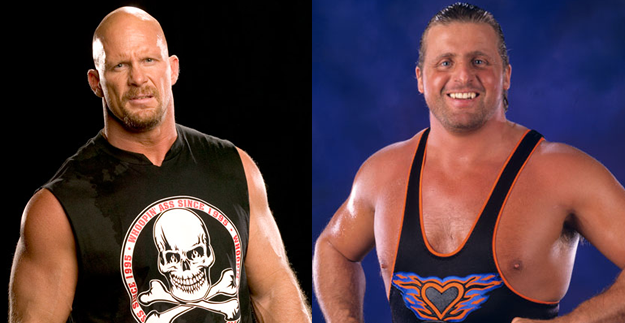 SummerSlam (1997) was the tenth annual SummerSlam and it took place on August 3, 1997, at the Continental Airlines Arena in East Rutherford, New Jersey. It was the earliest in the summer the event has ever taken place, and it came at a crucial time for the WWF.
The main event feaured WWF World Heavyweight Champion The Undertaker vs Bret Hart. It was a crazy year back for Hart that saw a stunning heel turn for him. He denounced America and proclaimed that fans around the rest of the world were much better, epically Canada.
So upset with America and so confident of his skills, Hart said that if he did not win the title at SummerSlam, he would not wrestle on American soil again. Lucky for him, he did win, with a little help from a ill placed chair shot from Shawn Michaels ( special guest ref) to The Undertaker. This set up the heel turn for Michaels as well, and also the next night on RAW began the entire DX angle.
Bret Hart would hold on to the title until the Montreal Screwjob at the 1997 Survivor Series in November. The Undertaker wouldn't hold the title again until May of 1999.
Another big match featured WWF Intercontinental Champion Owen Hart and Steve Austin. Stone Cold would win the match, but pay a severe price as he injured his neck badly. It would affect the rest of his career and eventually cause an early retirement in 2003.
Other notables matches saw
Mankind defeat Hunter Hearst Helmsley in a cage match.
Goldust (with Marlena) defeat Brian Pillman which meant Pillman had to then wear a dress for 30 days in the ring.
The Legion of Doom (Hawk and Animal) defeated The Godwinns (Henry O. and Phineas I. Godwinn)
The British Bulldog (c) defeated Ken Shamrock
Los Boricuas (Savio Vega, Miguel Pérez Jr., Jose Estrada Jr., and Jesús Castillo) defeated The Disciples of Apocalypse (Crush, Chainz, 8-Ball, and Skull
You can follow Vince McKee on twitter at VinceTheAuthor

NEO Sports Insiders Newsletter
Sign up to receive our NEOSI newsletter, and keep up to date with all the latest Cleveland sports news.