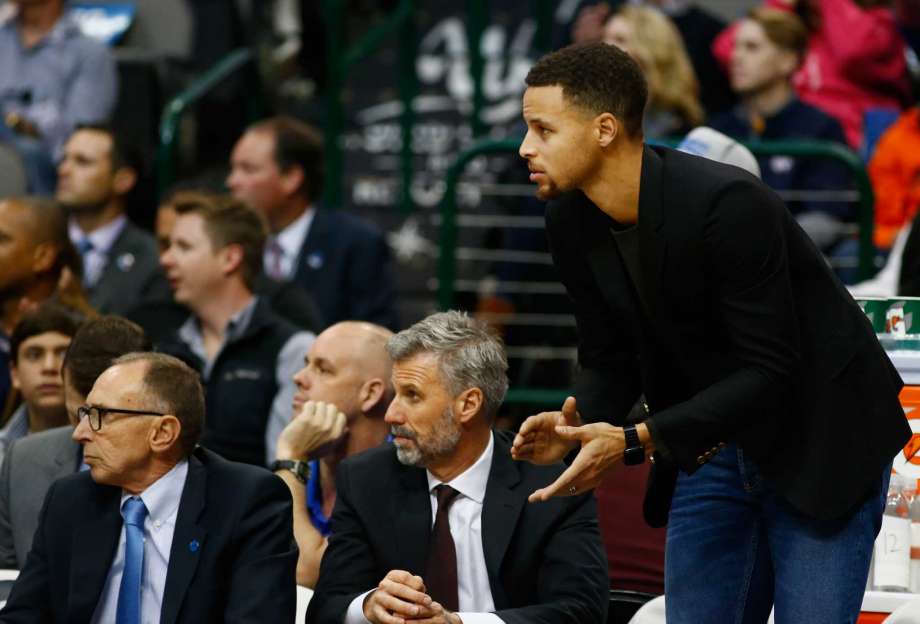 Whose catching Warriors-Spurs tonight? What? Nobody? But it's the two best teams in the lea— oh.
Yep, that's right. Steve Kerr ruined everyone's fun when he announced that Stephen Curry, Klay Thompson, Draymond Green and Andre Iguodala would miss Saturday's marquee matchup against the Spurs.
How could Kerr do this to us? How could he do this to the NBA? Doesn't he know the Spurs are right behind his team for home court advantage throughout the playoffs?
He knows all of those things. And he doesn't care. And he's right not to.
As ESPN's Tom Haberstroh has written about ad-nauseum, the NBA's schedule  is not safe.  Players play too often and without enough rest.  And they do so in multiple time zones per week.
The NBA's new regime under commissioner Adam Silver is working to limit the number of back-to-backs and three-games-in-four-nights scenarios, but the problem is not corrected yet.
Because average NBA fans are unaware of the scientific data that proves how taxing the NBA season is, the announcements of players being outright rested aren't received well by the public.
They have their reasons. "Think of the fans who paid for 200 dollar seats that night!" "That father wanted his son to see his favorite player!" "The regular season is supposed to mean something!"
There is some credibility to these points. It's unfortunate that people buy these tickets so far in advance and have to watch the bench units. Those kids are going to be crushed by not being able to see their guy in person. And just like everyone else, I was really excited for Warriors-Spurs until Kerr decided to end the party.
But which group of people are the ones that make the NBA as great as it is? The fans who pay money to watch these incredible athletes? Or the athletes themselves?
The players are the reason you paid 200 dollars for those seats. Your son's favorite player is the reason he was so excited to come to the game in the first place. And in general, these athletes dazzling us with their other worldly talents are the reason we care so much about guys trying to put a ball in a hoop.
It sucks that we can't expect them to be out there every night, even when they're "healthy". But it would be a lot worse if they shortened their careers just because they wanted to prove they were tough. Or if they just dogged it for 3 quarters to get their rest that way.
People love to scream about how Jordan and co. never needed that rest. Actually, they needed it just as much as these guys. They just didn't have the information in front of them that proved it.
You don't think Jordan would have played 70 games a year instead of 80 if he knew he'd be fresher for the playoffs and could extend his career? You don't think Kobe Bryant wishes he didn't play 40+ minutes a night for the month leading up to his Achilles injury?
Resting is about keeping the players healthy. Which, if you think about it, makes it about the fans. Because if players can't perform at their highest level, it hurts the fans most directly.
Of course, that's not how the fans see it. Think toddler being told no by their parent for the first time in the toy store. Except eventually the kid is going to get what they want anyways, as long as they are patient in the moment.
The playoffs are the pinnacle of the NBA experience, and that's when fans expect peak performance out of these players. As science has shown us, that becomes a lot harder if you wear yourself out in the regular season.
So the next time you want to get riled up about these "soft" new age players preserving their body, just remember that you're going to get everything you want for your birthday. You just have to let your parents save some money in the meantime.

NEO Sports Insiders Newsletter
Sign up to receive our NEOSI newsletter, and keep up to date with all the latest Cleveland sports news.