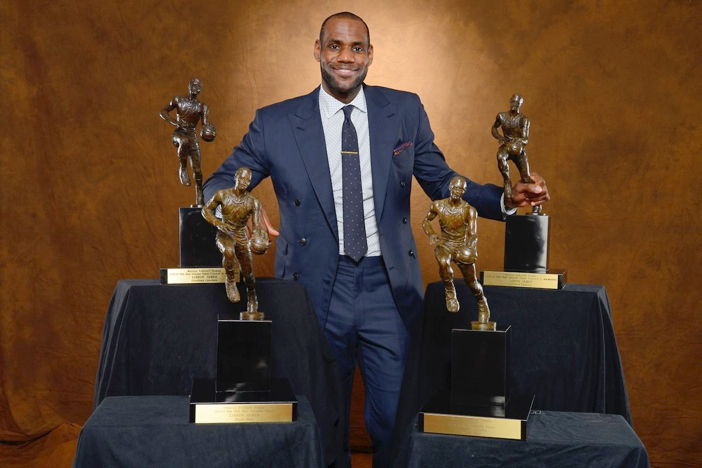 LeBron James is the best basketball player on the planet.
It's a subjective honor, but it is widely accepted as fact that nobody is better than James.
And yet, it's been four years since he has won the most prestigious award in basketball. In fact, he's finished third in Most Valuable Player voting the last two seasons.
This season, he'll most likely finish around that spot on the ballot again. Between Russell Westbrook's triple-doubles and James Harden carrying Houston to heights nobody saw them achieving before the season, James  has a high bar to eclipse.
And then there's Kawhi Leonard! Leonard is averaging a career-high in point and assists, and is the main reason the Spurs still have the best defense in the NBA despite starting past-their-primes Tony Parker and Pau Gasol.
The Spurs on pace for 65 wins! LeBron could finish fourth for the first time since 2008!
So if it's so obvious that he's the best player, how come he hasn't been the most valuable by there voters' standards?
Coasting
This is the biggest reason for LeBron's recent lack of MVP buzz. Sometime between his third and fourth years in Miami, LeBron realized that he could still win 55+ games without giving maximum effort in the regular season.
For his long-term durability, this is probably the best thing to have happened to him (that and playing with two other all-stars for the past six years). But as people often overlook, the MVP is a regular season award.
The voters can tell when LeBron is coasting, and it hurts his candidacy.
The weird part about this is, LeBron is playing harder in the regular season this year than he has in a while. But Harden and Westbrook have been so insanely good, it doesn't matter.
So this year is an outlier. But for the most part, LeBron's lack of desire (and need) to go all out in non-playoff games hurts his candidacy.
(But he's still at least finished in the top three for the past three years without fully trying! We need to appreciate this guy more.)
Expectations
This one is something LeBron can't help. I think we're so numb to LeBron being awesome that it actually hurts his MVP case each year.
Think about the guys who have won the award since he won his first: Derrick Rose, Kevin Durant, and Stephen Curry twice.
With the exception of Durant, who is having a ridiculous efficiency season this year, all of those guys had the best seasons of their career when they beat out LeBron for MVP. And it's arguable for Durant.
When Rose won, he was almost five points above his then career-high, and averaged a career high in assists and rebounds.
Durant recorded then career-highs in points, assists, and effective field goal percentage.
Curry thrashed his career-high in effective field goal percentage both times and beat his career high in points per game by SEVEN points last year.
This season, Westbrook is averaging a triple-double and Harden is averaging a career-high in assists and rebounds while flirting with career-highs in points and Effective field goal percentage.
Meanwhile, LeBron has been good for something around 27-7-7 every season since his rookie year. Sometimes, without full effort.
LeBron is so good that our expectations can't be high enough.
Year-by-year
This is why the above reason sort of makes sense.
Yes, we're numb to LeBron being awesome. But at the same time, the MVP is a time capsule of sorts.
It tells us who the best player was in the regular season in a specific year. LeBron has been considered the best player on the planet for over a decade now.
Is LeBron a better basketball player than Kevin Durant, Stephen Curry, and Derrick Rose? Undoubtedly. But was he as impressive as those guys in the regular season (we get so clouded by his playoff greatness) those years?
That's a different discussion.

NEO Sports Insiders Newsletter
Sign up to receive our NEOSI newsletter, and keep up to date with all the latest Cleveland sports news.