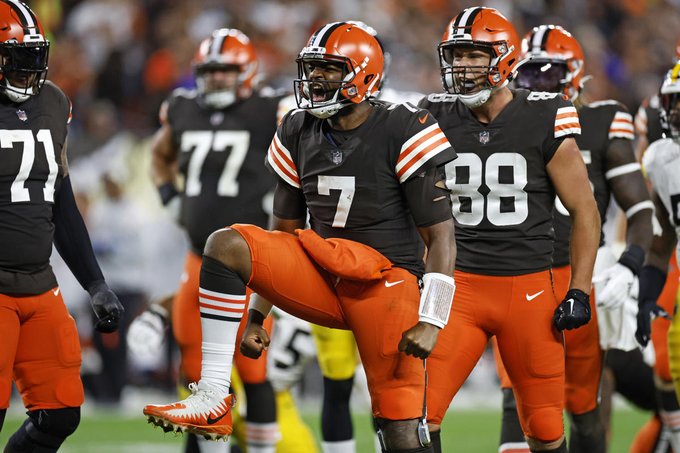 Cleveland, OH-
Jacoby Brissett played what is presumably his last game this season with the Browns. He faced Tampa Bay and Tom Brady, the man he began his career around. The Browns came away with an overtime win 23-17.
LOOK AT THIS BLOCK BY BRISSETT 🥞🥞🥞🥞 pic.twitter.com/E0S1btu9WM

— Bussin' With The Boys 🐺 (@BussinWTB) November 27, 2022
Brissett was brought to Cleveland to start for the suspended Deshaun Watson. The league will reinstate Watson on Monday. The Browns have stated he will be the starter Week 13 against the Texans.
The veteran backup quarterback was ready for the assignment this season. Brissett had this to say prior to his last start for the Browns: "I signed up for this. I knew what I was getting myself into…I wasn't brought here for easy. I knew I was the right person for it and still believe that I am. I believe that I've shown that."
Brissett played football for the University of Florida in 2011-2012. He transferred to NC State in 2013 where he played through 2015. Due to the result of the transfer Brissett was required to sit out the 2013 season. He showed early on what a great team player he was as he drove to the road games to support his team despite sitting out.
Brissett's college experience
Matt Canada, the NC State offensive coordinator at the time, said this about Brissett, "He was looked at as the guy that had to be the answer and that was hard. There was pressure there but he's a very driven guy. He wanted to be good for the right reasons and handled it pretty well."
While he was at NC State, he was known to scour Pinterest to bake goodies for his offensive linemen. Brissett was an all-around great teammate.
Welcome to the NFL, Brissett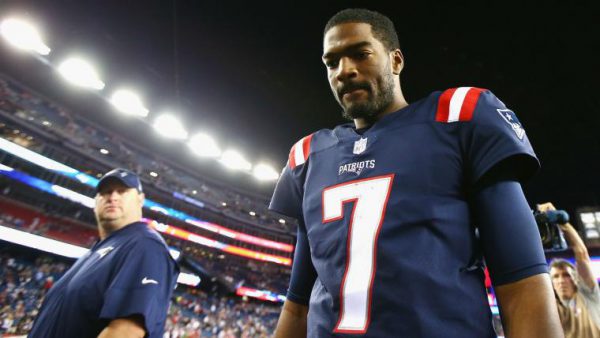 Brissett's NFL career began with New England. He was selected in the 3rd round of the 2016 draft. Then rookie, Brissett, relished having Tom Brady as a mentor. "I was that kid that was annoying as hell and kind of just, wherever he [Brady] went I tried to follow, the places that I could go and just trying to get as much information…. during games just talking to him about stuff that he saw about certain things…I was one of those guys that kind of tried to be a sponge."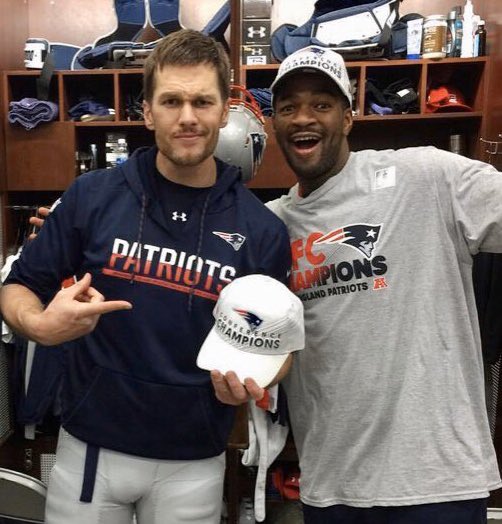 In 2016, Brady was suspended due to "Deflategate", and Jimmy Garoppolo had a shoulder injury thus opening the door for Brissett to start. He started in Week 3 against the Texans. No, Watson wasn't the quarterback that year as he wasn't drafted til 2017. Though, that would make for an interesting story. Brissett threw for a little over 100 yards and rushed for a 27-yard touchdown leading New England to a 27-0 win.
Headed to Indianapolis
Brady returned that season and the Patriots went on to win the Super Bowl. New England sent Brissett to the Colts the following year and he started 15 games. Indianapolis quarterback , Andrew Luck, was rehabbing from shoulder surgery and this gave Brissett the opportunity to start.
In 2018 he took the backup role again. Then Luck abruptly retired just weeks prior to the 2019 season. Another opening for Brissett to have 15 starts. The Colts ended with a 7-8 record.
Miami bound
Brissett was a free agent in 2020 and signed a one-year deal with the Miami Dolphins. Tua Tagovailoa started the season under center for Miami however he suffered rib injuries. Once again, another door opened for Brissett to play in 11 games, five of which he started. He began to be known as a quarterback sneak extraordinaire. This piqued the interest of Browns head coach Kevin Stefanski who is known to go for it on fourth and short.
The now 29-year-old has made a career of being thrown into starting role positions. He started for four different teams due to suspensions or injuries.
Brissett and the Browns
Brissett accomplished his goal with the Browns. He gave them a chance to win every game this season. The veteran exceeded expectations on and off the field.
Playing with heart and leaving it all on the field are qualities that Brissett possesses. He's a class act and brought a solid leadership presence to the Browns. A presence that has been lacking this season.
His teammates have positive things to say about the quarterback. Jack Conklin, right tackle, talks of Brissett's attributes: "Just great leadership. Under pressure he is making the right plays and making the right reads. He is very calm in the pocket. He trusts us, and we trust him."
Amari Cooper, on Brissett, after the Browns beat the Steelers: "I think he has proven that he can win," Cooper said. "I don't think he has proven anything that we didn't already know about him. I don't think he would be in the league if he wasn't a good quarterback at this point. He's a veteran and a good player. We are glad to have him."
Kareem Hunt chimed in with praise for Brissett, "He's doing a great job leading us," the running back said. "He is hungry too. He is a heck of a football player going out there and showing what we can do."
Brissett's final start
Sunday as he took the field against his former mentor, Brissett's career came full circle. Brady who he had once followed around was now on the other side of the ball. The former teammates shared a moment midfield after the game. Fans showed their support for #7 as he exited the field.
What a finish here for Jacoby Brissett. #browns #nflnetwork pic.twitter.com/PZ2i2zCXCy

— Sara Walsh (@Sara_Walsh) November 27, 2022
Next week, Watson will be at the helm in a much-anticipated start. Some see this as a new era for the Browns. Many strongly feel one way or another about Watson and the allegations he faced. One thing that fans can be unified in is the effort that Brissett gave the team.

NEO Sports Insiders Newsletter
Sign up to receive our NEOSI newsletter, and keep up to date with all the latest Cleveland sports news.