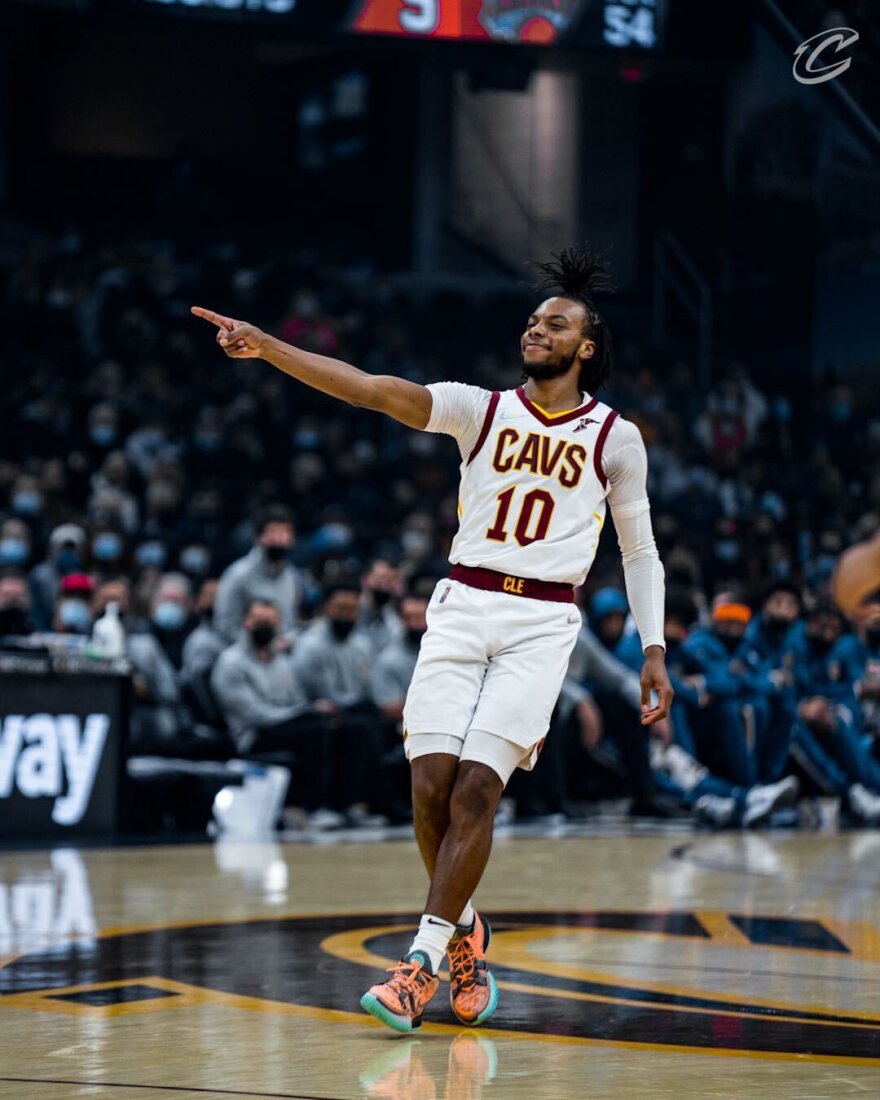 All Star Point Guard Darius Garland is the future of the Cleveland Cavaliers organization. The Cavs will go as far as he can take them. Can he be the best point guard in franchise history? In a word…. YES.
More than numbers
At the point, Garland is one of the league's most promising guards. The first time all-star, has taken the leap from being rated the worst player in the league to one of the best. With averages of 21.7 ppg, 8.6 asst, there is reason to believe he can be even better this coming year. Part of the reason he should be better is even more growth. Here is a guy who in three years, has upped his averages from 12.3/6.3 in his rookie year, 17.4/6.1 his second year, to the now 21.7/8.6.
But looking at the raw numbers doesn't do justice for the way Garland has improved. People don't realize that when he was drafted 5th overall in the 2019 draft, he was coming off playing only five games at Vanderbilt. Coming in playing one of the most difficult positions, while sharing the backcourt with Colin Sexton, and very little talent. It was almost easy to write him off as another small guard who would be a career back up.
Coming off injury
But what changed? Well, for starters, he began getting healthy. For a player who is, as Draymond Green describes as "herky jerky" to suffer a meniscus injury, it was always going to take a while to come back. Being thrown into the mix early coming off not playing basketball for a year…. there were bound to be frustrations. However, the Cavs understood he was more a long-term projection. They knew it may take a year to get his feet under him. And they would be patient.
The second year Darius Garland improved. The team was still at the bottom of the standings, but Garland started showing signs of improvement, upping his averages across the board. Then, the third year came around. Not only did he improve his averages again, but he also made the all-star team. The coaches voted him in. He was not a replacement.
Darius Garland – Franchise leader
To go from being described as the worst player in the league, to being regarded as one of the best young guards in three years is remarkable. To lead a franchise that hasn't been relevant or, quite frankly good without a certain player that wore number 23, is amazing. A lot of people attribute the Cavs success to the combination of Garland, Evan Mobley, and Jarret Allen. No doubt the presence of two 7 footers behind Garland have helped him and the Cavs grow. But Garland is the leader. Garland has all the ball handling responsibilities since Colin Sexton, Ricky Rubio went down last year to injury and Garland excelled.
Room for improvement
The thing that I and all of you should be excited about is…. as great as last season was, Garland can STILL improve. There are turnover issues. A career average of 3.1, it's not the worst per game average but it is a reason to pause and look at decision making. I think the decisions will get better as the players around him improve. As Mobley and to a certain extent Allen get better, the turnovers will, or should come down. I would like to see him get to the free throw line more. For his career, he only gets to the line 2.5 times per game. He's an 87% free throw shooter. Garland doesn't have to get there 9/10 times but… if he could get to the line maybe five times per game, not only would it improve his scoring averages, but it would also take some pressure off of him having to create so much half-court offense.
Defensive improvement
Lastly, Darius Garland can improve defensively. Part of this comes with age and experience, part of it comes with Garlands size. No one is asking or expecting for him to become an all-defense caliber player. However, there is clear room for improvement. It's easy to relax when you have two elite defenders behind you in Allen and Mobley. But you don't want lines to the basket to risk getting your bigs in foul trouble. This is where if Garland can hold his man. Not necessarily be a stopper, just making things difficult and being in the right place, sending his guy to the right spot where he will have help. Team defense. Similar to how Steph Curry has grown and become a much better defensive player by first being a good team defender. If Garland can take a step in that area of his game, look out.
Darius Garland – The future
There is so much to like about Garland though. I understand why he is the first player in Cavs franchise history to receive a supermax contract. And that is why, he is the key. Even if he isn't the best player long term (that should be Evan Mobley eventually) The Cavs future is on Darius Garland. The Cavs will go as far as he takes them. And, judging by how he has improved in three years…. This might be a lot of fun Cleveland. Who knows, maybe 2016 was just a precursor and the start.

NEO Sports Insiders Newsletter
Sign up to receive our NEOSI newsletter, and keep up to date with all the latest Cleveland sports news.