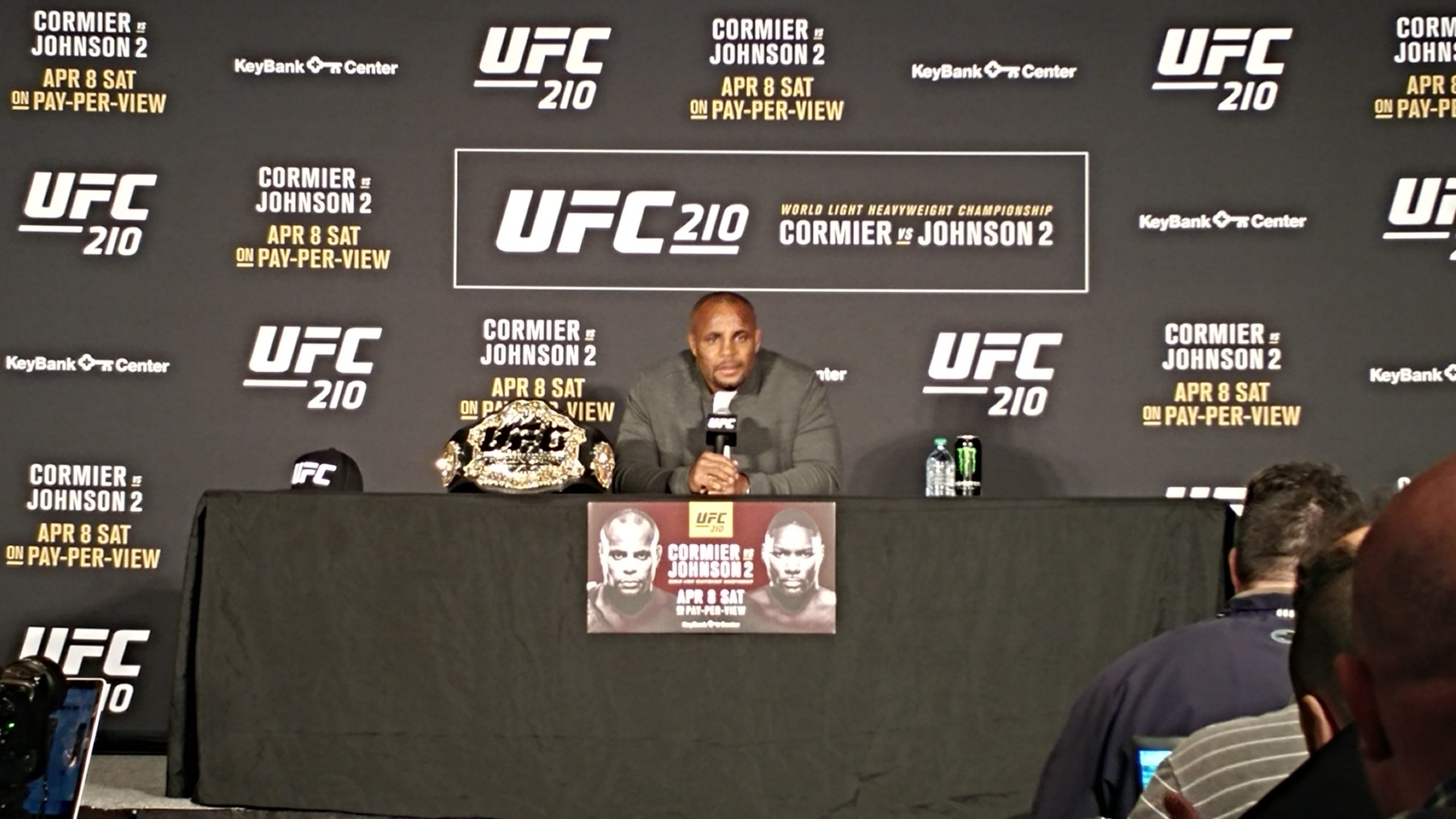 BUFFALO, New York- It was an eventful night at Keybank Arena, as Daniel Cormier defended his Light Heavyweight Championship successfully in the main event by submitting Anthony "Rumble" Johnson in the second round. It was an exciting card from top to bottom, a card that featured retirements, Athletic Commission confusion and so much more.
Without further ado, here's my five takeaways from the UFC 210 card.
1. Daniel Cormier Is Still The Baddest Light Heavyweight On The Planet– DC took the fight to Anthony "Rumble" Johnson, submitting him in the second round via rear-naked choke. DC ate shins to the face as well as shots to the body in a first round featuring an unorthodox Rumble Johnson offensive approach, one that focused heavily on grappling. Not the wisest move to grapple an Olympic wrestler, at least in my opinion. Nonetheless, Cormier weathered the storm in the opening round and rumbled over Johnson in the second round, reversing Johnson's takedown to turn it into leverage for himself. Cormier quickly took Johnson's back and finished him in a scene eerily similar to their last fight. And to all the haters, Cormier has this to say: "I'm the one in there fighting right now with that gold belt". He's certainly not wrong. Until someone proves him wrong, DC's the star of the show.
2. Rumble, Cote Call It A Career– In sports, retirement is the hardest thing to do. It's goodbye. Farewell. See you later. It's the end of a journey that most athletes start at a young age. In most cases, it's all an athlete's ever known. Saturday night saw the conclusion of two fighters' careers, fighters who had two very different paths.
Anthony "Rumble" Johnson, the headliner and Light Heavyweight Title challenger, called it a career after his loss to Daniel Cormier. Johnson stated later after the fight that he planned to conclude his fighting career following whatever outcome happened tonight. Johnson says he has a business endeavor that is very important and that he plans to pursue it. No, it's not playing or joining the management team of the Los Angeles Rams, as some had suggested following the fight. We won't know what it is until the time is right, as Johnson stated that the revealing of the endeavor will happen in due time.
The other fighter to conclude his journey in the Octagon was Patrick Cote, who suffered defeat at the hands of Thiago Alves by way of a 30-27 unanimous decision. Cote stated that this was his plan for tonight whether the outcome was a win, loss or draw. Cote leaves the sport as one of Canada's most beloved and recognized fighters, as he tied Georges St. Pierre tonight for the most UFC fights by a Canadian fighter.
3. What The Heck Went On In The Weidman/Mousasi Fight– Gegard Mousasi defeated Chris Weidman via TKO….right? So many fans were confused with the official ruling of a TKO victory for Mousasi following a replay decision that overturned what originally was ruled illegal knees to the head from Mousasi. It appeared that both of Weidman's hands were touching the mat, which raises the question about the NYSAC regulation and other Athletic Commissions: Why can't there be universal regulations throughout every Athletic Commission so that these fighters know what's allowed and what's not? It's quite frustrating to be quite honest. Now we have a situation where Chris Weidman has now lost three in a row and Gegard Mousasi is officially a free agent with that being his last showing befoe negotiating a new deal with the UFC. There has to be a change eventually to accommodate the fighters because the situation regarding different rules for different Athletic Commissions is a messy one.
4. Cynthia Calvillo Is The Next Superstar– So maybe I'm going out on a limb here, but here are the facts. Calvillo is 5-0 in the UFC with four finishes. Impressive as that is alone, she has competed in all of her UFC fights since last August, showing her desire to fight and ability to keep her production level high. This has drawn the attention of UFC President Dana White, who referenced Joanna Jedrzejzyck and Conor McGregor when speaking about Calvillo. As long as the UFC doesn't expose her to high-level fights right away, Cynthia Calvillo will be the next female superstar. She's got the walk, talk and attitude to do so. Her fight game speaks for itself, while she is starting to garner attention when she has a microphone. A little bit of her inner Nate Diaz came out tonight and the Buffalo faithful ate it up. I wouldn't be surprised if she started to create more waves with her mic time. After all, this is the era of self-promotion in combat sports.
5. Kamaru Usman Is Scary Good…Like Hide Your Welterweight Title Good– Usman proved his worth Saturday night, dismantling a tough opponent in Sean Strickland from the opening bell to the finish of the fight. Usman is on a tear and I don't know if anyone can stop him. In fact, it might just be a matter of time until Usman is hoisting UFC Welterweight gold. Usman has stated that he'd like to fight Neil Magny in Dallas next month at UFC 211, but that might be too short of a notice for Magny. Nonetheless, Usman will get someone worth noting and if he can defeat two or three more contenders, he might be staring at UFC gold sooner rather than later.

NEO Sports Insiders Newsletter
Sign up to receive our NEOSI newsletter, and keep up to date with all the latest Cleveland sports news.