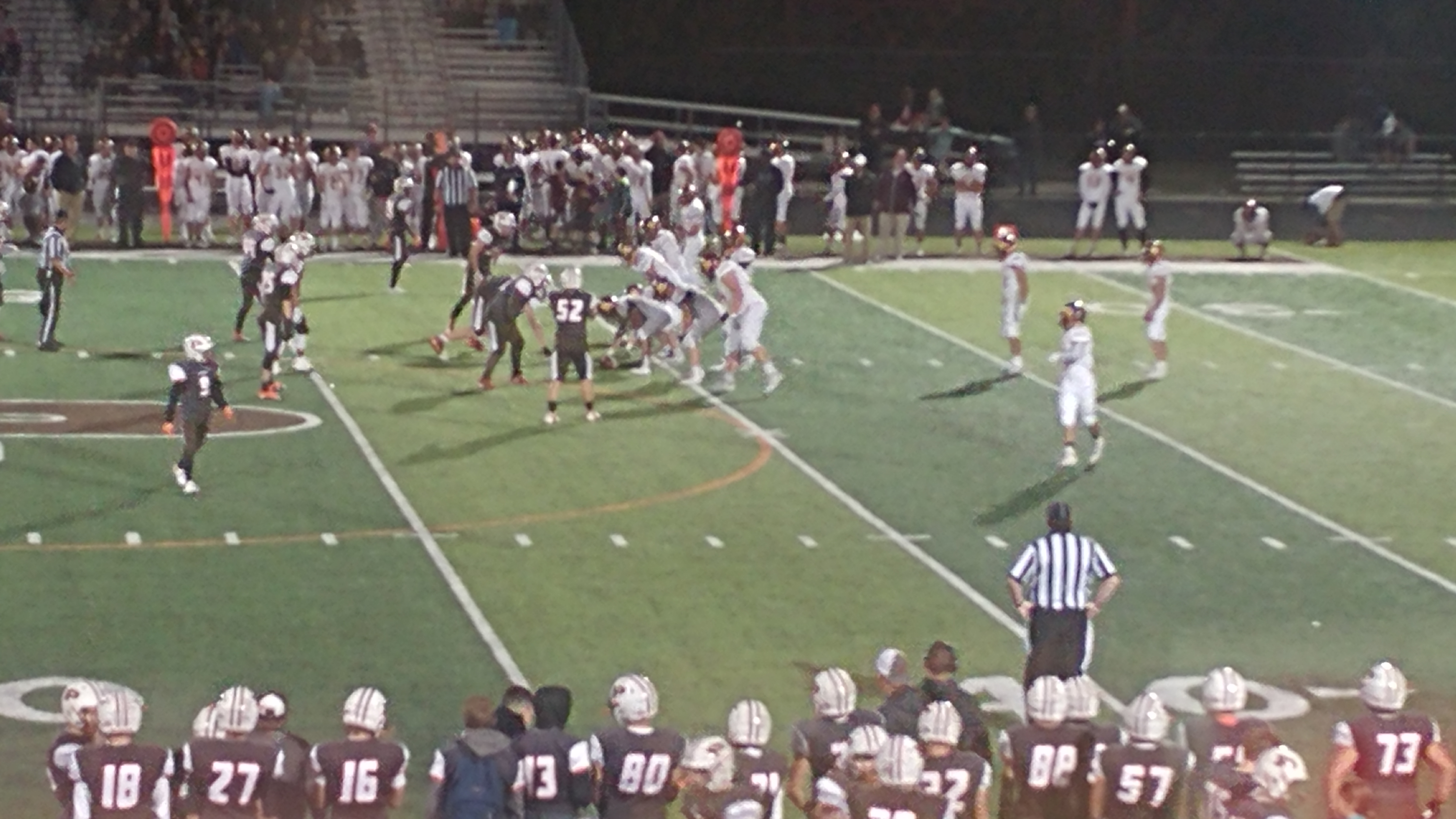 The following game recap is brought to you by b.a. Sweetie. Make sure to check them out at www.sweetiescandy.com.
PARMA HEIGHTS, Ohio- The Padua Franciscan Bruins look to continue their unbeaten streak when they welcomed in Walsh Jesuit on Friday evening. The Bruins were right off the heels of a big win against Garfield Heights and were seeking another big victory.
Last week, Garfield Heights had a plan to try and stop running back Trent Cramer, leading to a huge game by the reigning NEOSI Player Of The Week Jordan Walker. This week, it was all Cramer.
The senior running back bulldozed his way to 155 yards on 20 carries in the first half, finding his way into the end zone three times. He led the offense to the first two scoring drives to quickly make it 14-0 Bruins. After Padua was held to a field goal made by Dominic Buttazzoni to make it 17-0, Cramer plunged in once more for his third touchdown of the first half. The scoring drive was set up by a 79-yard run down the right sideline by senior quarterback Kevin Peterson.
A few late defensive penalties allowed Walsh Jesuit to get on the board before the half's end, making it 24-3.
The second half was more of the same for the Bruins, continuing to pound the ball into the ground to move the chains fluently. Touchdown runs by Kevin Peterson and Crishawn Long made it 38-3.
Walsh Jesuit would get their lone touchdown of the night off of a fullback handoff at the goal line to Lincoln Chiller to make it 38-10, which would stand as the final score.
Padua improves to 6-0 and showed why they are one of the better teams in the state, running an extremely balanced offense that creates some real problems when everyone is rolling. Tonight, it all started with Trent Cramer.
"We knew we were gonna pound the ball. Our o-line is fantastic. I couldn't do it without them."
In the game, Cramer eclipsed 1,000 rushing yards on the season. He talks about knowing what the number he had to get and if he heard the announcement when it happened:
"I knew what number I had to get. Yea, I heard it (the announcement of the record) on the field. But again, I wouldn't have got it without my o-line."
Coach Polevacik talked about Cramer's achievement some more during post game:
"I think it means a lot. Trent talked about our offensive line and they took a lot of pride in it. We're not a stat driven team, the only stat we care about is 6-0. But when you accomplish little things, it does make you feel good. It does a lot of good things for the program. Trent's being successful, the offense is being successful and it's a reflection of the success we're having. So I think it means a lot."
It was also homecoming week and with many teams usually getting distracted in the fun and hoopla, Polevacik made sure his squad was ready.
"The focus of rallies and spirit week and dress down days. Just kinda getting them focused that we're currently undefeated and that bigger goal of walking out of here 6-0 and not 5-1, said Polevacik. "We didn't want Walsh to sneak up on us because we were distracted. We wanted to earn the victory. So just a constant focus all week of enjoy spirit week, enjoy homecoming week but we knew we had a worthy opponent tonight and we had to really prepare for them."
Padua now travels to take on Archbishop Hoban, who is 5-1 with their only loss coming in their season opener against St. Ignatius. Polevacik has seen them at Benedictine before as head coach of the Bengals and now as the head coach of Padua. He understands how tough it will be next week for his team.
"Last year, we played 10-10 at half and then we woke them up and they really took it to us in the second half. We feel like we can give them a game, go down there and give them a game and we plan to get on the bus and go down there and give them a game. I think it's gonna take a monumental effort to take them out but we're gonna go down there and try, for sure."
Player Of The Game: Padua Running Back Trent Cramer
Cramer rushed for 187 yards on 28 carries, scoring three rushing touchdowns. Also, Cramer eclipsed 1,000 rushing yards on the season and is moving up the ranks of the single-season rushing record at Padua.