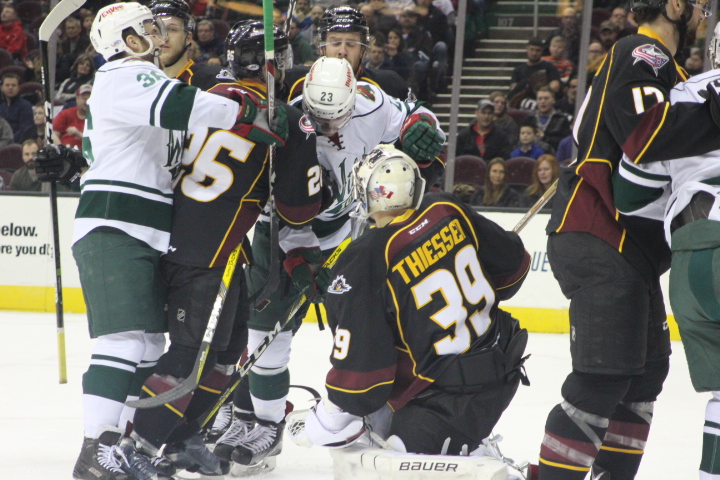 CLEVELAND, Ohio –  It was a hard fought battle tonight in front of a packed house on the 10th anniversary of Monsters hockey. Unfortunately, even though spirits were high,   The Monsters fell to 20-19-1-3 as they lost in overtime to the Iowa Wild 1-0.
It seemed as if the Monsters were playing a more defensive game, but the trap and conceal efforts of the Iowa Wild made it near impossible for the Monsters to score. In fact, it has been  123 minutes since their last goal.
END 1: The Monsters and Iowa are scoreless after one period. B. Thiessen with 7 saves. @NEOSportsInside @Eli_Mooneyham #happy10thanniversary pic.twitter.com/ukrQWmN53H

— David Sprouse (@NEOSI_Sprouse) February 5, 2017
Friday night's effort yielded 27 shots on goal and tonight only 24 as the Wild solidified fourth Place taking the points throughout this weekend series. This will make it a bit more difficult for Cleveland's playoff run.
Brickwall Brad Thiessen was between the pipes tonight and put on a clinic until the final two minutes of overtime saving 23 of 24 shots on goal.
After the first three periods slid by scoreless, a five-minute, three-on-three, sudden-death overtime period saw Iowa's Zack Mitchell pot the game's only goal at 3:37 of the extra session to deliver the Wild an extension to the team's franchise-record winning streak, now a stretch of six consecutive victories.
Coach madden had this to say in his post-game interview:
The monsters are definitely feeling the loss, no matter how temporary, of Marcus Hannikainen, Mark-Andre Bergeron and Daniel Zaar.
Coach Madden added losing here, two at home is hard, but we can win on the road. We have the team to do it. When asked about the defense he said, They play a really good system. They play a system that most teams don't. Actually not one team we've played this year, plays that system. They play the trap, they don't chase. You know they wait for their chances… they're patient. They're the 95 Devils. So they capitalize on their chances when they get them.So we've got to be patient. We were patient tonight, we were patient the other night. We could've won both games.
The second largest crowd this season, 13,810 fans played a big part in tonight's festivities as they all celebrated 10 great years of monsters hockey with multiple interviews during the game from past players and coaches including last year's head coach Jered Bednar who now is with the Colorado avalanche.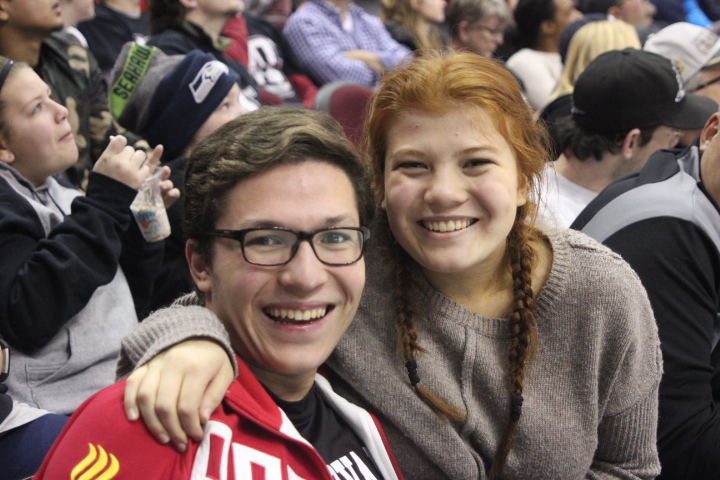 Also in the crowd were these folks, Stephanie and Peer Kaiser who got to sit right next to me at tonight's game. Stephanie was celebrating her Sweet Sixteen with her family in the front row.Wishing a special birthday wish to you Stephanie from all of us here at neosportsinsiders.com.
Next up for the Monsters, it's a Tuesday road clash vs. the Milwaukee Admirals with full coverage, live from UW-Milwaukee Panther Arena in Milwaukee, WI, underway at 8:00 pm on 99X and the Monsters Hockey Network.
Follow us on Twitter @neosportsinside and acebook.com/neosportsinsiders. Follow me @neosi_Sprouse and my partner, Eli @Eli_Mooneyham. NEO Sports Insiders, bringing you the best in Cleveland sports.

NEO Sports Insiders Newsletter
Sign up to receive our NEOSI newsletter, and keep up to date with all the latest Cleveland sports news.