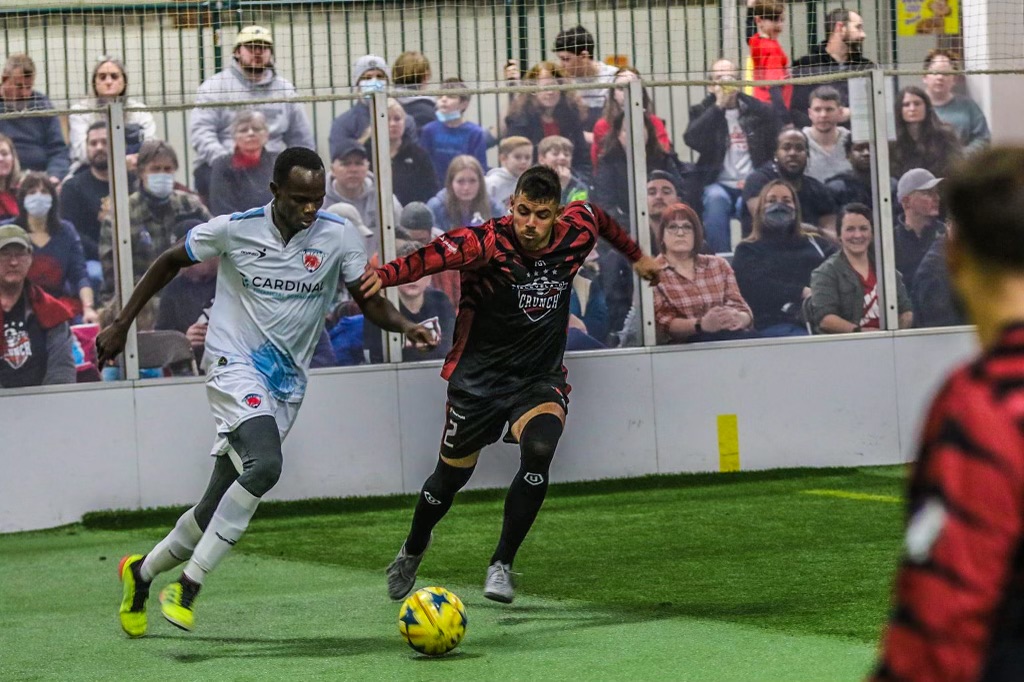 The Cleveland Crunch has an exciting year ahead of them right now. The club has decided to join the new Major League Indoor Soccer (MLIS). Formed from clubs that wanted to develop a new model for professional indoor soccer, the league will start with 12 teams from cities like Houston, Chicago, Cincinnati, Detroit and Milwaukee just to name a few.
MLIS
Cincinnati and Chicago spearheaded this new venture and the first team they wanted was the Crunch, with their success the past two years in the MASL 2, or Major Arena Soccer League 2.
Switching to a new league with a new coach in a new venue, the Crunch are expecting great things for the 2022-2023 season.
The Cleveland Crunch
Father and son team of Lou and Luciano Ruscitto sat down for a quick interview on their exciting news for the club and Cleveland, in general.
NEOSI: Gentlemen, congratulations. Share a little about yourselves for those who might not know your backgrounds, please.
Lou: "I've always been a soccer guy. Born in Brazil, why not? My experience has been in Marketing, but I recently went to teaching. [Regarding my role with the Crunch,] I have been involved with game day operations of the club mostly the past two seasons. Now I'm more with the marketing load and ownership role."  
Lou works with Cardinal schools in Middlefield. He has a long history in marketing around the Cleveland area. But his interest in the Crunch club started early!
"I started by taking Luciano to Crunch games. And now we are a part of the history of this club as owners!"
Son and co-founder of the Crunch-Luciano
Luciano: "I started playing soccer as a kid. In college I played for Lake Erie College. Today, I am a teacher in special education with Mentor schools. I started with the Crunch as owner in 2020. When we were looking to get into professional soccer, we realized that there was a major national professional arena soccer league. [Researching more, we found the] Crunch name was available.
There were some legal issues and trademarks to deal with, but we were able to get the name and get in the 2nd division of the Arena league, called MASL 2."
In 2020, their first in the league with the Crunch name, they won the league championship! In year two, they went undefeated and made it to the championship game for a second straight season, but lost.
"The key [to this venture]," Luciano said, "[was] connecting with the right people and staying positive with the setbacks. But now we are here…owning a franchise with a strong Cleveland background!'
On Switching Leagues
NEOSI: So, why the move? How did you get involved in the discussions?
Luciano: "Chicago and Cincinnati owners wanted to leave and form a new league. We waited for the dominoes to fall."
The idea is to have a professional league, with the potential to venture into Mexico and Canada, where soccer can be played indoors during the winter months, and players can keep the skills sharp. But mostly, it gives the owners of these clubs a chance to be LEAGUE owners. This setup is not your ordinary league design! Dr. Sev Hrywnak, president of MLIS, said in the opening press release:
"Indoor soccer in the U.S. has established a foothold across the country as a backbone to the outdoor game, keeping players fine-tuned during the off-season and also allowing specific markets across the US to play indoor soccer during the winter season, where otherwise no soccer could be played due to cold weather. Indoor soccer has had a storied history with multiple leagues over the years, creating some of the most historic games and memories. We have established a pro league that will give team owners the opportunity of becoming league owners as well." 

"The new structure of team owners being league owners will guarantee equal voices in the operation. We are partners in the league and competitors on the field."
"So, there are benefits to this setup," Lou said. "First is traveling."
Travel easier
Last two years, the Crunch would often venture to far cities like Wichita or San Diego for games. Now, the games would be regionalized, where they will play Cincinnati, Chicago and Detroit at a huge savings.
Money!
Second, is cash. Luciano mentioned how the money will flow to teams. "There is a fund for all teams for traveling…a purse if you win the league. Also, there is revenue-sharing of sponsorships."
"These are things that will help clubs grow [their brand and fan base.] We need that push to be big time. These will help us.
The August meeting and birth of the league
NEOSI: Talk a little about the league meeting in August of this past summer.
Luciano: "[The] owners meeting in Chicago was strong. Their staff were asking for advice from other owners [on structure and sponsors.]"
Lou: "We just liked the vibe! A large number of cities/teams have applied for next season. [They are just] awaiting vetting. Marketing has been super so far."
The league appears to have a regional LiveStream partner so all games will be streamed for fans.
Sponsorships
NEOSI: How will the sponsorships work?
Luciano: "There will be national sponsors which are going to be named soon. And we have ours still from last year with some newcomers!"
Many of the local sponsors for the Crunch include MetroHealth, Tracy's Karate, Americab, Cardinal Credit Union, Friedman, Damiano and Smith (injury lawyers), UN1tus athletic apparel, b brave Foundation, and ShareAVision, an autism awareness group.
I-X Center
The I-X Center is also a brand new partner. All home games will be played in the center which can be set up quickly for soccer.
"The I-X Center gives us a great deal more to offer. Their outdoor video board for marketing games. Ease of ticketing. Kiosk booths. We just felt they WANTED to work with us!"
The International Exposition Center, or I-X Center, closed their doors in September 2020, citing the pandemic. At one time, the Guinness Book of World Records listed the complex as the largest building of its kind in the country. The 2.2 million square foot building also has roughly 160 acres around it to redevelop. Last September, Stuart Lichter, president of IRG, the California-based real estate company, commented on his company's purchase of the building and on the potential for the area.
"We're preparing a creative, robust plan for the surrounding development, while simultaneously reopening the existing I-X Center for convention and trade show use this year."
The first games there will be the weekend of January 28th and 29th.
New Coach, new league!
The Club also just announced that Benny Dargle, the former popular defender with the old Crunch/Force, will be the new coach.
"I am very pleased to be named head coach for the 2022-2023 season," Dargle says. "[T]he team has had two successful seasons in a row. I am excited to keep that success going and ultimately looking to bring another Crunch championship to Cleveland."
Dargle was born in Liverpool, England. Collegiately, he played at the University of Akron and continued an amazing career as a defender with over 500 games played for clubs throughout the midwest. 
His playing career began with the Cleveland Cobras, an outdoor team playing at Baldwin-Wallace, which ultimately led him to the Cleveland Force/Crunch where he played in almost 300 games for the club from 1983-1990, ranking him second all-time in club appearances. He has coached for college and club teams for more than 20 years. Luciano had this to say about his new coach:
"We are very excited to welcome Benny Dargle to the Cleveland Crunch team. Dargle embodies all the qualities we are looking for in a coach. His career experience and values are a perfect match for the organization, and we look forward to a bright future ahead."
Tryouts
Anyone interested, tryouts are scheduled for November 19, 2022, at Soccer Sportsplex in North Olmsted from 12-3pm. Contact the club for more.
Excitement around town!
Good luck to the Ruscitto's as they embark on this exciting adventure. If the excitement that Josh and Maria Cribbs had during an interview with Luciano and player, Kevin Blackwood, can carry over to the season, look out! Maybe a three-peat to the title game! 
Pairing the I-X Center and the Crunch can prove that old adage that what was once old can be new and exciting again!

NEO Sports Insiders Newsletter
Sign up to receive our NEOSI newsletter, and keep up to date with all the latest Cleveland sports news.