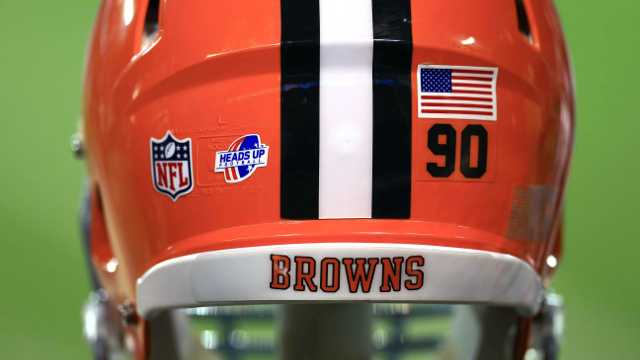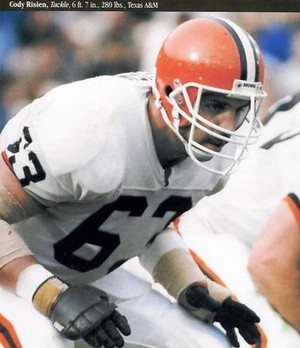 12. CODY RISIEN, G-T, 1979, 7/183, Texas A&M, 1979-89. Became a starter as a rookie. One of his era's taller offensive linemen at 6-7, Risien excelled in both run and pass blocking. Missed the 1984 season with a knee injury. Was first-team all-league twice and played in two Pro Bowls.
11. JOE THOMAS, T, 2007, 1/3, Wisconsin, 2007-present. The Browns have a 47-97 record during Thomas' nine-year career — 37-91 over the last eight seasons. Yet, if the left tackle were to retire today, he would likely be a Hall of Famer. That's how good Thomas has been. He's made the Pro Bowl in every season of his career, and has been first-team all-pro six times, including the last three years. Remarkably, he has never missed an offensive play from scrimmage as a Brown.
10. PAUL WARFIELD, WR, 1964, 1/11, Ohio State, 1964-69, 76-77. After playing halfback at Ohio State, the Browns turned Warfield into a wide receiver during his rookie training camp in 1964. He was first-team all-pro as a rookie, and also in 1968 and 1969. Despite missing almost all of the 1965 season with a broken collarbone, Warfield caught 215 passes, averaging 20.2 yards a catch, and scored 44 touchdowns before he was traded to Miami after the 1969 campaign. He caught 24 passes for 404 yards and a touchdown in seven Browns' postseason games.
Warfield was sent to the Dolphins for their first pick, the third overall, in the 1970 draft. The Browns' reasoning for the trade was that they had to groom a quarterback to eventually replace their Pro Bowl QB, Bill Nelsen, whose knees were getting worse game by game. Cleveland used the pick to draft Purdue star QB Mike Phipps. Phipps replaced Nelsen one game into the 1972 campaign and led the Browns to a 10-3 record the rest of the way and a playoff berth. An aging Cleveland team was on the verge of the playoffs the next year before losing its last two games. Then, the Browns were a combined 7-21 in 1974-75.
Phipps separated his right (throwing) shoulder in the 1976 season opener, and Brian Sipe took over at QB. The Browns traded Phipps to the Bears and, as part of the deal, got a 1978 first-round pick in return. They used it to take tight end Ozzie Newsome with the 23rd overall pick.
Warfield, a Hall of Famer, helped the Dolphins win two Super Bowls. He returned to the Browns for his final two seasons, totaling 56 catches for 864 yards and eight touchdowns.