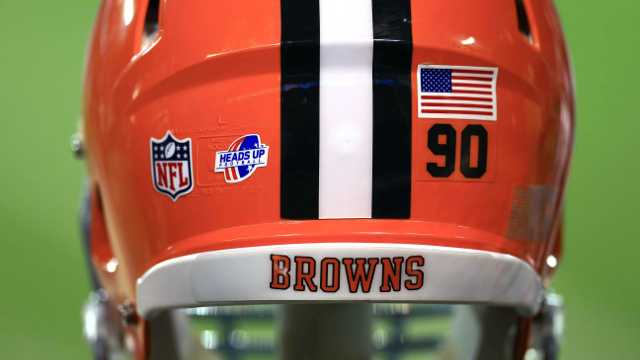 The NFL draft has been jokingly — well, maybe seriously — referred to as the Browns' "Super Bowl" by the team's frustrated fans.
For the first 20 or so years that the Browns were in the NFL, when the draft wasn't nearly as hyped as now, Cleveland's annual selection of college players was used to support an already strong roster. These days, the purpose of the draft for the Browns is more urgent — to build a roster.
Following is a ranking of the Browns' 70 best-ever draft picks in terms of value, not strictly in terms of production.
A player selected by the Browns with an overall 125th pick, say, and who went on to make a solid contribution for several years, might be ranked higher than a player who contributed somewhat more but was taken with, for example, a 50th pick. That's because in terms of draft value, that 125th pick turned out to be a better selection.
It's a list of 70, because it's 70 years since the Browns began play in 1946 in the new All-America Football Conference.
Players must have played at least four seasons with the Browns after being picked in the regular annual draft to be considered for this list. Those players acquired through one of the various supplemental drafts, such as Bernie Kosar, Kevin Mack and Mike Johnson, weren't considered because the mechanics of a supplemental draft are not comparable to the regular draft.
Browns greats such as Otto Graham, Marion Motley, Lou Groza, Bill Willis, Dante Lavelli, etc., aren't included, as they began their careers in the short-lived AAFC (1946-49).
Player performance with the Browns only is considered. Future Hall of Famers Doug Atkins, Willie Davis, Henry Jordan and Dick LeBeau were Browns' draft picks from 1953-59 but aren't on this list. LeBeau was cut by the Browns before playing for them. The other three were traded by the Browns after just two seasons each as part-time players.
Statistics refer to only what a player did with the Browns. Playoff game performances were factored into the rankings, too. Remember, the nature of statistics has changed over the years, one factor being that the game has become more pass-oriented in the last few decades.
Some players' values are enhanced by what the Browns eventually got for them in trades, or diminished by what Cleveland gave up to move into position to draft them.
Positions: Offense — QB, quarterback; RB, running back; FB, fullback; WR, wide receiver; TE, tight end; C, center; G, guard; T, tackle; PK, placekicker; P, punter; Rtn, kickoff and/or punt returner; LS, long snapper.
Defense — E, end; T, tackle; NT, nose tackle; LB, linebacker; CB, cornerback; S, safety; DB, cornerback and safety.
Key: ranking number, player, position, year drafted, round/overall pick number, college, years with Browns.
Click HERE to See Numbers 29 to 20
19. GARY COLLINS, WR-P, 1962, 1/4, Maryland, 1962-71. Three-time first-team all-pro. Averaged 16 yards on his 331 career receptions, and caught 70 touchdown passes, leading the league once and finishing second once. After playing as a backup his rookie season, caught 61 TD passes in his six full seasons — many on the famed "(Frank) Ryan to Collins post pattern" — the 61 TDs a remarkable number in a running game-oriented era of 14-game seasons. Scored five touchdowns in postseason play. Three of them (18, 42 and 51 yards from Ryan) were the game's only TDs in the Browns' 27-0 upset win over the Baltimore Colts in the 1964 championship game. Totaled 19 catches for 275 yards in eight postseason games. Was the Browns' punter his first six seasons. Led the NFL with a 46.7-yard punting average in 1965. Overlooked in the 1964 title game triumph was that Collins averaged 44 yards on three punts, 10 yards per kick better than the Colts' punter in the brisk winds at Cleveland Stadium.

NEO Sports Insiders Newsletter
Sign up to receive our NEOSI newsletter, and keep up to date with all the latest Cleveland sports news.