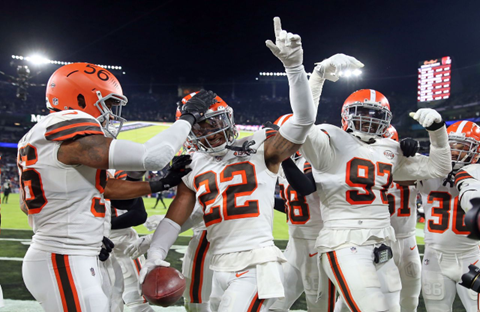 CLEVELAND –
The Cleveland Browns are heading into a season after leaving the fans disappointed in their previous season. Heading into last year, the Browns season would have been considered a failure by many if they missed the playoffs. That is exactly what ended up happening. Even with a new quarterback at the helm this year, there are still multiple uncertainties on offense. The Browns look to put the past behind them yet again and make a run for the playoffs in the 2022-23 season.
Season Schedule with 2021-22 Record
The Cleveland Browns schedule for the season is as follows;
Week 1: @ Carolina Panthers (5-12)
Week 2: vs New York Jets (4-13)
Week 3: vs Pittsburgh Steelers (9-8)
Week 4: @ Atlanta Falcons (7-10)
Week 5: vs LA Chargers (9-8)
Week 6: vs New England Patriots (10-7)
Week 7: @ Baltimore Ravens (8-9)
Week 8: vs Cincinnati Bengals (10-7)
Week 9: Bye
Week 10: @ Miami Dolphins (9-8)
Week 11: @ Buffalo Bills (11-6)
Week 12: vs Tampa Bay Buccaneers (13-4)
Week 13: @ Houston Texans (4-13)
Week 14: @ Cincinnati Bengals (10-7)
Week 15: vs Baltimore Ravens (8-9)
Week 16: vs New Orleans Saints (9-8)
Week 17: @ Washington Commanders (7-10)
Week 18: @ Pittsburgh Steelers (9-8)
The Browns open the season with a 4-game stretch in which all the game are winnable. The toughest matchup being division rival Pittsburgh Steelers. ESPN's football power index gives the Browns the edge in all four matchups. After that, nothing is easy for the Browns. They will only play three teams that were worse than .500 last season. One of which are the division opponent Baltimore Ravens, who are never an easy matchup. This year's Browns team will have a lot to prove if they want to get back to their winning ways of 2021.
Offensive Uncertainties
Quarterback Deshaun Watson is awaiting the new ruling after the NFL appealed Judge Sue Robinson's 6-game suspension ruling. However many games Deshaun is suspended, it will bring room for Jacoby Brissett to show what he has left in the tank. 
Earlier this week, Browns running back Kareem Hunt requested a trade due to him not having a new contract extension. Hunt held out of team drills on consecutive days last week. The team has denied Hunt's request of being traded. Shortly after the news broke of Hunt holding out for a new contract, he was back on the practice field for team drills. There still lies uncertainty about Kareem's future in a Cleveland Browns uniform.
The past few seasons, the Browns have had quite an impressive wide receiver room. This year that has changed. Odell Beckham and Jarvis Landry, who were on the team the last two seasons, have since found new homes. The Browns made the offseason additions of Amari Cooper and Jakeem Grant to bolster up their shriveling WR room. However, Jakeem Grant left practice early Tuesday on a trainer's cart as the team believes he has suffered a torn Achilles. This leaves young receivers like Donovan Peoples-Jones, David Bell, and Anthony Schwartz and the next guys behind Cooper. There are still several WR free agents that are unsigned and looking for a new home. One of the receivers could potentially help the Browns this upcoming season.
Defensive Consistency
With all the uncertainties roaming around on offense, the defensive side of the ball has been well maintained. The Browns were able to add DT Taven Bryan and DE Chase Winovich to the team this offseason. They were also able to resign DE Jadeveon Clowney. This keeps the 2-headed monster of Clowney and Myles Garrett on the ends of the defensive line. The Browns also added depth through the draft. They drafted DB Martin Emerson, DT Perrion Winfrey, and DE Alex Wright. By doing this, the Browns solidified much of their defensive questions by filling up depth spots. The Browns secondary, if healthy, will look to be top-5 in the league. Players such as cornerback Greg Newsome and safety Grant Delpit will look to have breakout season as part of the secondary.
My Prediction
With all the craziness that has surrounded the Browns this offseason, this season will be exciting to watch unfold. If Deshaun Watson's 6-game suspension stands, I believe that the Browns can finish the season at 11-6. This should be enough for the Browns to compete for a strong playoff spot. This could also propel them to a run for their first Super Bowl. 

NEO Sports Insiders Newsletter
Sign up to receive our NEOSI newsletter, and keep up to date with all the latest Cleveland sports news.