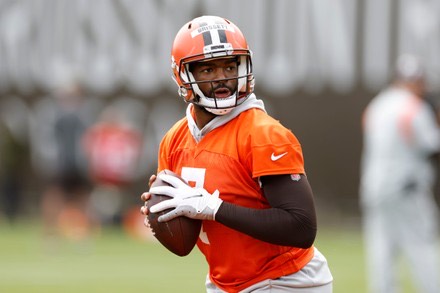 Cleveland, Ohio-
Browns Twitter has become a toxic place for Browns fans in recent months. Whether you're somebody jumping to defend Deshaun or somebody longing for the days of a healthy Baker Mayfield, everybody has a take on the QB situation. The name nobody is talking about, the man who is likely to play the majority of games, is Jacoby Brissett. With Watson likely facing a long suspension, its time fans get to know who may be under center week one.
Early Life and College Years
Jacoby Jajaun Brissett was born December 11, 1992, in West Palm Beach, Florida. Jacoby attended William T. Dwyer High School. At the end of his career, he was rated as a four-star recruit. Ranked as the third dual-threat quarterback in the class, Brissett committed to the University of Florida.
It wouldn't take long for him to get thrown into the fire as starter. John Brantley got injured in October and Brissett would make his first start against #1 LSU. Brantley would return to the lineup and, over the next two seasons, would mostly hang onto the job over Brissett. Following his sophomore season, Brissett transferred to North Carolina State University.
After sitting out a season due to transfer rules, Brissett would become the starter. Over his final two collegiate seasons he finished with 5,268 yards, 43 touchdowns, and 11 interceptions. After finishing his career with the Wolfpack, the Patriots would select Brissett with the 91st pick in the 2016 NFL Draft.
New England Patriots
Much like his college career, Brissett would find himself under center sooner than expected. In week 2 he came into the game for an injured Jimmy Garoppolo. 2016 was the season of the Deflategate scandal, thus making Patriots legend Tom Brady, serve a four-game suspension.
Jacoby would start two games for New England but was placed on injured reserve following a thumb injury. He would return to the 53-man roster for one game in December. However, he was inactive for the remainder of the games, including the Patriots Super Bowl run.
Indianapolis Colts
Following off-season shoulder surgery, it was determined Andrew Luck was going to miss games, so the Colts needed a quarterback. Indianapolis sent receiver Phillip Dorsett to the Patriots in exchange for Jacoby Brissett, a move Brissett was thrilled about. In his second start, Brissett would beat the Browns 31-28 for his first win, going 17 for24 for 259 yards with one passing and two rushing touchdowns. Throughout the rest of the season, the Colts would go 4-12 and Brissett would finish with 3,098 yards with 13 touchdowns and seven interceptions.
Luck would return to action in 2018 and Brissett was relegated to the backup role and would only appear in four games. Just two weeks before the start of the 2019 season, Luck shocked the world and announced his retirement. That put Brissett back into the starting position and the Colts rewarded him with a new two-year, $30 million contract, which he negotiated himself.
Indianapolis started the year 5-2 but would finish the season a disappointing 7-9. Brissett's big game would come against the Texans in Week 7 when he went 26-39 for 326 yards and four touchdowns. Thus, picking up AFC Offensive Player of the Week. He would finish the season with 2,942 yards and 18 touchdowns with six interceptions.
The Colts decided to make a change for the 2020 season and brought in veteran Phillip Rivers to become the starting quarterback. Brissett would remain on the team in a backup role and appeared in 11 games in deep pass and short run situations. He only threw for 17 yards but added three rushing touchdowns.
Miami Dolphins
Though Rivers retired, the Colts traded for Carson Wentz and Brissett ended up signing a one-year, $5 million deal with the Dolphins to backup Tua Tagovailoa. Tua was injured in Week 2 and Brissett ended up starting five games for Miami. In 11 games total, he threw for 1,283 yards with five touchdowns and four interceptions. The Dolphins would finish the year 9-8 and did not end up re-signing Jacoby. On March 19th, the Browns signed Brissett to a one-year, $4.65 million contract.
My Take
When the Browns signed Jacoby Brissett, I was mildly pleased. But, at that point, I hadn't fully comprehended the Deshaun Watson situation. In a four-game suspension situation, I'd feel comfortable with Brissett under center. With the best backfield in the league and the addition of Amari Cooper, there are enough weapons on offense for him to not lose games. But, in the case of a full season suspension for Watson, I don't trust Brissett.
The talent across the Browns roster can go toe-to-toe with anyone in the league. Nick Chubb is at the top of his game and Myles Garrett is one of the most feared defenders in the league. But like with anything in life, there is a shelf life. Cleveland is in win-now mode and can't afford to fall backwards if Brissett struggles as a full-time starter.
Follow me on Twitter @devinlowe123 for more Browns coverage!

NEO Sports Insiders Newsletter
Sign up to receive our NEOSI newsletter, and keep up to date with all the latest Cleveland sports news.