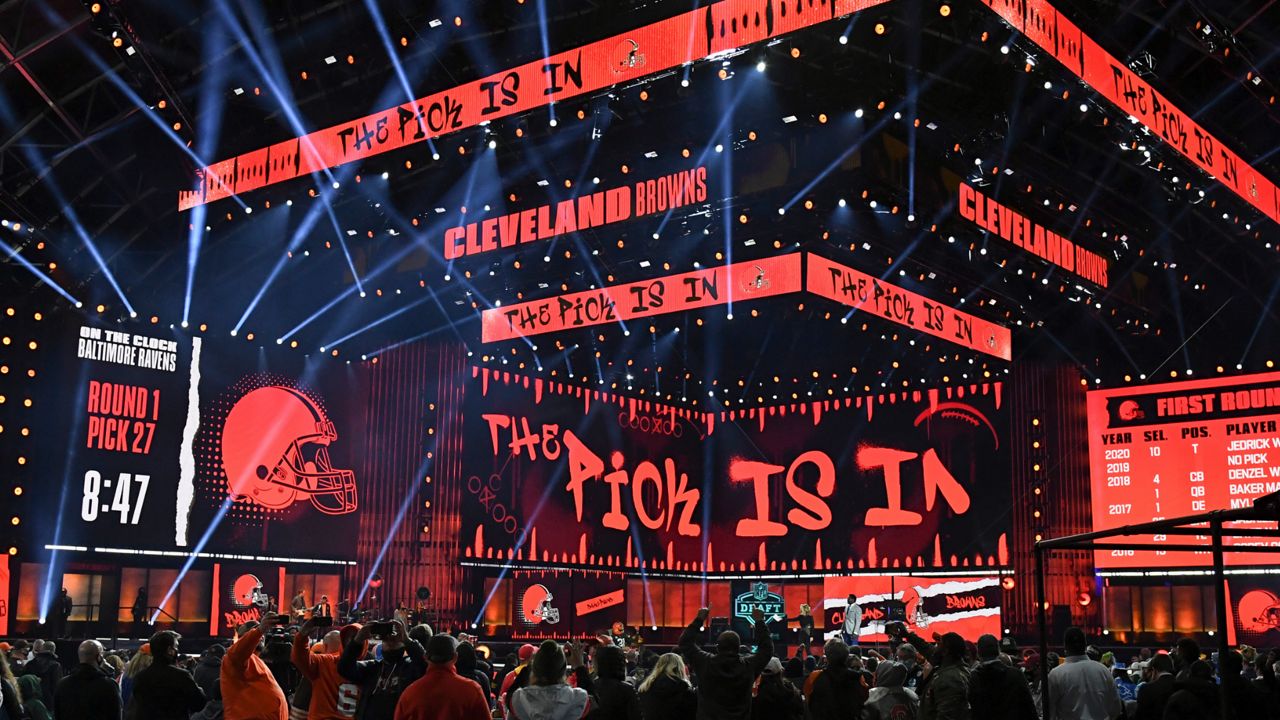 The Cleveland Browns made the most of their limited assets in the 2022 NFL Draft. They entered the weekend without a 1st round pick and were set to make their first selection in round 2 at pick 44. The Browns decided to trade down with Houston, sending the #44 pick to the Texans in exchange for picks 68, 108, and 124. The Browns also sent pick 118 to the Minnesota Vikings for pick 156 and a 2023 4th round pick. Surprisingly, the Browns traded DB Troy Hill back to the Los Angeles Rams for a 5th round pick in 2023. All that being said, the Browns made 9 selections. Here is the final haul for the Browns: 
Round 3, Pick 68 (from Texans):

Martin Emerson, CB, Mississippi State

 

Round 3, Pick 78:

Alex Wright, DE, UAB

 

Round 3, Pick 99 (Compensatory):

David Bell, WR, Purdue

 

Round 4, Pick 108 (from Texans):

Perrion Winfrey, DT, Oklahoma

 

Round 4, Pick 124 (from Eagles via Texans):

Cade York, K, LSU

 

Round 5, Pick 156 (from Ravens via Vikings):

Jerome Ford, RB, Cincinnati 

 

Round 6, Pick 202 (from Cowboys):

Michael Woods II, WR, Oklahoma

 

Round 7, Pick 223 (from Lions):

Isaiah Thomas, DE, Oklahoma

 

Round 7, Pick 246 (from Bills):

Dawson Deaton, C, Texas Tech

 

2023 4

th

Round Pick

 

2023 5

th

Round Pick

 
Let's take a look at each prospect and where he may fit with the Browns in 2023 and beyond: 
Martin Emerson, CB, Mississippi State
I mentioned in my pre-draft article for fans to not be surprised if this happens. The pick, however, shocked some. Emerson is a tall, long corner whose size could allow him to slide over and play safety if needed. The selection of Emerson made more sense when the Browns traded Troy Hill to the Rams later in the day. Even if Hill wasn't traded, his contract is up after the 2022 season, so is Greedy William's deal. I am of the belief that you can't have enough good corners. Also, look at the Quarterbacks and offensive talent in the AFC. The Browns must be able to get stops, period. The offense cannot feel like they must put up 40+ every game, it's not realistic. Emerson will provide depth and flexibility in the secondary. 
Alex Wright, EDGE, UAB
I loved this pick. Alex Wright is a raw EDGE talent with a lot of upside. He'll get a chance to be a rotational piece at the very least this fall. Wright is an every down EDGE with a big frame. Again, he's raw and needs work, but the potential is significant. The Browns are still pretty bare at the EDGE position, but I suspect there will be other moves made to sure up the defensive line. I still expect Jadaveon Clowney to return and possibly a few veterans signed on one-year deals. If his college tape is any indication, Wright will be a blast to watch develop. 
David Bell, WR, Purdue
The Browns finally addressed a massive need at Wide Receiver by selecting David Bell out of Purdue. Bell recorded 17 100yd games and two 200yd games in his collegiate career. The 6'2" 200+lb receiver is a good route runner. He has great hands and can separate. The knock-on Bell is his 40-yard dash time: 4.65. I will echo something I said on Twitter when Bell was drafted. Combine warriors do not equal superstars. Go and look at the top 40 times of the last 20 years and you'll see a theme develop that is fairly easy to spot: speed doesn't mean much if it's a player's only positive attribute. Here are some other notable 40 times of some pretty good receivers: Jerry Rice- 4.71, Larry Fitzgerald- 4.63, Devante Adams- 4.56, Jarvis Landry- 4.77, Cooper Kupp- 4.62, Mike Evans- 4.53. Also keep in mind, there is a difference between track speed and game speed. Watch Bell play, he plays faster than you might think. I'm a big fan of David Bell. He won't be expected to be WR1 with Amari Cooper taking that role. I just want Bell to succeed at whatever his role is. 
Perrion Winfrey, IDL, Oklahoma
Winfrey had the greatest post-draft conference call I've ever heard. His posts on social media were gold as well. I love the passion and he should become a fan favorite in short order. The Browns addressed another glaring need on their interior defensive line by selecting Winfrey. He was a 2-year starter at Oklahoma and the Senior Bowl MVP. Winfrey is a good interior pass rusher, something the Browns sorely lack. He's a bull rusher who can collapse the pocket and has a good chance to start his rookie year. The Browns aren't done adding to the defensive line, so Winfrey could end up being a significant rotational player early on at the very least. 
Cade York, K, LSU
I clamored on social media for a kicker. It is a high need in today's NFL. Frankly, it's always been a high need, but was not prioritized as such. How important are kickers? Out of the top 50 leading scorers in NFL history, only one, Jerry Rice, is not a kicker. Think about that. Phil Dawson scored over 500 more points in his career with the Cleveland Browns than Jim Brown. Browns fans have watched Justin Tucker come through in the clutch for years and watched Evan McPherson help kick the Bengals to the Super Bowl. It's time to invest in this position and recognize kicking as a vital part of the NFL. I love this pick and I love that the Browns are trying to solve this issue. It can be hard to evaluate kickers, but I applaud the Browns being aggressive here. 
Jerome Ford, RB, Cincinnati
To say the Browns have a crowded running back room would be an understatement. Nick Chubb, Kareem Hunt, D'Ernest Johnson, Demetric Felton, and Jerome Ford. Let's look at this situation the same way we looked at the Martin Emerson pick. Hunt and Johnson are in the final year of their contracts. Felton primarily was a receiver last year. That leaves room for Jerome Ford to come in and have a shot to play in the future. I think something is up here. Whether D'Ernest Johnson was promised a trade or possibly Kareem Hunt. I'm not a fan of moving Hunt right now, but I would completely understand Johnson wanting more playing time and the Browns accommodating him by trading him.  
Michael Woods II, WR, Oklahoma
Woods had 38 starts in college between 3 years at Arkansas and 1 year at Oklahoma. He's a pretty big receiver at 6' 1", 198lbs and a good blocker. Last year at Oklahoma, Woods caught 35 passes for 400yds and 2 TD's. Woods has quite a bit of experience and will have a chance to make the roster.  
Isaiah Thomas, EDGE, Oklahoma
In my pre-draft article, I talked a lot about Andrew Berry's guardrails, especially his age guardrail. Isaiah Thomas is the first player Berry has drafted in 3 years as general manager who is older than 22. Thomas was a 2-year starter at Oklahoma with decent size who projects as a rotational EDGE rusher. Again, this is a pick based on potential.  
Dawson Deaton, C, Texas Tech
With the Browns releasing J.C. Tretter and seemingly moving Nick Harris into the starting center spot, depth was needed at the position. Hopefully, Deaton can provide the needed depth. 
Undrafted Free Agents
As of this writing, here are the reported undrafted free agents signed by the Browns. Nothing has been officially confirmed by the team: 
Malik Smith, TE, Fisk 
Felix Harper, QB, Alcorn State 
Isaiah Weston, WR, Northern Iowa 
Mike Harley, WR, Miami 
Zaire Mitchell-Paden, TE, FAU 
Glen Logan, DT, LSU 
Julius Faulk, CB, Delta State 
D'Anthony Bell, S, West Florida 
Travell Harris, WR, Washington State 
Brock Hoffman, IOL, Virginia Tech 
Silas Kelly, LB, Coastal Carolina 
Shaun Jolly, CB, Appalachian State 
Roderick Perry II, DT, Illinois 
Ben Petrula, OL, Boston College 
The Browns did what they needed to do in the 2022 draft. They filled needs and drafted players with good upside. Get used to this approach, because the Browns will be lacking 1st round picks for a few more years. They tried to mitigate some of this by acquiring a 4th and 5th round picks for 2023. Don't get me wrong, that won't come anywhere close to replacing a day one pick but adding day 2 and 3 selections will help the Browns move around draft board more easily.  
To me, the draft pick with the most potential to make a significant impact is Cade York. Kickers are underappreciated until your team needs one. The last truly reliable kicker the Browns had was Phil Dawson and he last wore an orange helmet in 2012. It was time to invest assets in the position. Think back to the last 10 seasons without Phil Dawson, how many games were lost because of a lackluster kicking game? Or missed field goals and extra points changed the trajectory and decision-making of a game? It's been a regular occurrence. By no means am I saying York is the next Phil Dawson, but I'm glad the Browns went out and got who they thought was the best kicker available to them this offseason.  
I am not going to give a draft grade. I don't believe in them until after at least year 2 of a draft class's performance. The Browns' draft looks solid on paper, that's the best I can do. There's opportunity for significant development. The Browns did the best they could with the assets they had and worked the board very well. The Browns got exceptional value overall and gave themselves a good chance to check off the 2022 draft as a win. Let's see what happens and judge slowly.  

NEO Sports Insiders Newsletter
Sign up to receive our NEOSI newsletter, and keep up to date with all the latest Cleveland sports news.