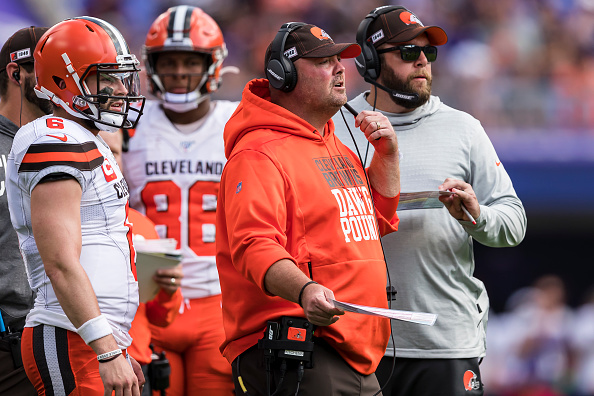 By Nick Broulis
The Beat Report has some thoughts from my notes about the Cleveland Browns.
1. For the life of me, I simply cannot explain as to why the Cleveland Browns are not using stud running back Nick Chubb more. Chubb is an elite back and I certainly have him as a top five RB. I'll take it a step forward and say he's as good as any RB in the game. So, why is Browns head coach Freddie Kitchens not running the ball more? Why is Chubb off the field on third and fourth down? I'm still confused why Cleveland calls for Baker to run a QB sneak on fourth down, when you have a monster in the backfield that, not only could have picked up the first down, but might have been able to pick up much more.
2. Here's another confusing matter. Wide receiver Odell' Beckham Jr has only one touchdown in the first eight games of the season. I wrote a column several weeks ago talking about not forcing the ball to Beckham. There is a difference between not forcing him the ball and not calling plays for a receiver that is one of the top three wide outs in the NFL. There are many ways to incorporate Odell without forcing it, Freddie Kitchens is simply not doing a good enough job of doing so. Beckham is frustrated with a lack of involvement in the offense, grant it he's had his issues with dropped passes, that doesn't mean you stop calling plays to get him the ball and give him a chance to make something happen. He is very skilled and it's time Kitchens lets him try to help the team.
3. I don't trust receiver Antonio Callaway and when he came back into play unprepared, I was very disappointed. This makes me wonder why wide receiver Rashard Higgins isn't being used. Higgins has good hands, a good work ethic and him and Baker have a great connection on and off the field. Yet, once again, Kitchens isn't using him and from what I've heard, when asked about Higgins, Freddie doesn't speak too highly of him, especially compared to Callaway.
4. Cleveland quarterback Baker Mayfield has not had a good season thus far, there's no getting around it. Yes, his receivers haven't always helped and the play calling has been bad, but Bakers accuracy and throwing into double coverage have been a problem all season. Some are pointing to all the commercials he's been doing and things along those lines. That doesn't matter to me, players that play well at key positions get endorsements. I do feel Baker will improve starting with Buffalo.
5. The bottom line with Cleveland, this offense should be running through Nick Chubb. Getting the running game going will open up the passing game.
6. The final eight games of this season will determine if Kitchens returns in 2020. Bad coaching challenges, poor use of timeouts, horrible in-game management, no accountability and lack of head coaching experience are will cost Kitchens his job by the end of the year, unless this season takes a complete 180, starting with the Buffalo Bills this Sunday. His play calling has left much to be desired. Not being able to use all this talent properly and this team looks unprepared more often than not. I think Freddie can be a great offensive coordinator, but right now, being the head coach is too much for him.

NEO Sports Insiders Newsletter
Sign up to receive our NEOSI newsletter, and keep up to date with all the latest Cleveland sports news.