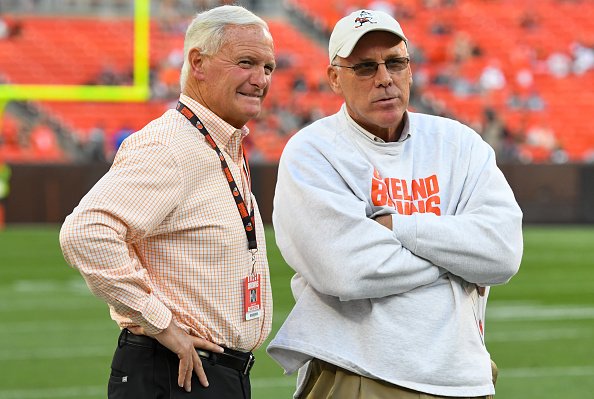 The best thing to happen with the Cleveland Browns this past offseason wasn't the trade for Odell Beckham Jr. It wasn't the countless magazine covers and features. It wasn't the massive hype-train, the reinvigorated fan-base or all the media members dubbing the team as a potential division-winner.
No, the most momentous moment of the offseason was owner Jimmy Haslam stepping aside and letting his front office lead the charge with the search for a new head coach, a search which ended with Freddie Kitchens winning the gig.
This had never happened before. Haslam had never been able to resist the urge to interfere with decisions he didn't have the expertise to make.
Thanks to the disaster which has unfolded since, it's fair to wonder if he'll ever let that happen again. Haslam let GM John Dorsey run the coaching search unimpeded, and the man he hired has proven to be a failure. As a result, it's time to worry about Haslam going back to his interfering ways.
The decisions of Cleveland's owner have been a major factor in the team's struggles over the past few years. Haslam has pushed the Browns to draft the wrong players, he's hired coaches who flopped in epic fashion. In some cases, he fired said coaches too early. In others, he let them hang around too long.
Under his watch, the Browns front office was frequently a mess. Haslam created an org chart which ensured everyone, from coaches to management, reported directly to him. Instead of much-needed synergy, it created chaos.
Then, things changed.
His most recent GM hire, Dorsey, seemed to restore order. His roster moves, from the draft to low-key acquisitions like Breshad Perriman and Greg Robinson, were instant successes. Last year's midseason decision to hand the keys to the offense over to the unproven Kitchens brought a lifeless team back from the dead.
For all intents and purposes, Dorsey was on a heater, and had earned the right to run the show this past offseason. Haslam acknowledged this in finally stepping out of the way and letting his GM do his job. When the team introduced Kitchens as the new head coach, Haslam didn't even take a seat at the podium, instead watching from aside.
What seemed like a minor moment was actually incredibly significant. It was a clear indication Haslam finally realized the error of his ways, that he was finally going to trust the people he hired to do their jobs without getting in the way.
Then, Dorsey's hand-picked hire proved to be an epic dud.
Kitchens has spent the entire year floundering, holding the Browns back with severely questionable in-game decisions. He's seemingly losing control of his locker room, with players caring more about themselves than winning on Sundays. What was supposed to be a successful season has instead become a massive waste of one of the most talented rosters this team has had.
As a result, it's fair to worry about how Haslam reacts to this.
Does he still trust Dorsey? If Kitchens gets fired at season's end – which certainly appears to be a likely scenario – will Haslam still let his GM run another coaching search? Is he still going to stand aside?
Or are we about to see the return of the interfering owner? Has what's unfolded this season convinced Haslam he needs to have more say in key offseason decisions? If it has, will Dorsey accept this?
Essentially, the worst-case scenario we've seen on the field could create a similar situation in the front office.
Haslam finally learned to trust his GM, and he got burned. The hire Dorsey made when given full control of the coaching search likely isn't even going to see a second season. It seems lofty assume Haslam will just sit back and give his GM a do-over.
Should Haslam revert to his old ways, inserting himself in decisions he shouldn't be making, forcing everyone on staff to report directly to him, it's tough to believe Cleveland will ever get back on track. The Browns may have had one shot to ensure that doesn't happen, and right now, it's been a catastrophe.
Haslam stepping aside this offseason was the first sign this team could finally start moving in the right direction. That what's followed has been the same mess we're used to seeing may ensure he never does so again.

NEO Sports Insiders Newsletter
Sign up to receive our NEOSI newsletter, and keep up to date with all the latest Cleveland sports news.