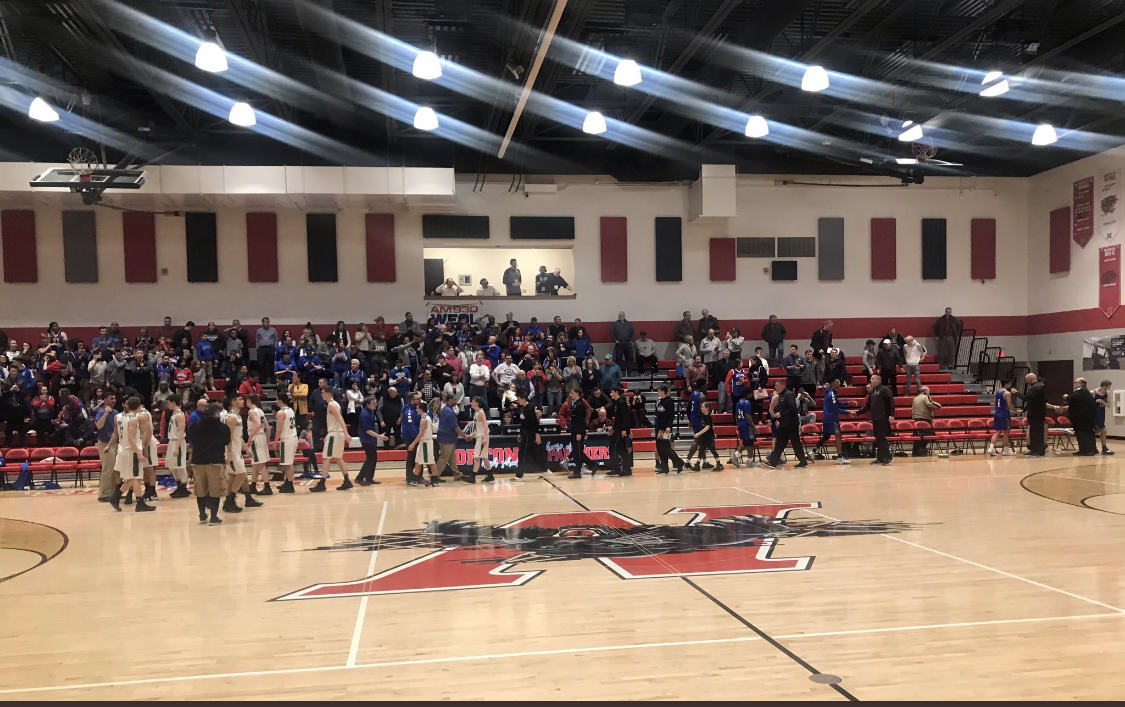 By Don DiFrancesco
Open Door 22 15 18 14 = 69
Columbia 8 10 11 16 = 45
Open Door? It was more like "Katie bar the door" as the Patriots hit Columbia with a 22-8 first quarter punch, then rarely let up on their way to a 69-45 victory on Tuesday evening at Norton High School.
With the win, Open Door advances to the district final game on Friday vs. top-seeded Richmond Heights.
Columbia made a concerted effort to get back in the game after the disastrous first period. They started the second quarter with an 8-2 run…and the third quarter with another 8-2 run…and the fourth quarter with a 9-0 stretch. But in each case, Open Door responded with an even bigger scoring spree.
Simply put, it was nearly a flawless performance for the Patriots: excellent shooting, solid rebounding, a crisp floor game, and fine defensive work.
The Patriots had double-figure scoring from seniors Jared Bublinec (16 points), Miles Hunt (also 16), and Trey Brooks (13).
Columbia senior Brandon Coleman led the Raiders with 14 points and a strong effort on the boards.
Open Door Christian
Bublinec 6-2-16
Hunt 6-2-16
Brooks 5-1-13
Dobbins 4-0-9
Wright 1-4-6
Wiley 1-1-3
Neadham 1-0-2
Yakobchuk 1-0-2
Zaborowski 1-0-2
Rebounds: 36 Turnovers: 12
Field goal shooting: 26/53, 49% 3-point shots: 7/18, 39% Free throws: 10/11, 91%
Columbia
Coleman 5-4-14
Simon 4-0-9
Miller 2-0-6
Ross 3-0-6
Borling 2-0-5
Hottell 1-0-2
Pettegrew 1-0-2
Fisher 0-1-1
Rebounds: 36 Turnovers: 15
Field goal shooting: 18/60, 30% 3-point shots: 4/25, 16% Free throws: 5/9, 56%