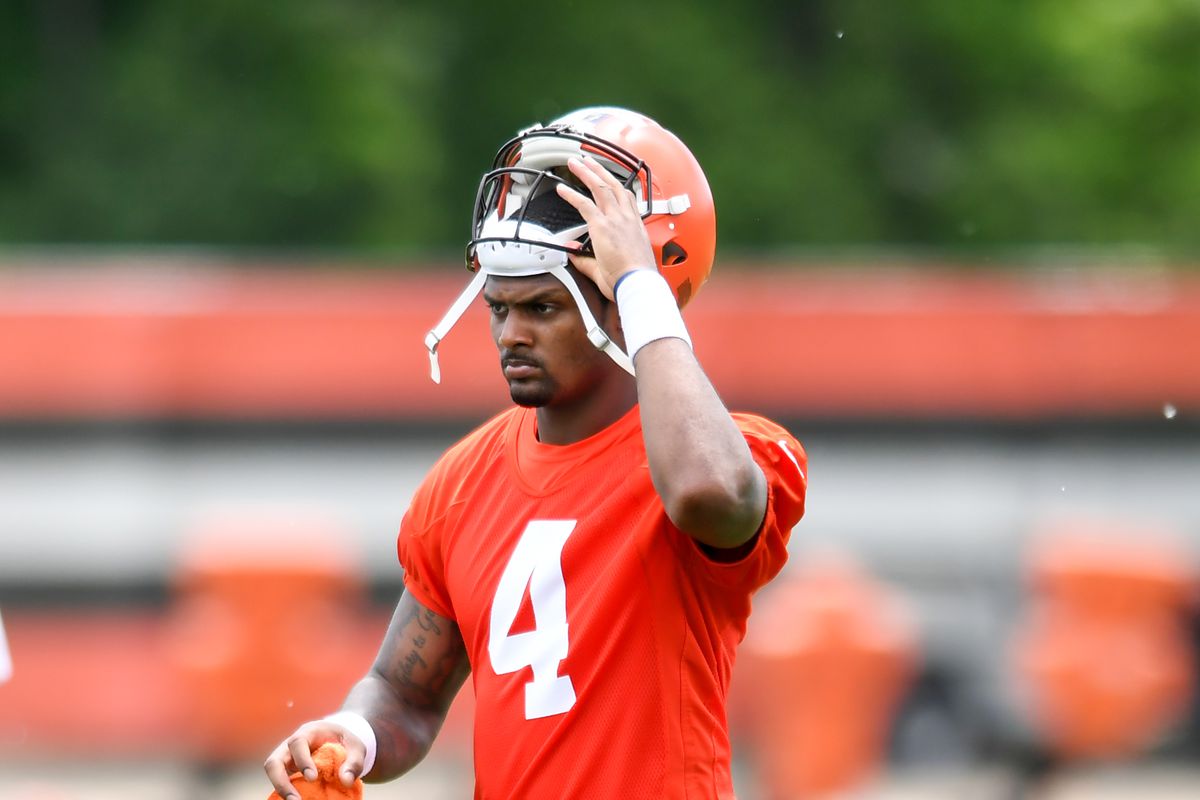 Reports surfaced today, and were confirmed by attorney Tony Buzbee, that Browns QB Deshaun Watson settled 20 of the 24 civil lawsuits filed against him. The suits against Watson range from sexual misconduct to sexual assault. The dollar amount of compensation to each of the 20 plaintiffs has been kept confidential. Four plaintiffs remain in negotiations for settlement with Watson's representation led by Rusty Hardin.
The news of a settlement comes as a surprise to some, as Watson has stated in the past his goal is to clear his name by fighting the accusations. It's unclear what may have caused Watson and his legal team to decide settling was the right call. All we have is speculation, but I would imagine neither the Browns nor the NFL, at the very least, wanted to see these cases get to trial for a variety of reasons and are happy to see a settlement. I'm not going to speculate as to Watson's motivation to settle. You can draw your own conclusions.
On the football side of things, the NFL has yet to make their decision known concerning a suspension for Watson. I'm sure they have a decision but are waiting for an opportune time to make it public. The NFL has never seen a case like Watson's and whatever the ruling is, will be the first of its kind. Some may look back at the punishments for Ben Roethlisberger, Ray Rice and Kareem Hunt and glean from that what the NFL may do. Those previous cases are different in many ways, and I don't believe they will factor into Watson's suspension. Though there is room to argue that point.
If I were betting man, here's how I see it playing out: the NFL's investigation into Watson will lead to a full season or 1 calendar year suspension recommendation. The NFLPA will certainly fight that recommendation and they have a legitimate argument. Put feelings for Watson aside for a moment, I believe the NFLPA could rightly argue the lack of consequences for Washington Commanders owner Dan Snyder and question why the NFL would suspend a player for a season, but an owner has not faced the same repercussions. That's not to say Watson deserves a reduced punishment. It's simply to say the NFLPA has a legitimate gripe.
After the suspension recommendation, the NFL and NFLPA will get into an interesting debate. Again, I'll make a guess and say they settle on 8-10 games. The NFL would reserve the right to further punish Watson with an indefinite suspension or being placed on the commissioner's exempt list should more evidence be presented or if Watson is found liable in any court proceedings.
I would be very surprised if Watson is under center in Carolina for week one. I think Jacoby Brissett will be the Browns' starting QB until after Halloween. The Browns knew what they were getting into with Watson and obviously felt the risk may be worth the reward. Certainly, a debatable statement among fans. We're just getting started with Watson's tenure in Cleveland and we won't truly have a clear picture of the Browns' gamble for at least another year.

NEO Sports Insiders Newsletter
Sign up to receive our NEOSI newsletter, and keep up to date with all the latest Cleveland sports news.