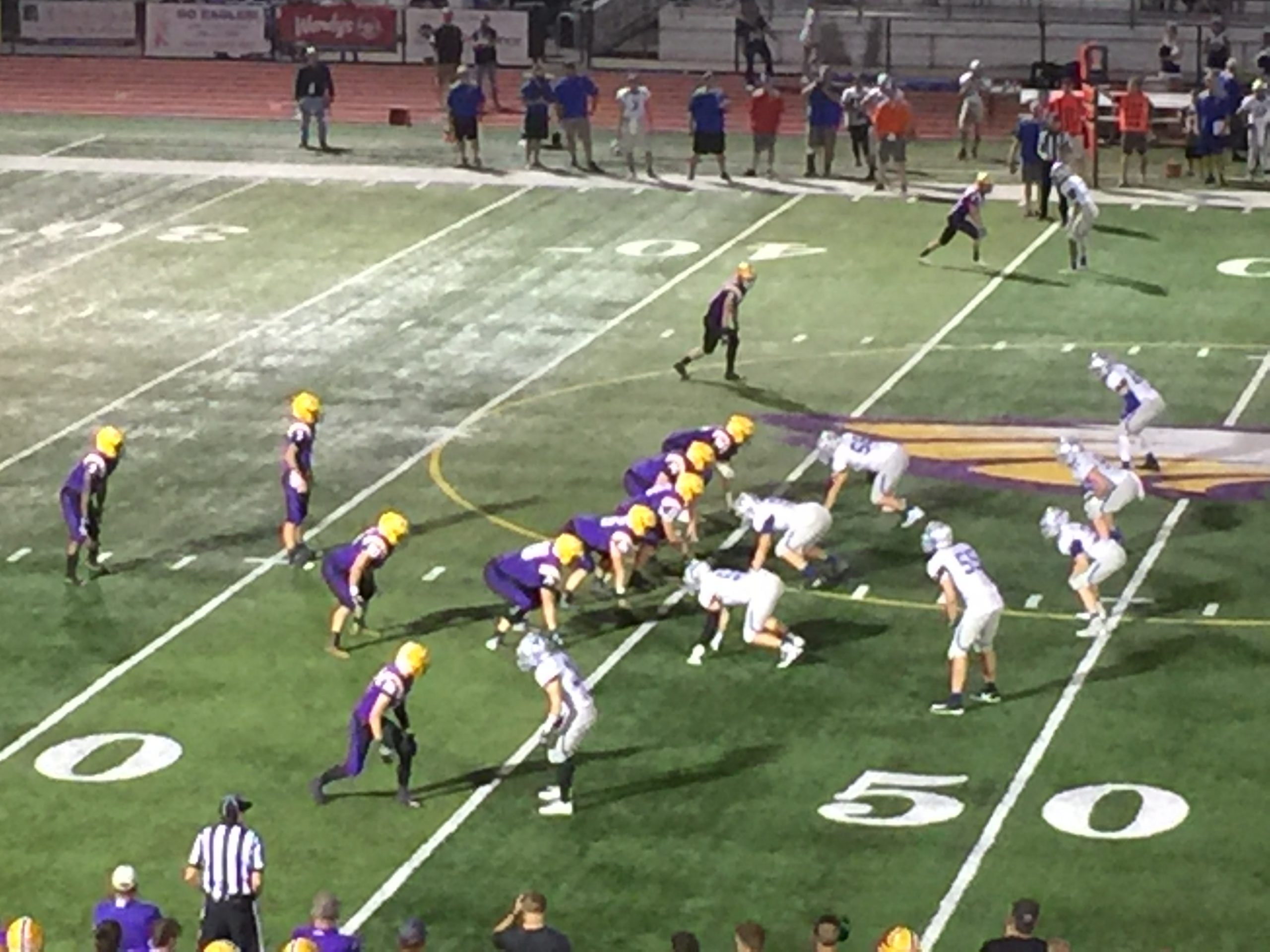 Tonights recap is brought to you by Crystalina's Pizzeria visit them at 36962 Detroit Rd, Avon, Ohio or call 440-933-1011 online orders at www.crystalinaspizzeria.com, #thechoiceisCrystalclear 
AVON, OHIO– The Nest was rocking, Joe Firment Stadium in Avon was filled to the rafters, and an absolutely picture perfect summer night in late September welcomed the most anticipated football game in all of Lorain County.
The Avon Eagles and the Midview Middies, the top two teams in the Division II, Region 6 state computer rankings were set to settle the score on the field. What unfolded left Northeast Ohio with no doubt as to where the road to the state playoffs begins, Avon.
The Eagles ran early, ran often and ran over the Midview Middies, 42-21, in a game that wasn't as close as the final score. The Avon offensive line and run game were no match this evening for the very game but very overmatched Middies.
Led by QB Ryan Maloy, 13-of-19, 181 yards, one TD, and 15 rushes for 117 yards and one TD, the Eagles went on a first quarter 79-yard drive capped off with a 13-yard run by RB Nick Perusek that gave the capacity crowd a sense of what was in store for the night.
Early on, however, Midview hung tough led by quarterback Seamus Higley, and the Middies marched right down the field themselves with a methodical eight-play drive that stalled at the Avon six on a fumble. The quarter ended 7-0 Eagles.
The Middies held and forced an Avon punt and drove 52 yards in five plays when Higley found WR Zac Gill from 11 yards out to tie it 7-7 early second quarter. But right back came Avon, a mix of perimeter runs by Maloy and power bursts by Perusek and Tony Eberhardt, the Eagles cashed it in when Mark Steinmetz waltzed in untouched from nine yards to take a 14-7 lead.
After Midview blocked a FG, they took over at their own 39 with only 51.1 seconds left in the half. It took them only six plays to get inside the Avon 10 when possibly the biggest play of the game, an interception, took the wind out of them. They never recovered.
Avon took the second half kickoff and on the second play of the drive Perusek burst up the middle, broke a tackle at the Midview 40 and was gone, a 74 yard back breaker to take a 21-7 lead. The third quarter was mired with unnecessary penalties by both teams, four personal foul penalties, including one by Midview head coach DJ Shaw which led to another Maloy TD run of 24 yards. The 28-7 lead looked too much to overcome.
Midview did settle down and late third quarter found the end zone again on an 11-yard pass from Higley to Nick Crum to get a bit closer at 28-14, but by this point the game wasn't in doubt. Another two-yard run by Steinmetz and a 52-yard pass from Maloy to Chris Mullins increased the lead to 42-14 before Midview ended the scoring with a 39-yard pass from Higley to Ben Gendics.
Midview QB Seamus Higley finished the night 20-of-38, with 266 yards, three touchdowns and one interception. WR Nick Crum caught five passes for 62 yards and a score. WR Ben Gendics had two catches for 69 yards and his TD. RB Conner Wolfe couldn't get it going until the second half and finished the night with 19 carries for 120 yards.
For Avon joining Maloy's big night were RB Nick Perusek who had 10 carries, 159 yards, and two scores. WR Chris Mullins added five catches for 107 yards, and Steinmetz put up two rushing touchdowns.
Midview, who falls to 4-1, tries to get back on track next week as they visit Berea-Midpark and Avon, still unbeaten at 5-0, travels to Westlake to meet the Demons.
Scoring Summary
A- Perusek 13 run,  kick good
M- Gill 11 pass from Higley, kick good
A- Steinmetz 9 run, kick good
A- Perusek 74 run, kick good
A- Maloy 24 run, kick good
M- Crum 11 pass form Higley, kick good
A- Steinmetz 2 run, kick good
A- Mullins 52 pass form Maloy, kick good
M- Gendics 39 pass from Higley, kick good

NEO Sports Insiders Newsletter
Sign up to receive our NEOSI newsletter, and keep up to date with all the latest Cleveland sports news.