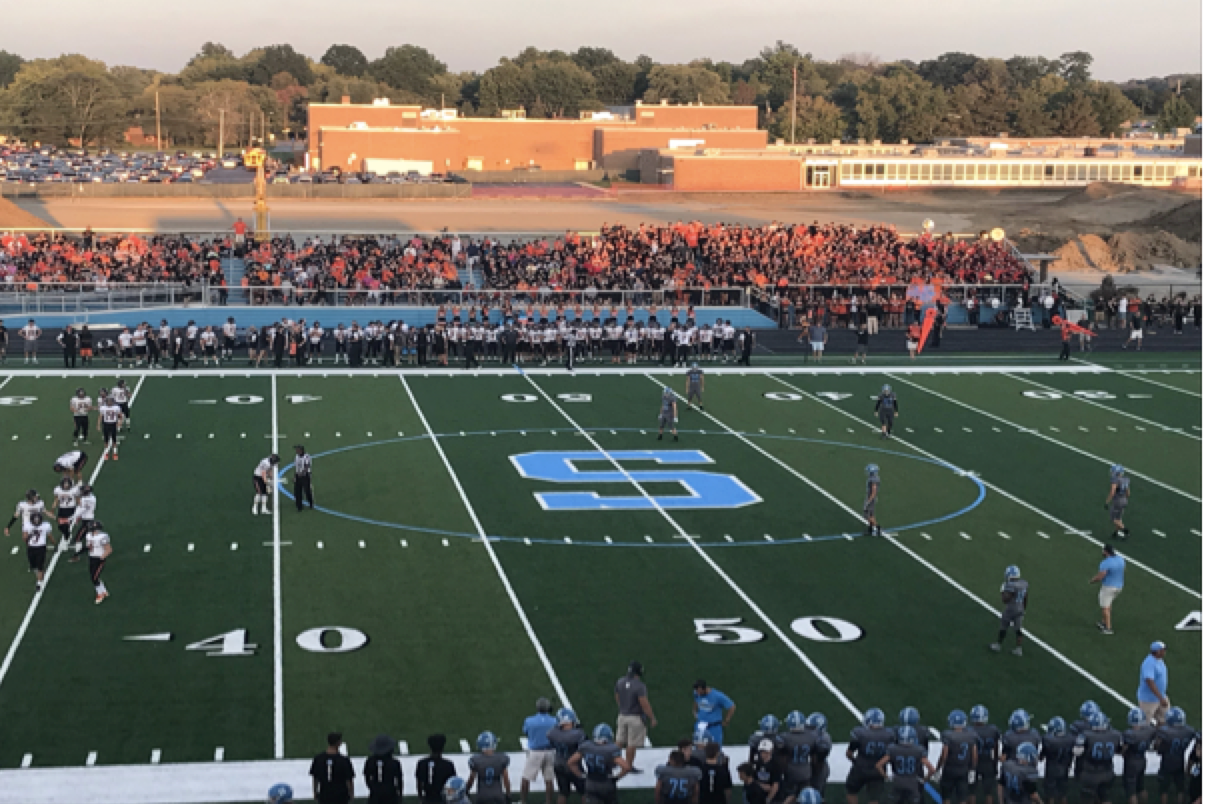 WILLOUGHBY, OHIO– Every year between Eastlake North and Willoughby South, there is one game on the schedule that stands out. It is the rivalry between these two schools.
It has been a very lopsided battle in recent years as South had won this game 13 times in a row coming into the game Friday night. Both teams were struggling to win games early on in the year, but overall records don't matter when these two rivals play each other.
Willoughby South started the night off with the ball and they made the most of it during their first series. It was an opening drive that consisted of a few big plays, which helped lead the Rebels down in the red zone in just four plays. The fifth play is where they got on the board all thanks to a quarterback sneak by Steven D'Eusanio.
Turnovers have been a big problem for Eastlake all season long and it continued against South. The first four offensive possessions for Eastlake all resulted in turnovers. All but one of those possessions led to a Rebel touchdown. In just about six minutes into the game, South was already up, 28-0. It was the perfect start for Coach Duffy and his team as it triggered them to get their first win of the season.
"We started this season with a lot of guys at different positions," South head coach Matt Duffy said after the game. "These kids have bought in and things have changed quite a bit. This was our first complete game tonight. Our kids are growing up and as long as the kids keep playing as hard as they did in the first half, they got a shot to win a lot of football games."
The 35 points scored in the first quarter were the most points South has scored not only in single quarter, but in a game this season. It was almost like it was a completely different team against North Friday night. The rivalry really did bring out the best in Willoughby, as the win now gives them an all time record of 29-27-1 during the rivalry.
Tyler Henderson was the spark that led the Rebel offense during the win. He accounted for four rushing touchdowns, and all of which happened within the first six minutes of the game. He was just too quick for the Ranger defense as his agility and lateral quickness helped him swift throughout the defense which lead him into the end zone. The speedy senior was a nightmare for Eastlake from the start.
The offense usually didn't get the ball first without something good happening on the defensive end. The defense for South was a big force all night long, as they held Tanski and the Rangers to just 13 total points. The early scoring in the game was a result of the stellar play on defense.
The defense really showed out Friday night, pressuring Tanski in the pocket all night which lead to many early and unfinished drives for Eastlake.
A safety forced by Brian Cook got the Rebels their first defensive points on the year as Tanski was sacked in the end zone for a safety. Just one quarter later, Cameron VonSeggern sacked Tanski in his own end zone, forcing the second safety of the game for South. It was an all around spectacular defensive effort all night from Willoughby South.
"We've been growing and getting better," coach Duffy said about his defense. "The biggest change in our defense within the last couple weeks is that we're creating turnovers. In order to be a solid defense you have to do that."
In the end South came up with a big win. The final score was 46-13. It was a very impressive victory from South and what better way to get your first win on the year than at home against your arch-rival.
Willoughby South will look to get another win next Friday night as they travel to play a tough Brush team. Eastlake North will look to rebound after an atrocious performance against South. The Rangers will host the Beavers of Riverside in search for their second win on the year.
| | | | | | |
| --- | --- | --- | --- | --- | --- |
| Team | 1 | 2 | 3 | 4 | Final |
| Eastlake North | 6 | 0 | 7 | 0 | 13 |
| Willoughby South | 35 | 9 | 2 | | 46 |
South: Steven D'Eusanio 1-yard TD run 11:07 left in 1st Q 7-0 South
South: Tyler Henderson 1-yard TD run 9:12 left in 1st Q 14-0 South
South: Tyler Henderson 10-yard TD run 8:51 left in 1st Q 21-0 South
South: Tyler Henderson 24-yard TD run 6:05 left in 1st Q 28-0 South
North: Jake Tanski 32-yard TD run 4:49 left in 1st Q 28-6 South
South: Tyler Henderson 20-yard TD run 4:19 left in 1st Q 35-6 South
South: Brian Cook forced safety 8:14 left in 2nd Q 37-6 South
South: Steven D'Eusanio 1-yard TD run 6:01 left in 2nd Q 44-6 South
North: Jake Tanski 49-yard TD run 10:10 left in 3rd Q 44-13 South
South: Cameron VonSeggern forced safety 2:47 left in 3rd Q 46-13 South
Player of the Game: Tyler Henderson, RB Willoughby South
South exploded on the offensive end, but it was the senior running back Tyler Henderson who stood out the most. The senior finished the game with four rushing touchdowns. Not just that, his explosion on the ground tonight made him break free for a couple big runs, which led to touchdowns all night for the Rebels. Henderson also made a big impact in the game through the air as he was one of D'Eusanio's favorite targets in the blowout win.
"I just wanted to help my team win tonight," Henderson said after the game. "It feels great making those big plays, especially against our rival. This game gives us a lot of confidence because we got a game under our belt now."

NEO Sports Insiders Newsletter
Sign up to receive our NEOSI newsletter, and keep up to date with all the latest Cleveland sports news.