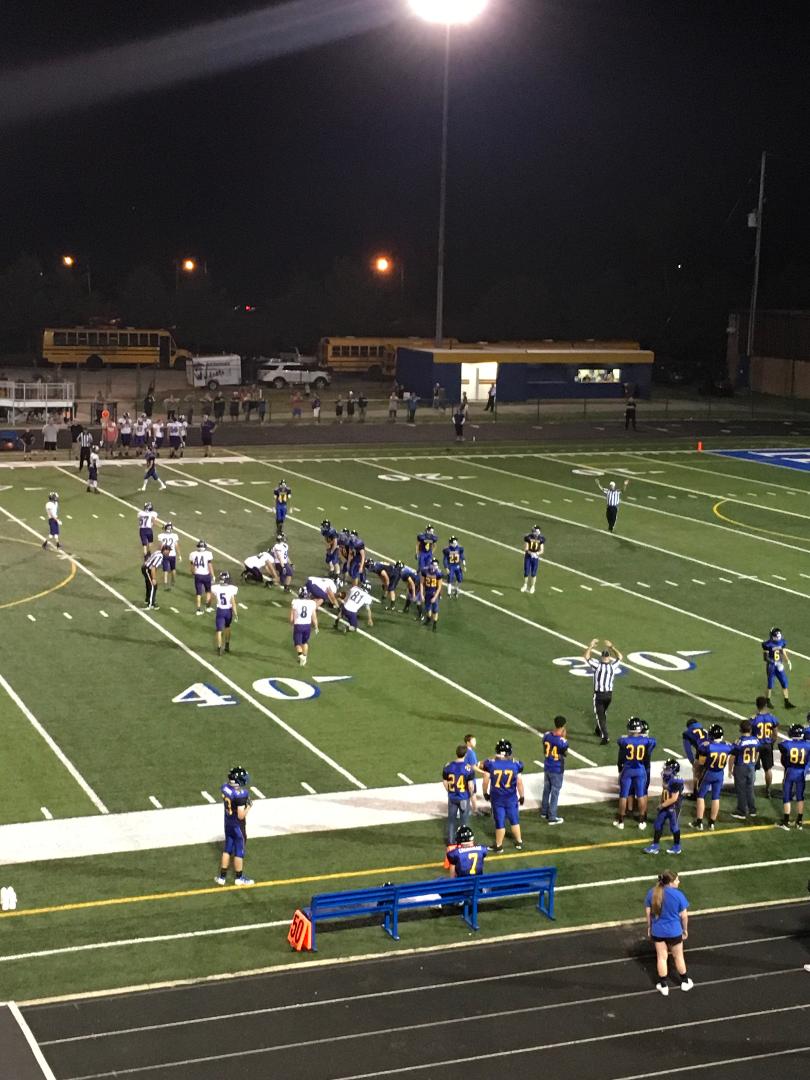 By Dave Alligood
BROOKLYN, OHIO – The Keystone Wildcats overpowered a struggling Brooklyn squad in a 49-8 victory at Brooklyn Memorial Athletic Stadium.
Led by senior QB Bobby Weber, Keystone controlled the ball throughout much of the game against an outmanned Brooklyn defense, while Brooklyn could not get any traction on offense as they bogged down series after series.
Playing their first game after losing senior QB John Kenderes to a season-ending injury against Firelands, the Hurricanes experimented with multiple backs to try to jump-start their offense.
Senior Andrew Zarins took most of the snaps at QB, while junior Hunter Smith also saw significant time behind center.
Coach Sean Belveal spoke of his team's efforts on offense: "Offensively, you know we lost our leader.  We were rotating three different guys in there today.  We wanted to see which one, you know, would kind of step up.  All three of them played pretty decent.  We're still searching a little bit, but we're going to find the answer."
The game started positively for Brooklyn as they picked up a first down behind senior Matt Crossman's running, but they had to punt after the drive stalled.
Keystone then used their first possession to go 69 yards on 11 plays while running six minutes off the clock.  They capped their drive with a five-yard TD run by Weber.  Keystone converted a two-point conversion to lead 8-0.
Keystone struck again midway through the second quarter when junior Dalton Weber scooped up Cole Corraini's fumble and outran the Brooklyn D over 70 yards for the score.  The PAT made it 15-0.
Brooklyn continued their struggles on offense and had to punt again late in the quarter.
Keystone took possession with 2:57 left in the half and used a long pass play to get into striking distance.
After a timeout, Weber found Cory Hartle in the corner of the end zone for a 19-yard TD pass.  The PAT gave Keystone a 22-0 lead going into the half.
Keystone out-gained Brooklyn 206 yards to 51 in the first half, with 135 of those yards on the ground.
The second half kickoff was disastrous for Brooklyn as they gave up a long return, setting Keystone up at the Hurricanes' 11-yard line.  One play later, Jack Corraini scored almost untouched, and Keystone led 29-0 with the PAT.
After a three-and-out, Brooklyn's special teams again gave up a huge play, allowing Keystone to start at Brooklyn's 13-yard line.  Again, Keystone needed just one play as Kayden Williams bulldozed his way into the end zone.  The PAT gave Keystone a 36-0 lead.
With a running clock for the remainder of the game, Brooklyn embarked on their longest drive of the night as they advanced to Keystone's 28-yard line in eight plays.  Facing fourth-and-three, Hunter Smith's pass was picked off by Jack Corraini.
Brooklyn's defense held, but the offense could not take advantage, going three-and-out again.
On the ensuing punt, Brooklyn's special teams suffered another breakdown as Justin Able weaved his way through the coverage for a 61-yard touchdown return.  With the missed PAT, Keystone led 42-0 early in the fourth quarter.
Coach Belveal described poor special teams play as the key to the outcome.
"Keystone, good team, I thought we were hanging with them for a little bit," he said. "But, we had some mental letdowns on special teams, and you've got to play all facets.  Special teams tonight was our Achilles' heel.  We allowed too many punt returns back.  As we move this program forward, that's stuff that we can't allow to happen."
Brooklyn scored their only touchdown on their next possession as Yamil Rivera picked up a Brooklyn fumble and outpaced the defense for the score.  Brooklyn's successful 2-point conversion made the score 42-8 with 4:22 left in the game.
Keystone again scored with under 2 minutes in the game to finish the scoring, 49-8.
For the game, Keystone outgained Brooklyn 282 to 157, with 211 yards on the ground.  Brooklyn Coach Belveal praised Keystone's offensive efforts following the game.
"Keystone is a good team," Belveal said. "They're very well coached.  Their O line was solid, and they've got a solid scheme."
Brooklyn falls to 2-3 and goes on the road against Fairview next week, while Keystone (2-3) returns home to face Black River.
Player of the Game:
Senior QB Bobby Weber may not have produced huge numbers, but he did not need to as he engineered a successful ball-control attack.
Weber efficiently led Keystone, running the ball just enough and completing a pass every now and then to move the Wildcat offense.  For the game, Weber completed five-of-seven passes for 71 yards and  one touchdown.  Key passes were a 44-yard completion on one scoring drive and a 19-yard TD pass to finish another drive.  Weber also contributed a five-yard TD run for Keystone's first score of the night.  Keystone did not attempt a pass in the second half, but continued to run the ball and chew up the clock under Weber's direction.