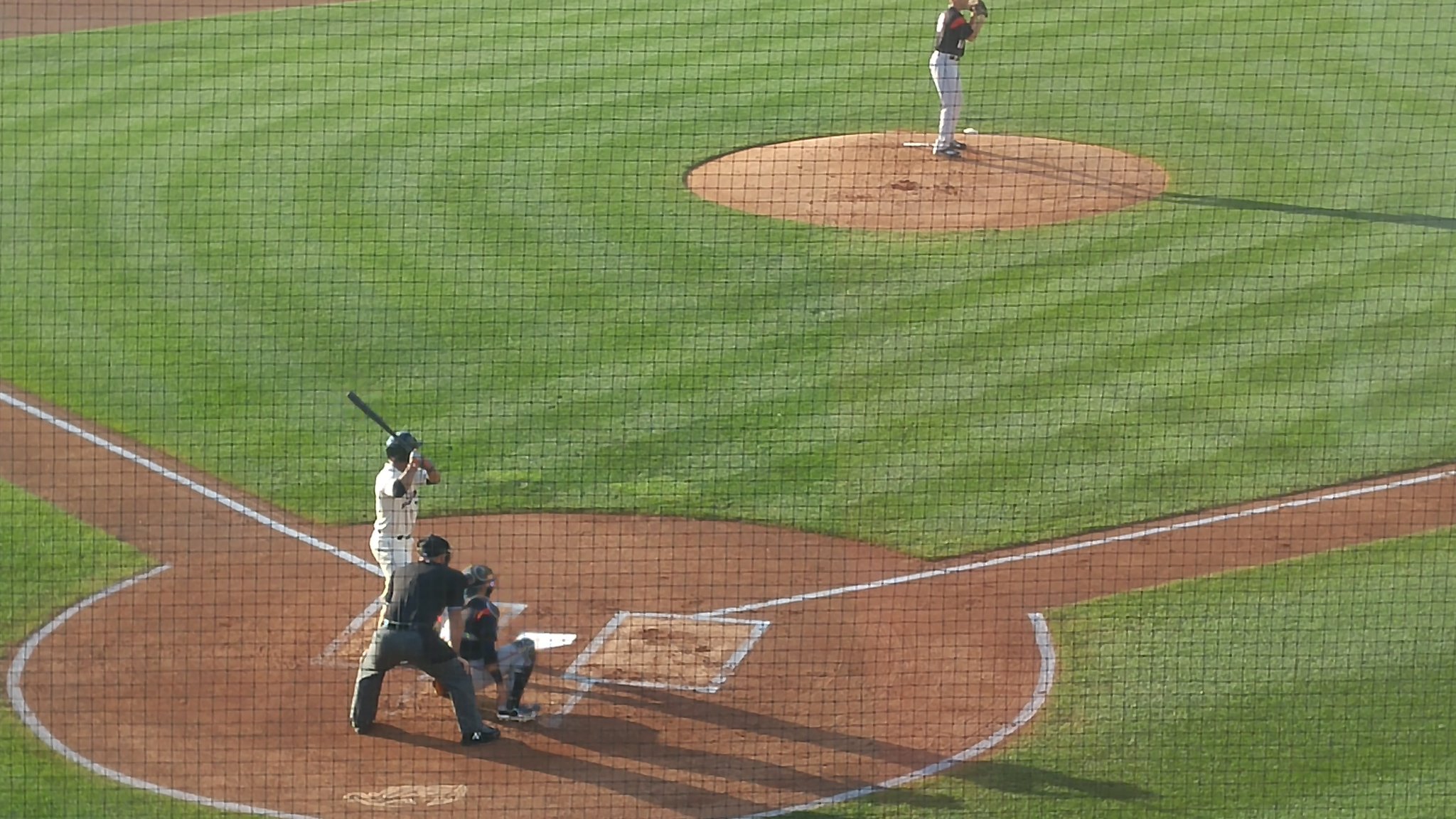 AKRON, Ohio – The Richmond Flying Squirrels invaded Canal Park to take on the hometown favorites, the Akron Rubber Ducks.  The Squirrels at 39-57 have been struggling this season, while the Rubber Duck's have been consistent at 48-47.  The Rubber Ducks came into tonight riding the cusp of a three-game winning streak which had followed a season high six game losing streak.
Interesting note heading into this one, the onetime cult legend of the Cleveland Indians Jerry Sands, is now playing AA ball for the SF Giants organization as a member of the Richmond Flying Squirrels.  He is batting cleanup, so things may be looking up for the former ICON.
Any of us who drove to Akron to watch Mejia behind the plate, didn't get to see it as he was slotted to DH.  However, the main reason to see Mejia is his bat, and he didn't disappoint with a RBI double in the first inning to make it 1-0 Rubber Ducks as it scored Joe Sever who opened the inning with a single off of Richmond Starting pitcher Nate Reed.
Shortly after that, it was Mejia coming around to score on the RBI groundout by Bobby Bradley to make it 2-0.  The inning would end at that same score.  Akron starting pitcher Matt Whitehouse would follow-up his scoreless first inning with a scoreless second, spreading out 4 strikeouts along the way.
The Rubber Ducks kept the pressure on opposing pitcher Nate Reed with a single and double to put two men on with only one out in the bottom of the second.  Right after that, a RBI groundout by Joe Sever made it 3-0.
Then, to the surprise of everyone, Mejia was pulled from the game out of nowhere.  With a chance to expand on the 3-0 lead, one of the best players in AA ball was benched, and not injured.  Interesting to see what comes of this.  Possible trade? Possible Injury? ( it would later be revealed as a strained hip that will have it him out day to day.  )
After another clean third inning by Whitehouse.  The Rubber Ducks went back on the attack.  This time with two outs and no one on.  It started with a Mike Papi double, Dorssys Paulino followed with a walk and then an Eric Haase smashing single made it 4-0.  Reed didn't do himself any favors by then walking number 9 hitter Tyler Krieger to load them up again, before Greg Allen grounded out to leave them loaded and close the first three innings of play at 4-0 Rubber Ducks.
With the Ducks firmly ahead in the bottom of the fourth inning, the Flying Squirrels began to rally in the top of the fourth following an error by the Rubber Ducks which allowed CJ Hinosa to reach base.  Jerry Sands soon followed with a one out single. They were both brought home on the three-run homerun by K.C. Hobson to make it 4-3.  It could have been worse, as Brandon Bednar and Dylan Davis then singed before Whitehouse was able to get Zambrano to fly out to deep left to end the threat.
The game remained 4-3 until a sacrifice fly to deep right by Greg Allen made it 5-3.  It was after a leadoff double by Eric Haase who was then bunted over to third by Tyler Krieger.  It took two sacrifices but they got the run home.  In fact, 3 of their first 5 runs were via sacrifice.  The Ducks would hold on to win 5-4.
The player of the game went to Eric Haase who had 3 hits, including an RBI double.
Attendance – 7,277
Richmond 0-0-0-3-0-0-0-0-0
Akron 2-1-1-0-0-1-0-0-x
Richmond (SF) Starting Lineup
21 CF Slade Heathcott
9 CJ Hinojosa SS
18 Myles Schroder
43 Jerry Sands
28 KC Hobson DH
31 Caleb Gindl
19 Brandon Bednar
22 Dylan Davis
2 Eliezer Zambrano
Akron Starting Lineup
4 Greg Allen CF
9 Joe Sever 3B
17 Francisco Mejia DH
44 Bobby Bradley 1B
6 Yu Chang SS
38 Mike Papi RF
2 Dorssys Paulino LF
13 Eric Haase C
15 Tyler Krieger 2B

NEO Sports Insiders Newsletter
Sign up to receive our NEOSI newsletter, and keep up to date with all the latest Cleveland sports news.