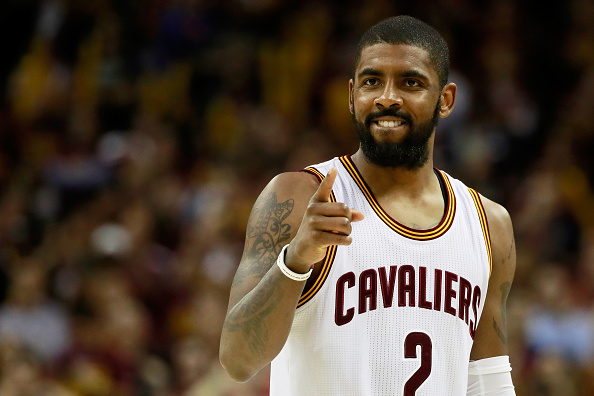 CLEVELAND– What can go wrong, has gone wrong. This has been the summer of Murphy's Law when it comes to the Cleveland Cavaliers.
It began, of course, with a Finals loss to the Golden State Warriors in June, and has since snowballed into much larger problems. There was the inability to come to terms with a new deal for general manager David Griffin, followed in quick succession by the inability to bring Chauncey Billups on board to run basketball operations.
The front office difficulties were also highlighted by an inability to sign any high-profile free agents or complete any blockbuster trades. A deal for Jimmy Butler never manifested beyond rumors in the media and players texting one another, while a deal for Paul George fell apart after the Indiana Pacers backed out via text message, per ESPN.
But the biggest sign of trouble came during the first week in July, when Kyrie Irving asked Cavs owner Dan Gilbert to trade him in a meeting.
And ever-present in the backs of everyone's minds is LeBron James' free agent status in the summer of 2018. James has given no indication what his plans for the future are beyond this upcoming season. He has made it clear that he will not waive his no-trade clause for any reason in the 2017-18 season.
It's unclear how much time, if any, the Cavs' Big Three have remaining together. According to a new report from ESPN, Irving went to a scheduled meeting with Gilbert and requested a trade from the Cavs on July 7.
Irving's main objective in asking to be shipped out of Cleveland? Finding a team where he can be more of a centerpiece, rather than playing second fiddle to James. Irving gave Gilbert a list of teams where he would like to go, (the Miami Heat, New York Knicks, San Antonio Spurs or Minnesota Timberwolves) but without a no-trade clause, Irving's destiny is completely out of his hands.
First and foremost, the Cavs could elect not to trade Irving, similar to what the Los Angeles Lakers did when a frustrated Kobe Bryant (a trusted mentor of Irving's) requested a trade in the summer of 2007. And if they do trade him, they can send him to any team they wish.
Following Gilbert's meeting with Irving, he held a meeting with his entire front office to try to work out a plan on how best to proceed. As for now, the plan remains to "maximize the situation" according to ESPN, with the knowledge that Irving has tremendous trade value.
Per the ESPN report, the decision to ask for a trade was not a snap decision, but rooted in Irving's growing unhappiness. It's no secret that playing with a once in a generation talent like James can take a toll on even his most talented teammates. Griffin had multiple conversations with Irving over the last year in an attempt to ease Irving's concerns.
While Griffin put together numerous blockbuster deals in his time as GM, his most important role was undoubtedly his ability to manage and build relationships in an organization with egos, and where multiple players believe they are talented enough to be the faces of a franchise.
It's no wonder then, that players were upset and frustrated when Griffin and Gilbert could not come to a new contract agreement.
But beyond feeling like he is constantly coming in second to James, ESPN also cited "ancillary issues" that led to Irving's growing discontent. In particular, they cited Randy Mims, a friend and associate of James, being on the Cavs' staff while no one in Irving's orbit has a similar standing.
Irving also grew frustrated watching guards Damian Lillard and John Wall being looked at as the faces of their respective franchises, and in return receiving a majority of the credit for their teams' successes (irony exists here in no small amount, as neither the Trailblazers nor the Wizards have made it to the conference finals while Irving has won the last three, and an NBA title).
While Irving has grown frustrated by his perceived sidekick role, his stats show that he's hardly had decreased opportunity since James' return in 2014– in fact, the exact opposite is true. During the 2016-17 season, Irving averaged a career-high in points per game, (25.2) and shot 76 more total field goals than James over the course of the year. He also was just above James in usage rate (30.8 percent).
But despite the stats, following Game 4 of the Eastern Conference Finals this year, Irving acknowledged the fact that it has been difficult to figure out his role in playing alongside James.
"For me, it hasn't been anything short of difficult, trying to figure out when will it be my time," Irving said. "My job is to be in the moment, especially with an unbelievable player like [James]. You have to enjoy the ride just as much."
"You can't cheat the game, and I don't." -Irving pic.twitter.com/rHLMMIw1xW

— Ashley Bastock (@AshleyBastock42) May 24, 2017
Just a few weeks later, the Cavs went on to lose the NBA Finals in five games to the Warriors. Per ESPN, the organization did not hold exit meetings with players, as they remained focus on signing Griffin. Had those exit meetings occurred, the organization likely would had learned of Irving's growing discontentment with his role.
The following week was when storms began to brew in Cleveland. Griffin and Gilbert were left stuck in a stalemate, which ended in Griffin walking.
Without Griffin at the helm, the Cavs began putting together trade packages in the hopes of signing Butler or George. Per ESPN, some of those packages included Irving, who was upset over learning about the different scenarios after the fact.
ESPN said the Bulls never took any offers from the Cavs for Butler seriously, and while the Pacers engaged in more serious discussions for George, a three-team trade between the Cavs, the Pacers and the Phoenix Suns eventually fell apart once the Pacers backed out at the end of June.
Just days later was when Billups withdrew his name for the president of basketball operations position.
Following Irving's meeting with Gilbert, players began to hear the news, with James in particular being "blindsided."
"Sure, we've had our fair share of moments and kind of chaotic times, and that's obviously been well documented, but at the same time we've had a lot of joy," one Cavs player told ESPN in their report.
"I hope Kyrie is with us, that's all I got to say. At the end of the day, we're pretty f—ing good."
That brings us to this past Friday, when ESPN broke the news on Irving's trade wishes, and sent the rest of the NBA into a tailspin. That same day, it was reported that Koby Altman was going to be offered the GM role.
It remains unclear what the Cavs will do with Irving. If they trade him, there's no telling what effect it will have on the upcoming season, (and the Cavs' chase of a fourth straight NBA Finals appearance) and whether or not it will influence James' decision to stay in Cleveland beyond 2018.
Regardless of what happens next season or summer, however, we'll likely look back at the decisions in the summer of 2017 as the ones that decided the future of the franchise.

NEO Sports Insiders Newsletter
Sign up to receive our NEOSI newsletter, and keep up to date with all the latest Cleveland sports news.