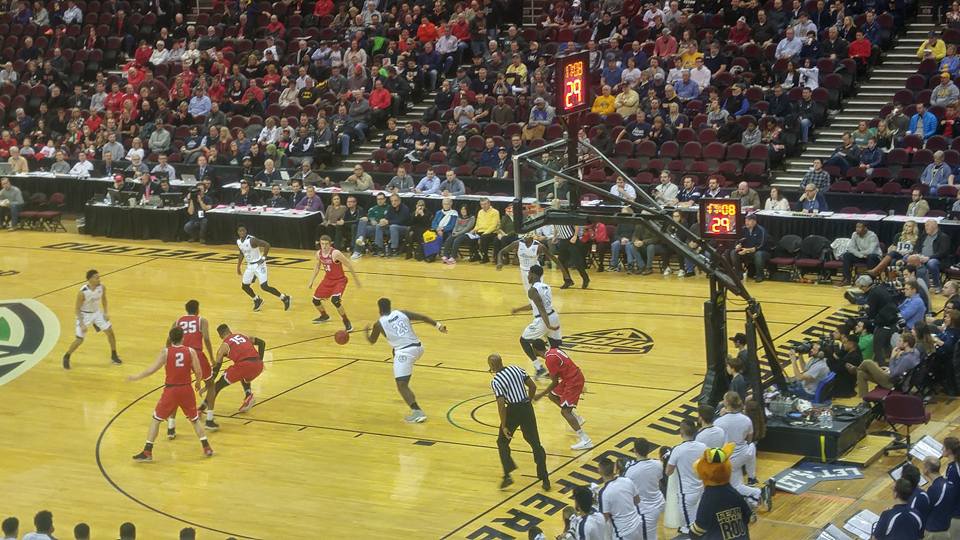 Ball State made it close at times in the second half but couldn't quite get over the hump as Akron hung on to win 74-70 and advance to the MAC championship game tomorrow night against the winner of Kent St and Ohio later tonight.
A three pointer by Ball States Taylor Persons cut the lead to 70-67 with 38 seconds remaining, but the Cardinals could never get closer.
Akron had a strong showing from several key players as they ran a very well balanced attack.  Leading the way was Antino Jackson with game high 19 points.  Jackson did it all as he also had 6 rebounds and 5 steals to take home NEOSI player of the game honors.
Also, scoring 19 for the ZIPS was the big man in the middle, Isaiah Johnson.  He was a presence in the paint with 6 rebounds.  Leading the ZIPS with 8 rebounds however was Jimond Ivey. 
Akron led 39-30 at half.  They dominated the majority of the first half but did allow Ball State to creep back in it at one point, as the Cardinals cut the deficit to 33-27 with under two minutes left in the half.  A couple of shaky fouls kept the game a little bit closer then it may have been in the first half.
Isiah Johnson for Akron went 4 for 4 from the field and led Akron with 12 points.  Both Antino Jackson and Jr. Kwan Cheatam chipped in with 8 points each.  Both men sinking two three pointers in the half.  Tahjai Teague scored 12 for the Cardinals to keep them in it.
The Cardinals came out aggressive in the second half and it led to them getting to the line multiple times and causing several turnovers.  They once again cut into the Akron lead, making it 43-38 5 minutes into the second half.  The heavy pro Akron crowd again became loud as they were in disagreement with several calls and calls. 
They became even louder at the 10-minute mark when a Francis Kiapay three pointer cut the lead to 47-45, the closest it had been all game.  Akron answered right away however with a Cheatham three pointer of their own.  It was only seconds later however, that Cheatham picked up his costly fourth foul and had to head to the bench with plenty of time remaining for Ball State to end well.
Akron didn't waiver even without Cheatham in the game, stepping up the defensive intensity and quickly pushing the lead back out to 10, with 6:48 left on the clock.  Every time Ball State would climb back in the game, they would commit a sloppy foul and Akron would run the lead back out again.
 Coach Keith Dambrot of Akron has this to say after the game.
"First off, my hat's off to Ball State.  We delivered about four knockout punches and we staggered them and we just couldn't put them out.  I don't think it was us so much as them.  I thought they just shot the ball in, and we had a hard time with them. 
James Whitford has done a terrific job at Ball State.  He's used a really good formula.  He's built his depth, he's got high character guys, and my hat's off to them, and particularly their point guard.  Man, I mean, if persons can play with that injury, then he's got to be one of the toughest guys in America.  Just so much respect for him, but it was a good ballgame, entertaining game.  Not so much fun to coach, but a good game for the fans."

NEO Sports Insiders Newsletter
Sign up to receive our NEOSI newsletter, and keep up to date with all the latest Cleveland sports news.