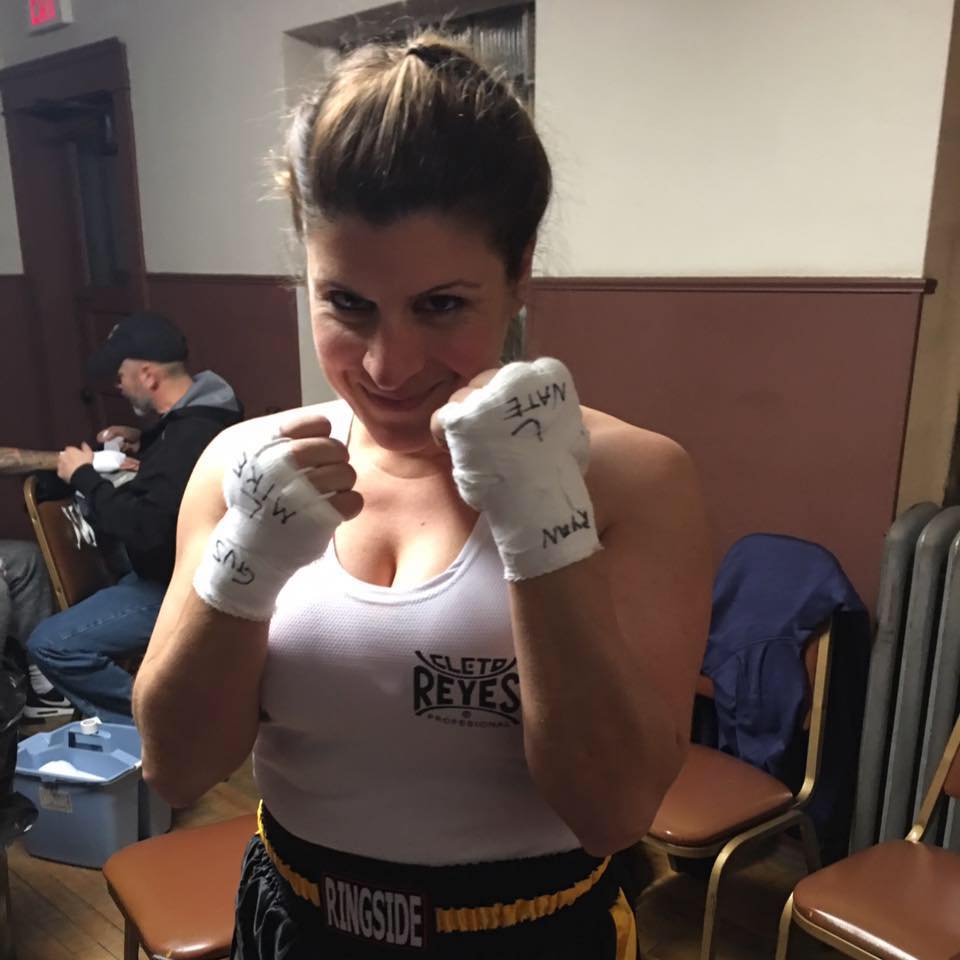 CLEVELAND, Ohio – 38 year old Alice Vitiello is only two fights into her boxing career, but those who know her and have seen her train and fight, can already tell she is headed for big things.
This single mother of two children takes life by the horns daily, works her tail off and is not afraid to push herself to extreme levels for progress. She holds a full time job, raises a family and pursues a dream daily!
If you're a young woman, or even man for that matter, gender doesn't matter, Alice Vitiello is the kind of athlete and person you want to mold yourself after. No dream is too big, and no age is too old if you have the passion, desire and work ethic of this young lady.  Do we have another Vonda Ward in the making?  Time will tell on that, but in the meantime, I had the privilege to sit down and chat with this future rising star.
Enjoy the Q&A below and make sure to follow this rising star as she chases her dream!
Age 38
Height 5'3″
Weight 152
Hometown Mentor, OH
Nationality? American
Who motivates and inspires you in the sport of boxing?
My favorite fighters, hands down, are Canelo Alvarez and Miguel Cotto. I love Ronda Rousey for what she's accomplished for female fighters, and I admire the tough women coming up like Holly Holm and Amanda Nunes. On a daily basis, my teammates and coaches at GriffonRawl MMA Academy are the ones who inspire and push me.
Boxing coach Tim Stafford, gym owner Jason Dent–they're just incredible guys who bend over backwards for their fighters. I wouldn't be where I am today if it weren't for Tim and how he's believed in me and supported my goals since day one. 
And I really admire my GR teammates like Nikolai Gionti, who is always helping out other fighters even when he's in his own fight camp and about to make his pro MMA debut. The other women at my gym–they are tough as nails, and we all look out for each other. GriffonRawl truly is like a big family.
On a larger scale, as a civilian I am incredibly motivated and inspired by our service members and veterans. I work at the VA and volunteer with the SEAL Future Fund and Special Operations Warrior Foundation. Through my work, I've met incredible individuals who push the limits of human performance to a level most of us can't even fathom. 
People from all eras–WWII and Korea through the OEF/OIF generation–I've learned lessons from them all. Their mental toughness, resilience, adaptability, mastery of mindset…I aspire to these qualities, and I'm always bugging my veteran and active duty friends for advice on training, mindset, and nutrition.
What most people don't realize is that while boxers or MMA fighters may train through a fight camp for peak performance at one specific event, some of these service members–particularly the special operations folks–need to be prepared to deploy anywhere in the world at the drop of a hat. That means they need to be prepared for peak performance 365 days a year.
Their physical capabilities seriously exceed those of most professional athletes, but they do what they do for no recognition and minus the million dollar paycheck. I just have mountains of respect and admiration for these people.
How do you train?  Your routine?
I take all the boxing classes that GriffonRawl offers, spar my teammates at the gym, and squeeze in additional training there when my schedule permits. At home, I wake up at 4:45 and work out in the basement, doing everything from strength and conditioning, heavy bag and speed bag, to stuff like practicing my footwork and head movement while shadowboxing.
I stay super active in the outdoors, compete in SUP (stand up paddle boarding) in the summer, and snowshoe and snowboard when I can. Working a desk job, I come up with little challenges during the day, like making myself do 20 push ups every time I go to the copy machine.
People here think I'm nuts, but I can get away with it because of the military culture of the VA. People get it, and you'd be surprised how many vets are former boxers or boxed in the service. That's actually how my coach got into boxing (this is where I give a shout out to the 82nd Airborne, or he'll be pissed!).
Did any fights you saw inspire you to get into boxing?
Haha! Yes! My grandmother was sick and my brothers and I had to rush to Virginia to see her. My boxing fanatic younger brother Adam, who actually now works for The Money Team, insisted that we choose a hotel based on who was going to air the Mayweather vs. Mosley fight. In preparation for the fight, he had me watch the whole season of HBO 24/7 in our hotel that day, and by that night I was riveted.
I loved seeing how the fighters lived and trained. My bro scored every round of that fight on the hotel notepad, and I didn't realize what a big deal it was when Mayweather got rocked by that one shot. Nobody ever hits Floyd Mayweather that hard! I just found it all motivating and inspiring.
I'm sure this all is an outgrowth of my childhood Rocky fixation. Rocky IV is pretty much the greatest movie of all time, and I'm not sure how many other 4th grade girls thought so, but I always did.
What were the first steps you took of following your boxing dream?
At first, just getting back into working out after having a baby. My brother would hold mitts for me and train me. As I was getting back into training, advice from my friend and former SEAL Jeff Boss–whose podcast The Chaos Cast is literally a goldmine of information on mindset and performance–taught me to begin to see myself as someone with limitless potential. And then I took a combatives seminar with a guy named Dom Raso of Dynamis Alliance.
Through my work with Dom, I discovered that "will to fight" was a powerful thing–and that I had it. I became addicted to that thrill and outlet of fighting. I came to GriffonRawl originally to study BJJ because I thought it seemed to include a lot of features
I joined the boxing class for fitness. I watched my teammates and worked hard to try to be consistent and earn their respect. The process involved a lot of "firsts;" first sparring, first fight. Actually, we can start with "first time getting punched in the face." That took some getting used to, but I like it now! (just kidding)
Are you a single mom?  How many kids you have?
Yes! I have two beautiful kiddos, my little man who's 4 and my little girl who's 6. They have a very supportive dad who's also very involved in their lives, so I can't say I'm going it alone.
But as a single mom, they do spend a ton of time around the gym with me, and the GR crew has welcomed and embraced them. I can't say that everyone in the family is thrilled that my kids have so much exposure to combat sports, but I love the way that martial arts teach respect and discipline.
I'm proud that I'm a strong role model for them. They see me in there grinding out the workouts and sweating day after day, so they understand that success is just a product of hard work, and you can't expect to be successful if you don't put the work in.
Even my losses make awesome lessons for them, because they can see that it's possible to give something your all and still come up short. It happens. That's life. What matters is how you move forward!
How do you find time to train and raise a family and work a job?
I've just trimmed the fat in all areas of my life. I don't waste time. No TV! That's the biggest time suck ever! I prioritize sleep and recovery, and I do that on the nights I have my kids. Everything I do is intentional, even the time I spend with my family. So much of this, by the way, is based on ways to optimize time that I've learned from asking different people. I just look at successful individuals–coaches, teammates, people I meet through work or fundraising–and ask them point blank how they do it.
Cultivating positive habits is a recurring theme in the advice I've sought from successful people. Make something easy and you're more likely to do it. If you want to work out at 4:45 am, put your workout clothes on the floor by the bedroom door. Make it easy and habitual to roll out of bed and get it done. Meal prep is also a necessity because having small children around means that temptation in the form of kid-friendly food is always present. If my healthy food for the day is selected and prepped before I get hungry, nothing is left up to temptation. I just eat what I planned to eat.
Who in your life right now is supporting you as you chase this dream?
Oh my gosh, literally everyone I know. My parents, family, kids, their dad, my incredible coach Tim, my teammates, my friends near and far who are constantly fielding my requests for advice and training/nutrition hacks…even coworkers and patients at the VA who love to talk about fighting. My dear mother is not terribly happy about my boxing, but she's not trying to stop me. She shows so much courage in supporting me while I know this terrifies her!
What traits do you feel make a successful boxer, and athlete in general for that matter?
Like Money Mayweather says: "hard work, dedication." I would add "passion" to that. If you're not passionate about what you're doing, you're going to get punched in the face for the first time and walk away.  I think that fighters need something to fight for.
We all have something inside that drives us. You have to get inside and find that. That's what provides the fuel to push you through the most brutal moments. I think each one of us has it, but it's different for everyone. And the passion is what sustains you through the dark moments, which inevitably come.
What is the next step in your boxing career?
One day at a time. I'm 38, so my options are limited before I turn 40. I'm just here to accomplish what I can and live my life with no regrets.
Favorite health food?
Tie between coach Tim's soy/honey/garlic sauce (makes it palatable to eat chicken breast day after day) and MMA fighter Mitch "Smashin' Frog" Aguiar's green juice (you can find the recipe on his instagram). I also can't live without kale, sushi, or shrimp.
Favorite junk food?
Yes. Just kidding. Chocolate, pizza, pasta…I'm Italian, so the big Italian family dinner my 95 year old papa makes, with the wine and pasta and salad and dessert and the whole bit. And it makes me sound like an old man, but I love to sip whiskey by the fire!  
Things you can't live without:
My babies, campfires, chocolate, whiskey, and lipstick
Message to those who have helped you get to this point in your career?
There's an awesome quote on the wall above the door at GriffonRawl. Proverbs 27:17–"As iron sharpens iron, so one person sharpens another." And a quote I think the SEALs use in their training–"Two are one, and one is none." Nobody becomes successful in a sport like boxing without other people who are willing to dedicate their time and effort to teaching you their craft. I put in the work, but I only know what to work on because of the amazing people I'm fortunate to have in my life. Having connected with so many incredible people through this sport–that's the biggest win of all.
What are the challenges facing a female athlete in a male dominated sport?\
I think that the worst trap any woman can fall into is thinking that you can only work with the one or two other women in a gym full of guys. That's limiting. In training, it's incredibly important to keep gender out of the equation as much as possible. Train and spar the guys as well as the other women. Don't limit yourself. 
I don't think that I'm looked at differently because of my gender, but I do think that respect is earned and not given, regardless of gender. I just wish there were more females to train and spar–women shouldn't fear combat sports. Don't just talk about trying it or wonder if you could–give it a shot and surprise yourself!