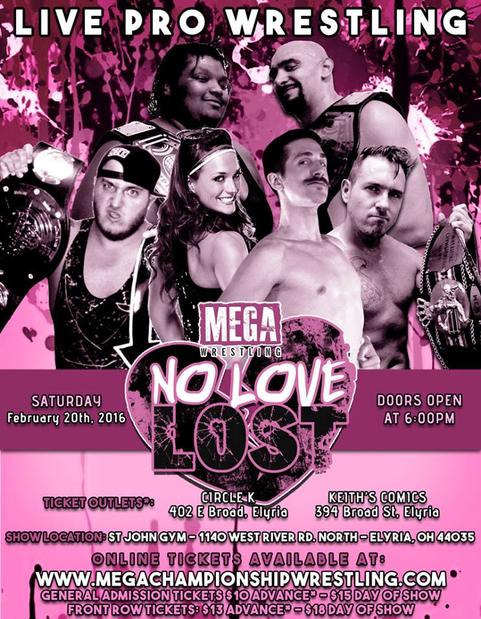 Location: St. John's Gym , 1140 West River Rd North – Elyria, OH
General Admission: $10 pre-sale/$15 day of event
Front Row (limited/possibly sold out): $13 pre-sale/$18 day of event
Doors Open: 6:00 PM
or
Circle K – 402 East Broad St – Elyria, OH
Keith's Comics – 394 Broad St – Elyria, OH
Tag Team Match
Dirty Johnsons vs Jersey Dukes
The Jersey Dukes are coming off of a Tables, Ladders, and Chairs match at Night of Champions for the Tag Team Championships. On the other hand, the Dirty Johnsons believe they deserve a Tag Team Title shot but the Jersey Dukes disagree and have challenged the Dirty Johnsons to a match. Will the Dirty Johnsons hop the line or will the Jersey Dukes climb up in the Tag Team Championship rankings.
Singles Match for the Infinity Championship
Derek Direction (c) vs Joshua Singh
Derek Direction is coming off of one of his biggest wins in his career, defeating Rhino back at Night of Champions. Direction will be facing off against someone that knows about championships and is also the youngest MEGA Champion ever, Joshua Singh. Can Derek Direction maintain his momentum and retain his title? Will Singh become the first man to hold the Infinity and MEGA Titles?
Tag Team Match for the Tag Team Championships
Shawn Blaze and Jackson Stone vs Meat N Taters
Here is a rematch from the TLC match that had also involved the Jersey Dukes. Shawn Blaze made his return to MEGA as Jackson Stone's mystery partner. At Night of Champions, Stone's head smashed the ring apron while Brandon X of Meat N Taters had Stone in a fireman's carry that led to Stone going through a table. Jackson Stone now has a chip on his shoulder because of the injury he had. Stone and Blaze are looking to gain the Tag Team Championships in a regular match. Can Meat N Taters beat Blaze and Stone for the second time in a row, or will there be new Tag Team Champions?
Singles Match
Mavis vs Eddie KnoxXx
Mega Wrestling fans saw All Business hopeful, Mavis, in singles action for the first time against Beast Man during the pre-show at Night of Champions. Mavis has now made the main card but with a hand picked opponent from the head of All Business , Agent Aaron Bauer , Mavis doesn't have an easy task ahead. Mavis is facing off against former Tough Enough competitor, Eddie KnoxXx, who made his debut against Graham Wellington last month at Night of Champions. KnoxXx was asked about his upcoming match against Mavis and had this to say,
""Hey , I've got nothing but respect for Bauer and those guys, but this little dude, come on, I eat thicker steaks and clang bigger plates than him. Gonna have to rip him in half." 
5 Way Scramble Match
Daniel Winchester vs Brian Carson vs "The Mysterious" Movado vs Frankie Flynn vs Marion Fontaine
With the amount of talent in the MEGA locker room, MEGA has had to resort to multi person matches. Winchester and Flynn were on the same team last month in a Naughty or Nice tag team match while Carson was on the opposing side. "The Mysterious" Movado emerged victorious over the debuting "Super Cop" Dick Justice narrowly surviving a mid ring light saber battle. Marion Fontaine makes his return.
Triple Threat for the Fighting Spirit Championship
Kelly Klein (c) vs Jess Roisin vs Angeldust
Kelly Klein makes her return to defend her Fighting Spirit Championship in a Triple Threat match. Kelly Klein formerly known as Mary Elizabeth Monroe underwent a name change after competing in Ring of Honor's division, Women of Honor, under the name of Kelly Klein and is asking to be known as Kelly Klein now. Angeldust defeated Heidi Lovelace back at Night of Champions and since she defeated Lovelace she had earned a title match. This match does come with a surprise though, Championship Committee member Vic Travagliante has thrown a curve ball adding in Jess Roisin.
Singles Match
Graham Wellington vs Hawaiian Lion
Graham Wellington has had an up and down 2015 , with becoming the first Infinity Champion but to close out the year Wellington lost the title to Derek Direction in October and last month at Night of Champions he lost to the debuting Eddie KnoxXx. Wellington needs a win here but it will not be an easy task to accomplish. Hawaiian Lion is a highly decorated All Japan Pro Wrestling star looking to make his mark again. Hawaiian Lion is a former tag team partner of both Tayio Kea and The Great Muta. Both of these men are loved by the fans and excellent in the ring, you can expect 100 percent from both of these competitors.
Singles Match for the Mega Championship
"Amazing" N8 Mattson vs Seth Allen
Last Month, Alex Daniels was unable to compete against N8 Mattson. Agent Aaron Bauer made a negotiation with Dr. Daniel C. Rockingham that eventually resulted in Mattson running the All Business Gauntlet including ; Dirty Tom, Sodapop Johnson, Mavis, and Agent Aaron Bauer. Seth Allen is another competitor making his return to MEGA, hoping to finally be the man that defeats N8 Mattson. Allen has competed against guys like Brodus Clay and Alberto Del Rio, that might give him the edge he needs to defeat Mattson. Can N8 Mattson retain his championship? Will Seth Allen end the reign of "Amazing" N8 Mattson?

NEO Sports Insiders Newsletter
Sign up to receive our NEOSI newsletter, and keep up to date with all the latest Cleveland sports news.