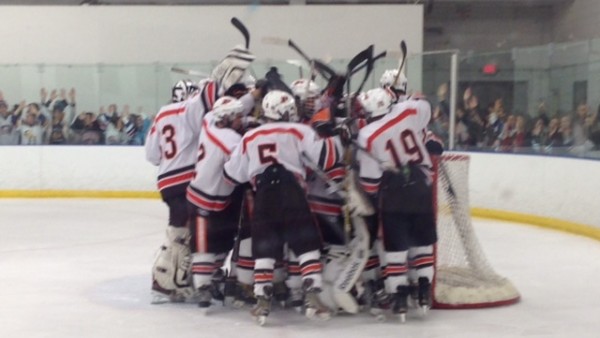 Brooklyn, Ohio – #3 Padua faced off with #6 North Olmsted in the last District Quarterfinal matchup on Saturday evening.
It was a close contest early on, but Padua pulled away in the final two periods to defeat the Eagles 3-0.
It was a back and forth first period, but neither side could get on the board. Padua attempted nine shots to North Olmsted's four and the teams would enter the first intermission in a scoreless tie.
Michael Platten finally broke through for Padua six minutes into the second period, scoring off a deflection to give the Bruins a 1-0 lead.
Geremy Davison added onto Padua's lead with 39 seconds remaing in the second period, giving the Bruins a 2-0 advantage entering the final period.
1:25 into the third period, Davison scored his second goal of the night to make it 3-0.
Padua Goaltender Lynsey Wallace held on for the shutout and the Bruins would come away with a 3-0 victory.
North Olmsted's season ends with an impressive record of 25-6-0.
With the win, Padua advances to play #2 St. Edward's in the District Semi-Finals on Wednesday, March 2. Face-off is set for 7 PM.