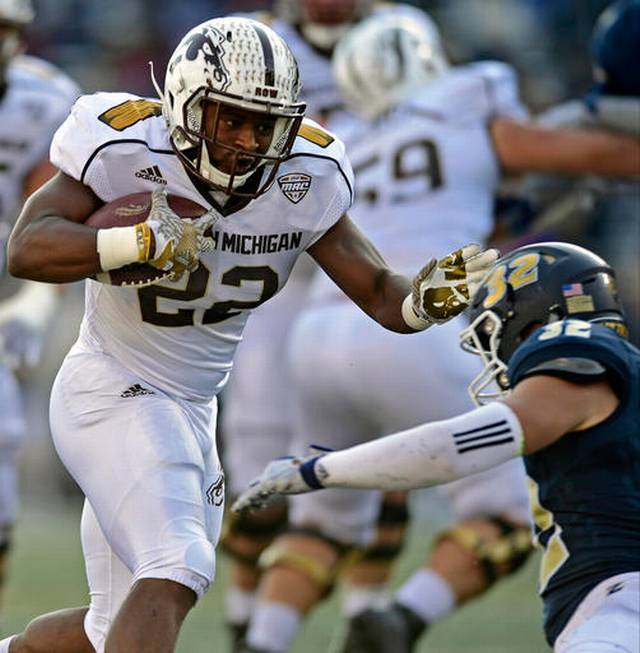 By: Marko Janjetovic
AKRON, Ohio – The start to another Akron football season is right around the corner and the Zips are hoping to make a splash in the Mid-American Conference this year. After going 3-5 in the conference with a 5-7 overall record, the Zips had an average season last year, but they'll be looking to improve upon last year in hopes of making it back to a bowl game this season.
The Zips have been consistently average over the course of the last four years. They've won at least five games every year since 2013, a year after Coach Terry Bowden took over the program. That's not great, but it's better than being bad.
Bowden's stint in Akron has included an 8-5 campaign in 2015 where they played in their first Bowl game since 2005. They played in the Famous Idaho Potato Bowl where they beat Utah State, 23-21.
For Akron, this season starts and ends with quarterback Thomas Woodson. The senior quarterback is coming off of a solid statistical season where he threw for 2,079 yards and 18 TDs with a 60.3 percent completion rate.
Unfortunately, Woodson only played nine games due to a nagging shoulder injury that he suffered during the team's game against Appalachian State early on in the year.
Woodson played through the injury for most of the year and led the Zips to a 5-3 record before ultimately being replaced by backup Tra'Von Chapman due to the injury, who also ended up getting hurt. The Zips ended up losing their final four games and had Tyrell Goodman, a receiver, play quarterback for them, finishing the season on a sour note after a promising start.
Woodson had offseason surgery to repair his shoulder, but now his health is the team's biggest concern going forward.
There is promise for the 2017 season, but a lot of it depends on how well Woodson's rehab has gone and if he's able to stay healthy the entire season. If he can, Zips fans should be excited.
The senior quarterback has improved his play every year and will be looking to take the next step this season.
A problem does lie ahead of Woodson this season though, aside from his injury concerns. He's lost his top two wide outs as Jojo Natson and Jerome Lane left for the NFL. Natson and Lane took their talents to the Indianapolis Colts, and are once again teammates.
This leaves a hole in Woodson's receiving corps and will make it more difficult to score points on offense. Natson and Lane combined for 121 receptions, 1,855 yards and 16 TDs last season. Natson was second team All-MAC on offense and Lane was third team.
Someone will have to fill in and make up for that production this season.
That production likely won't come from just one or two players, but from a balance of multiple guys. Tra'Von Chapman was moved to receiver by Bowden in the offseason and could become one of Akron's go-to receivers in the absence of Natson and Lane.
Austin Wolf, A.J. Coney and Kwadarrius Smith are the teams' top three returning receivers from last year with a combined 870 yards receiving and seven TDs. These three will be expected to step up this year and make some plays in order for the Zips offense to be any good.
The ground game was all right last season, as senior Manny Morgan and Junior Van Edwards Jr. combined for 952 yards but only three TDs. Neither guy was really your typical work horse with Morgan carrying the ball only 81 times, while Edwards carried it 100 times.
With there being potential for a struggling passing game, these two returning tailbacks may be leaned on for some more production. With another year of experience under their belt, this shouldn't be too big of a task.
One bright spot for Thomas Woodson is that four of his five offensive linemen are returning starters from last season. If they do their job right, the hits on Woodson should be limited, thus keeping him healthy throughout the year, which in result gives Akron the greatest chance of success.
Just like the offense, the defensive unit has quite a few questions surrounding the group. Junior linebacker Ulysees Gilbert III had an outstanding season last year as he recorded 122 total tackles (11.5 for loss) and four sacks en route to a spot on the First Team All-MAC defensive team.
Gilbert was the team's defensive MVP and will anchor a unit that consists of some returning guys, such as sophomore Alvin Davis, who led the secondary in tackles, as well as a few transfer players.
When it comes to the defensive end position, only Senior Deon'Tae Moore returns, with the top three ends from last season gone. Along with those three gone, the defensive unit will also have to replace their top three corners. Sophomore Kyron Brown looks to be the leader in the secondary.
How good Akron's defense is this year will depend on how well the transfer players mesh with the guys who are returning from last year, but there is potential for this group.
Akron's special teams group boasts some success as Third Team All-MAC offense kicker Tom O'Leary will return this season. Last year O'Leary made 10-of-11 field goals and 39-of-42 extra points.
Van Edwards Jr. is a good return man for the Zips special teams unit as he averaged 23.8 yards per return last season.
Going into his sixth season as the Akron head football coach, Bowden will likely expect a bounce back year from his team in order to get back into bowl game contention.
If Thomas Woodson can stay healthy, one or two of the aforementioned receivers manage to step up for the offensive unit, and the defense meshes well, Bowden could be looking at one of his most successful seasons as Akron's head coach.
There are a lot of "ifs" surrounding this team, but there is potential for a successful season. Zips fans should be excited for the season to get underway.
The Zips will begin the season by traveling to Penn State on Sept. 2 to face the Nittany Lions.

NEO Sports Insiders Newsletter
Sign up to receive our NEOSI newsletter, and keep up to date with all the latest Cleveland sports news.