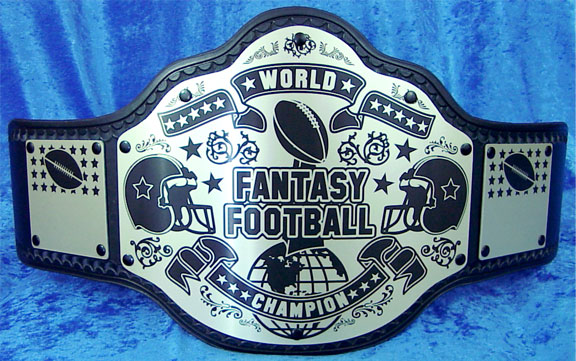 Our fantasy football tip series continues with day four's tips:
31.) For Auction Drafts, Nominate Players You Don't Want Early
For those that do auction drafts instead of snake drafts, nominate players you don't want early. It's a strategy that I love to do. In terms of auction drafts, money is everything. If you can cause somebody to spend more money you stand to gain from it. In order to do that, I always nominate a top player that I wouldn't want on my team for the first several rounds. Typically I'll nominate an injury prone player like Arian Foster or somebody I think will have a down year. I nominate him for one dollar. If everybody else like me doesn't want him, then I gained a high potential player for literally nothing.
The chances of that happening are about 0.001%. Instead what happens is everyone bids against each other and drives up the price until somebody takes a significant ding in their pocket and one less player that I didn't want is gone. This leaves me with a better chance to have the best bid for a player I do want in the future. By nominating players I don't want, I hurt everyone else's budget while saving my own and I can control who goes to the bidding block on my turn. Never put your sleepers up early either because people are more aggressive early on so that player can go for more money now than nominating them a couple rounds later.
32.) Don't Be Afraid To Wait In Auction Drafts
A lot of times people spend big right off the bat for these auction players. Top guys sometimes will go for 50% of someone's budget. The more money you have later on means the more flexible you can be it outbidding people. Directly comparing how much money you have left to spend compared to the others will tell you how aggressive you can be. A lot of times I'll wait in drafting. I think one time I went six rounds without a player but created a super deep team that won the league because I was able to outbid everyone else for those third tier players.
While I didn't have WR1, I did get something like WR20, WR21, WR23, and WR25 while the other person would get WR1, WR30, and WR40 because they couldn't get those other guys since they spent all their money in the beginning. So while WR1 put up big points, the others did not. I was able to play the best matchups and got production from all my players every week. Each person can have their own strategy but I tend to sit back and nominate the guys I don't want and let the others overbid early on while sitting back waiting to pounce on those mid round guys I think can have big years and be able to play the best matchups each week.

NEO Sports Insiders Newsletter
Sign up to receive our NEOSI newsletter, and keep up to date with all the latest Cleveland sports news.