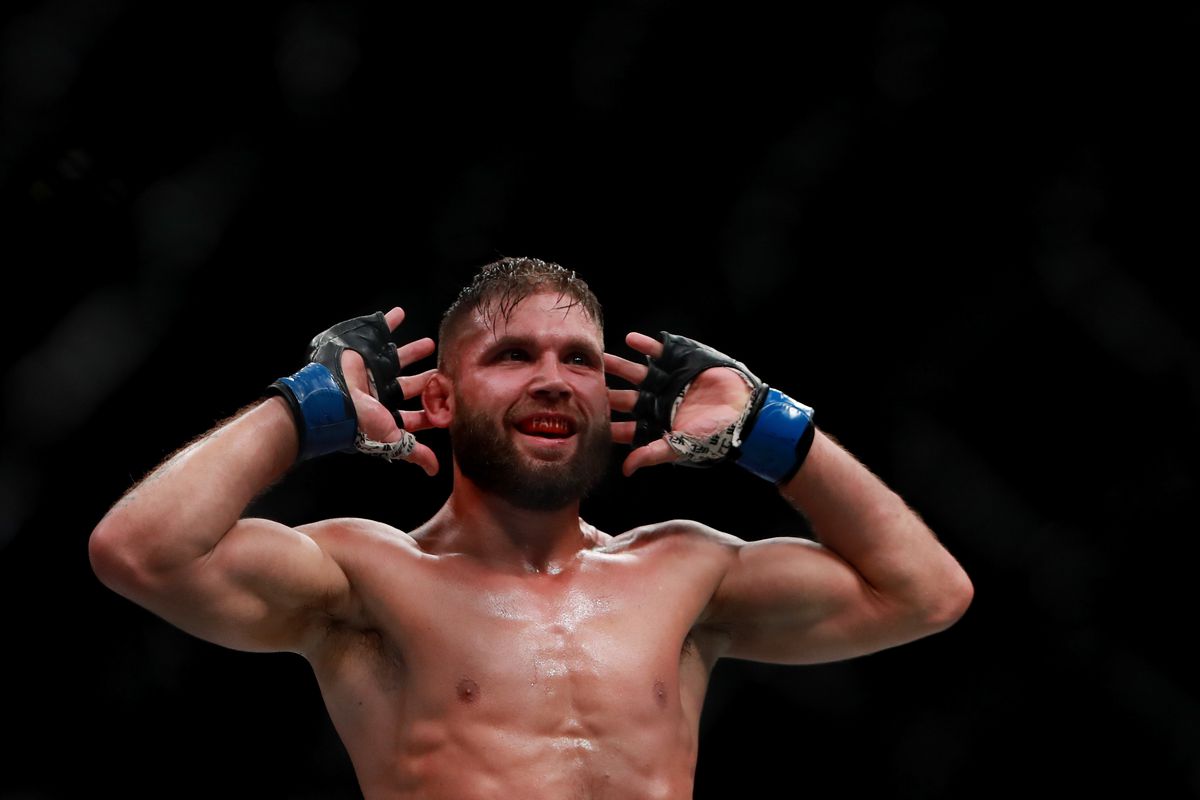 The UFC's latest card came from Orlando, Florida and besides the co-main event featured a lot of make-a-name-for-yourself type of fights. Max Griffin, Ilir Latifi, and Josh Emmett all were featured on the main card with Emmett main-eventing the night of scraps. It was a change of pace for the casual fans who are used to seeing big names up and down the card, as they were able to sit and watch some potential household names in the near future.
With that being said, let's get into three takeaways from the evening's festivities from Orlando.
1. Mike Perry's Hype Train Hits Speed Bump- It wasn't too long ago in the UFC when most fans and analysts were hyping up welterweight terror Mike Perry. The man known as "Platinum" was taking off heads left and right on his way to a ranking at 170-pounds. Unfortunately for Perry, luck hasn't been on his side as of late. Perry has dropped two of his last three fights after Saturday night's setback against fellow prospect Max Griffin. Perry's plan to take Griffin's head off during the clash never came to fruition and he was caught multiple times out of position. This allowed Griffin to strike and piece up Perry throughout the fifteen minutes of action.
Perry should try to avoid the style of fighting that fans enjoy, meaning he should fight less frequently than he is right no. Too many times a fighter gets his or her own momentum derailed by being too eager to get back into the cage. That mentality and strategy usually turns into a loss and leaves the fighter heading back to the drawing board.
Mike Perry is very talented and a dangerous fighter when fully healthy, so hopefully, he takes some time off and regroups properly.
2. Ilir Latifi Gets The Win, Takes An "L" Immediately After- Eighth-ranked light heavyweight Ilir Latifi had a huge night inside the Octagon, finishing fifth-ranked Ovince Saint Preux with a standing guillotine choke that put OSP out in the first round of action. Latifi caught Saint Preux with a devastating strike before following up on that with an aggressive mindset and assault with his fists that led to a submission opportunity. It stunned most fans in attendance due to the fight being in Saint Preux's favor, possibly setting him up for another big fight at 205-pounds. Instead, Latifi caused a shakeup in the division.
However, it must not have registered in "The Sledgehammer's" head during his call-out of current UFC Light Heavyweight Champion Daniel Cormier. Cormier is planning to take on UFC Heavyweight Champion Stipe Miocic this July and has no fights in front of that, as should be the case. But Latifi made it a point to request a fight with Cormier for the UFC Light Heavyweight Title or even a heavyweight clash if that presented itself as well. Cormier refrained from commenting on the situation initially before being poked to do so. Cormier said he would make rather quick work of Latifi and earn some easy money in the process.
One step forward, two steps back for Ilir Latifi tonight in Orlando.
3. Lil' Heathen Shuts Down Emmett But Leaves Featherweight Division Muddled- Jeremy Stephens had an impressive back-and-forth scrap with Josh Emmett in the main event of UFC Fight Night: Orlando in which he finished the fourth-ranked featherweight in the second round with a brutal right hand to start off a vicious sequence. It helped lift Stephens to back-to-back victories in the UFC and quite possibly started to earn him some more recognition. But there's a few problems.
For starters, Stephens appeared to land illegal elbows to the back of the head and a knee while Emmett was grounded. That raises some questions on if Stephens would have been able to do it without the illegal strikes. Secondly, calling for a title shot with just having an above .500 record is not ideal and certainly not smart. In the era of bold call-outs, Jeremy Stephens should take a step back and embrace a slow build.