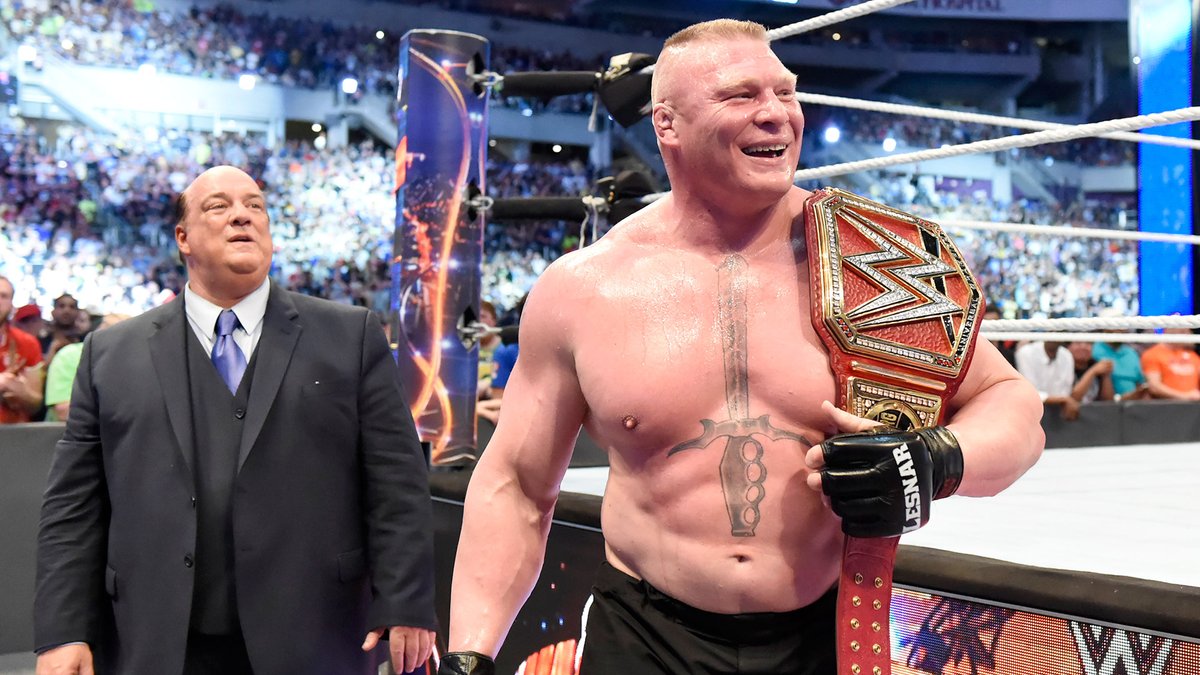 The WWE only get's a certain amount of Brock Lesnar appearances per year, per his contract.  They sure wasted one tonight.  Paul Heyman started off the show with a rather good promo, several times eluding to Lesnar leaving WWE soon for UFC.  He gave more then one innuendo about it.
While it was a great promo as Heyman pretty much foreshadowed Angle and the WWE pulling a "Montreal Screwjob" type of finish to keep the belt in WWE just in case Lesnar leaves for UFC (Kayfabe), it was a completely wasted appearance by Lesnar.  He did nothing in the entire segment except stand next to Heyman and grin.
Why would the WWE waste money on that little of a showing?  Not only that, ,but there was a good chance that Lesnar was already on a plane back home by the time the main event started.
To compound the puzzling question of it all, is not too much later in the evening it was a thrilling 3 Way Dance between Samoa Joe, Braun Strowman and Roman Reigns that tore down the house!
After the Reigns victory over Joe, it would only make sense that Lesnar would run out and lay out all 3 of his future opponents.  Sadly, Lesnar was nowhere to be found at that point, and as I referenced before, was more than likely already long gone from the building.
Granite, Jon Jones calling out Brock Lesnar after a victory over Daniel Cormier Saturday Night at UFC 214, had everyone talking, and the WWE more then likely wanted to take advantage of the buzz currently surrounding Lesnar right now.
However, it still seemed like a total waste.  Even more so of a waste then the pointless house shows he has done as of late as well.
As for his reply to the challenge, he decided to answer Jones through the Associated Press, simply stating "Be careful what you wish for young man".
Lesnar retired from MMA earlier this year due to his suspension following UFC 200, and he will not be able to actually compete in the octagon for at least six months as he needs to re-enter USADA's testing pool once he is no longer suspended.
However, some believe that the UFC Higher Ups may be able to make that suspension go away in time for UFC 217 in November at MSG.
Other news and notes that stand out from RAW
The Hardy Boyz defeat Anderson and Gallows – Wow, they have taken Anderson and Gallows and made them pretty much pointless.  Don't be fooled by the Hardy Boyz victory either, bad things are on the way, and they will become Broken very soon.

Ambrose refuses to trust Rollins, he will team with him, just not trust him.  This points to a surefire Ambrose heel turn.
The WWE is making Akira Tozawa into the next Stone Cold Steve Austin refusing to give up in the sharp shooter.  Only problem with that is Titus O'Neil is not over, and Tozawa doesn't have 2 percent of the charisma that Austin did.  205 Live is all but done, barely alive.
Jason Jordan is doing very well in his scripted interviews, let's see what else this kid has
One of the best Bray Wyatt promo's in awhile tonight.  No doubt about it, him and Balor have chemistry that he simply didn't have with Orton or Rollins, this is working!
Kalisto has gone from rising star to perennial jobber, all from one botched promo over a year ago.  Simply not fair.  Cool to see Elias Sampson get a TV victory.
Still a little shocked they are going with Bailey vs Bliss yet again, instead a rematch of Banks vs Bliss that could have stole the show at SummerSlam.
Cass went over Big Show by DQ, but then got knocked out.  None of this will matter once SummerSlam gets here and Show puts Cass over for good as anyone can seeing coming a mile away.
Some good things about RAW, some bad things and even a few great things.  The beat rolls on.

NEO Sports Insiders Newsletter
Sign up to receive our NEOSI newsletter, and keep up to date with all the latest Cleveland sports news.