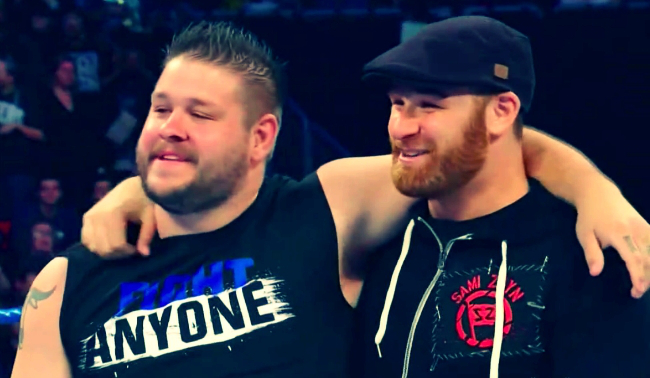 The WWE is just days away from their biggest show of the year as they present WrestleMania 34 at the Mercedes Benz Dome in New Orleans. This is the second time in five years the WWE will be bringing WrestleMania to New Orleans.
Last time around WrestleMania XXX provided several memorable moments such as The Undertakers streak ending and Daniel Bryan running the gauntlet to walk away the new WWE World Heavyweight Champion.
NEOSI is always on top of the action when it comes to pro wrestling and will be breaking down the action match by match leading up to the "Show of Shows" Sunday Night in the Big Easy.
Match – Daniel Bryan & Shane McMahon vs Kevin Owens & Sami Zayn
Summary – I don't think anyone anywhere would disagree that it is inspiring and heartwarming to see Daniel Bryan return to the ring. I think many, including myself would have loved a one on one match with Dolph Ziggler for his return, but the vaunted McMahon ego got in the way of that pipe dream, thus we have this match instead.
Daniel Bryan and Shane McMahon haven't exactly been best chums as of late, so they are going into this one against best friends a little shaky. Owens and Zayn have hit their stride, despite being currently "fired" from Smackdown. They are the top heels on the Smackdown roster and have earned the right to be in Daniel Bryans first match back.
Prediction – Kevin Owens & Sami Zayn
Reason – Vince McMahon always did like a challenge, and never did quite fall for Daniel Bryan when everyone else did. Expect Vince McMahon to turn Daniel Bryan heel. Nothing says challenge or stupidity like taking the most over superstar in 10 years and making him a "bad guy".
All signs point to a Shane McMahon and Daniel Bryan breakup, and this appears to be the perfect time to do it. Shane mentioned the beatdown to his father several times on Smackdown, this leads me to believe Vince will show up and incur a 3 on 1 beatdown with Shane already out of commission.  Thus, heel turn begins, complete with two underlings to help him destroy people.

NEO Sports Insiders Newsletter
Sign up to receive our NEOSI newsletter, and keep up to date with all the latest Cleveland sports news.