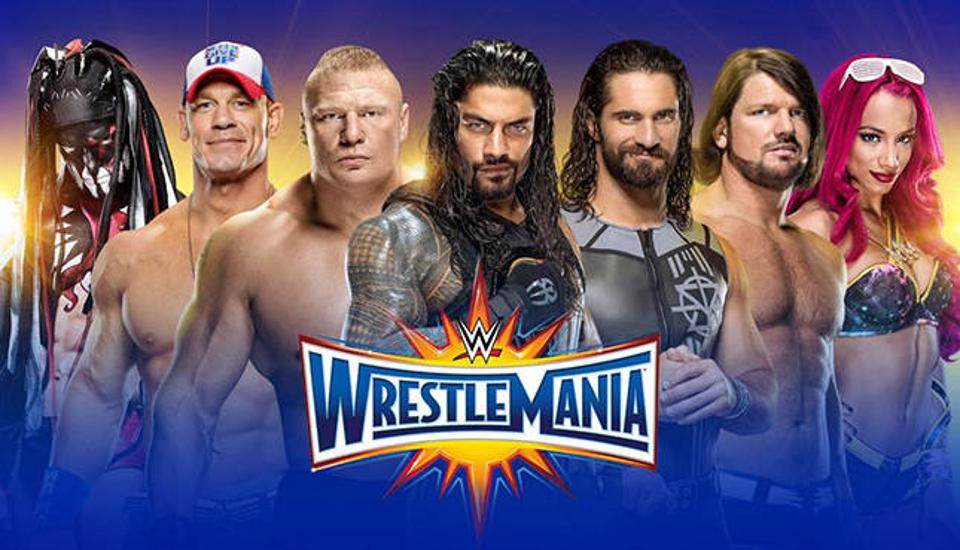 The biggest show of the year is upon us, WrestleMania 33 from Orlando, Florida.
While the excitement is off the charts, the sense of urgency is upon wrestling fans everywhere to get their picks in for the giant card.
Without a further ado, here are mine!  I took a couple of upsets, so please do not bet your house or car on them, maybe just a small pet or two!  All joking aside, this is the one card each year that is almost impossible to predict, so don't take these picks as law.
Good luck and enjoy the show!
WWE Cruiserweight Championship Match (Kickoff Match)
Neville (c) vs. Austin Aries
Analysis: Neville has worked hard to re-invent himself and it seems to be working.  He always had the talent, he just needed the edge and now he has it.  Aries has no big time performances, or any performance for that matter on the main card,  can't see him going over for a title in his first real match on the main roster.
Winner: Neville
SmackDown Women's Championship Match (Kickoff Match)
Champion Alexa Bliss to defend against all female SmackDown LIVE Superstars who are available to compete
Analysis: This could go several different ways, but with a returning Naomi just in time for Mania it is hard to pick against her.  However, in my blog earlier this week I predicted Bliss will be rewarded for her hard work ethic and commitment to improve.
Winner: Alexa Bliss
The Fourth Annual Andre the Giant Memorial Battle Royal 

Analysis:  Rather then go on some long tirade about how hard they have pushed Braun Strowman for the last year, and how it would be crazy to let anyone else win.  I will just state the obvious.  It won't be Dolph Ziggler as they never let him win. Thus it goes back to common sense on this one.
Winner: Braun Strowman
Intercontinental Championship Match
Dean Ambrose (c) vs. Baron Corbin
Analysis:  Baron Corbin is taking on the most popular wrestler on the Blue Brand.  They have slowly but surely pushed Corbin for a year straight going back to last years Mania.  A win over Ambrose would be the icing on the cake.  Ambrose continues to fall flat in big card matches.
Winner:  Baron Corbin
Raw Tag Team Championship Triple Threat Ladder Match
Luke Gallows & Karl Anderson (c) vs. Enzo Amore & Big Cass vs. Cesaro & Sheamus
Analysis:  Gallows and Anderson have that natural chemistry that is oh so important in a heel tag team.  I feel as though if Cesaro & Sheamus were to go over for the titles at WrestleMania it would have been over The New Day and it wouldn't have been rushed as it was earlier this year. With all that being said, the WWE has being waiting to push and promote their most popular tag team until the right moment, they have that now.  I will spell it out for you!
Winner: Enzo Amore & Big Cass
WWE Championship Match
Bray Wyatt (c) vs. Randy Orton
Analysis:  I list this match in this spot because I believe for some reason, it will be early on the card as WWE likes to split up their two World title matches.  With that being said, I expect a heel to go over, and for it to be Bray Wyatt with the assist from Luke Harper and a returning Erick Rowan to hang onto the title.
Winner:  Bray Wyatt
United States Championship Match
Chris Jericho (c) vs. Kevin Owens
Analysis:  This one will be great and more than likely steal the show.  What a classic grudge match.  It is so steep in hate that most people have forgotten that there is even a title on the line.  It is like the Mega Powers exploding all over again, okay not really, but still pretty good!
Winner: Kevin Owens
Raw Women's Championship Fatal 4-Way Elimination Match
Bayley (c) vs. Charlotte Flair vs. Sasha Banks vs. Nia Jax
Analysis:  Bayley has had a flat title run, with no signs of it improving anytime soon.  Nia Jax needs just a bit more seasoning before a title run and Sasha Banks is injury prone.  The clear and logical pick is the Queen of the WWE Women's Division and the PPV money player.
Winner: Charlotte Flair
SmackDown LIVE Commissioner vs. The Phenomenal One
Shane McMahon vs. AJ Styles
Analysis:  AJ Styles is the best pound for pound wrestler on the planet.  What a total waste of talent on the biggest show of the year.  If Shane wins, I may turn off my TV.
Winner:  AJ Styles
Non-Sanctioned Match
Seth Rollins vs. Triple H
Analysis: If Samoa Joe was in the Andre the Giant Battle Royal, I would pick Joe to win.  But to the best of my knowledge he is not, so he will be a key cog in this match, interfering and helping HHH pull off the upset win.  This in turn, will set off the Joe vs Rollins feud.
Winner: HHH
Power Couples Collide
John Cena & Nikki Bella vs. The Miz & Maryse
Analysis:  After the incredible year The Miz had, he deserves more then a mixed tag match at Mania.  Cena and Bella are both set to take time off for extended periods in the spring.  With that being said, they need to do the right thing here and lay down.
Winner:  The Miz & Maryse
The Phenom vs. The Big Dog
The Undertaker vs. Roman Reigns
Analysis: Roman Reigns had his World Title Reign cut short because he got popped for breaking the wellness policy.  Do you really reward this same "Guy" by letting him beat The Undertaker at WrestleMania?  According to rumors flying rampant about this being Takers last match and Reigns set to have a dominant year ahead, you let him win.  If the WWE really goes with Lesnar vs Reigns II at WrestleMania 34 next year, then this would help the storyline as they would be the only two guys to ever defeat The Undertaker at WrestleMania.
Winner: Roman Reigns
Universal Championship Match
Goldberg (c) vs. Brock Lesnar
Analysis:  Goldberg will win this very short match, less then 5 minutes in a shocker to close the night on a high note.  He will then lose the title to Lesnar the next night on RAW, setting up a year long title reign that will come to an end at WrestleMania 34 against Roman Reigns.  And how does Lesnar talk Goldberg into one more match on RAW Monday, simple, he does what everyone does, he puts his career on the line against Goldberg's title. 
Winner:  Goldberg

NEO Sports Insiders Newsletter
Sign up to receive our NEOSI newsletter, and keep up to date with all the latest Cleveland sports news.