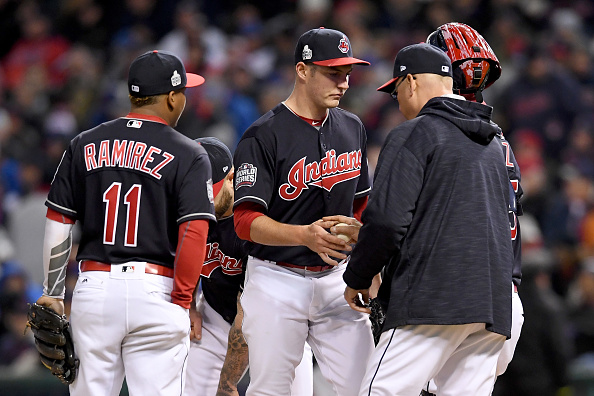 The Indians are looking to bring a title home to Cleveland tonight (after a stop in Las Vegas), and will have the chance to do so against Jon Lester, a pitcher the Tribe beat in the first game of the series.
The Tribe will counter with Trevor Bauer, who wasn't all that effective in the second game of the series, the only game the Indians lost as of now.
Here's some keys to the Indians hoisting their first World Series trophy tonight in close to 70 years.
1. Bauer's Control
For Trevor Bauer if he's going to be successful, he needs to have much better control than he did in game two, which he got into too many deep counts against Cubs hitters. He faced 18 batters on Wednesday, and in that process had to throw 87 pitches, an average of 4.8 pitches per batter. Expect the Indians pen to be up early if Bauer gives up some early hits or walks, and can't get his pitches over.
2. Salazar and Merritt to the Rescue
Danny Salazar threw an inning in the game two loss after Bauer was pulled, and I would expect him to be an option if Bauer isn't very good tonight. Another option would be Ryan Merritt, who was sensational in the fifth game of the ALCS against the Jays. With Bauer's hard throwing it would be interesting if using Merritt for an inning or two would change things up and be a good change of pace on the mound for the Indians.
3. Patience Against Lester
The Indians seemed to rattle Cubs starter Jon Lester early in game one with a pair of runs in the first inning, but the veteran pitcher seems to get better when he sees a team for the second time. He's seen a team twice in the postseason five times, and in the second starts of those series he's got an ERA of just 1.85. The Indians have to take some pitches early, hope to draw him in some deep counts, and hope that he makes a mistake or two like in game one.
4. Keep Playing Loose
If there's one thing the Indians have done this World Series (and during the playoffs period) it's play loose. They seem to be having fun and not playing with any pressure whatsoever. Last night you could sense Kris Bryant's throwing error on the Corey Kluber dribbler was a direct result of trying to make a play when he should have just held onto the ball. A ton of the Indians attitude goes to Terry Francona and what he's been able to do to keep this team loose. If they play like that tonight again, they have a great shot to get this thing wrapped up at Wrigley.

NEO Sports Insiders Newsletter
Sign up to receive our NEOSI newsletter, and keep up to date with all the latest Cleveland sports news.