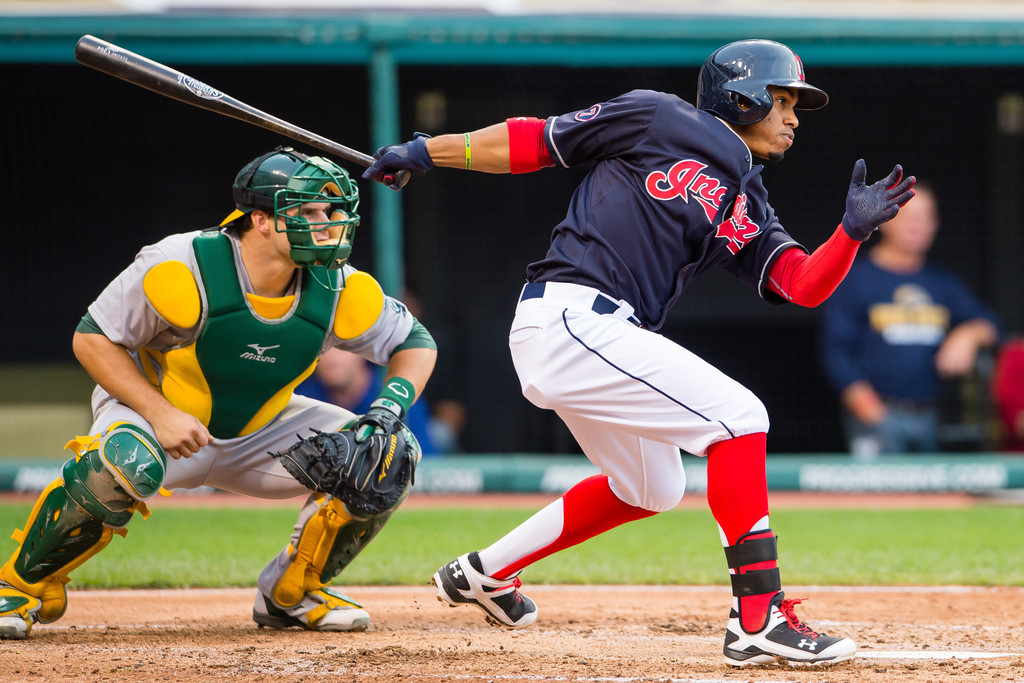 Now that the hot stove league has started, you can't watch or listen to shows about baseball without people talking about the Cleveland Indians trading all star shortstop Francisco Lindor.
We, of course, have stated many times that we would not be in favor of dealing the Indians' face of the franchise, preferring to sign one of the best players in the game to a long term contract.
We were wondering how many other star players were traded at age 25 while being one of the best players in the game?
We did come up with a few, although most aren't as good as the Indians shortstop, and we wanted to see what kind of return the player brought back. Mostly because most fans think the Indians would get three future all-stars in return.
The first case is Christian Yelich, who was dealt by Miami in 2017 after his year 25 season. Yelich hit .282 with an 807 OPS, and was signed through 2021 by the Marlins, so he differs from Lindor in that he wasn't coming up on free agency.
The top prospect Miami received was Lewis Brinson, who was Baseball America's 16th ranked prospect at the time. To date, Brinson has been a massive dud, with a career 531 OPS in around 700 at bats.
The best player Miami received right now has been pitcher Jordan Yamamoto, who was never a top 100 prospect. He was 4-5 with a 4.45 ERA in 15 starts last year.
Not a big return for a player who was MVP in the National League in 2018 and finished second last season.
Manny Machado was traded at age 25, but he was moved at the trade deadline before his winter of free agency, so it's not a good comparison. His value was lowered because the team dealing for him was getting him for a half season.
The only player moved from the Dodgers to Baltimore in the deal that has reached the major leagues yet is Breyic Valera (47 at bats with Toronto). Valera has gone from Baltimore to San Francisco to New York to Toronto.
Andrelton Simmons was traded following his age 25 season after hitting .265 (660 OPS).
He isn't anywhere near the offensive player Lindor is, but in the deal sending him from Atlanta to Los Angeles (AL), the best player the Braves received thus far has been Sean Newcomb (22-21, 3.87 ERA), who pitched out of the bullpen for the NL East champs this season.
The reason it is very difficult to find comps to this situation is most teams aren't looking to trade 25 year old superstars with two years left on their contract, they are looking to sign them long term.
It is a different situation if Lindor and his agent have told the front office they won't sign with the Indians under any circumstances, but we don't believe that is the case.
We wanted to point out, however, in reality, no team is going to empty out their farm system for Lindor, and if they do, there's no guarantee that the top prospects will turn out to be very good to great major league players.
Recently, you had the Bryce Harper (went to free agency) and Machado situations. Yes, Washington won the World Series this season, but it wasn't due to what they received for Harper.
And the Orioles appear to have received 20 cents on the dollar for Machado.
The Red Sox are said to be considering a Mookie Betts deal, but part of that is the luxury tax threshold and the other big contracts Boston has. If J.D. Martinez had opted out of his deal for 2020, Boston may not be looking to move Betts.
Yes, Lindor will become one of the highest paid players in the game. So be it. He's one of the best players in the game.
It may be a long time before another team is in this situation again.

NEO Sports Insiders Newsletter
Sign up to receive our NEOSI newsletter, and keep up to date with all the latest Cleveland sports news.