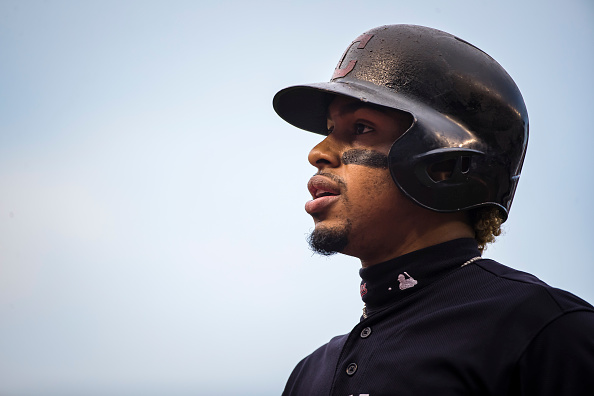 The Cleveland Indians have a massive elephant in the room. To date, they've only moderately addressed it.
Said elephant is the contract status of All-Star shortstop Francisco Lindor. With only two years of team control remaining on his deal, the pressure is starting to increase with Cleveland when it comes to how he and the team will move forward.
So far, the Indians have danced around this topic, insisting they expect him to be their starting shortstop in 2020, that they're seeing how things play out for now.
If you ask me, though, we've already hit the point where waiting this situation out is no longer a valid option. Whether it's a contract extension or a trade, figuring out which route they're taking with Lindor should be the Indians' main goal this winter.
On the surface, such a statement feels extreme. After all, Lindor doesn't become an unrestricted free agent until after the 2022 season. At the very least, Cleveland should hang on to him this season and make one last attempt to win a World Series before figuring out his future with the team.
Unfortunately, this is a luxury the Indians don't have. This is basically because delaying the decision doesn't make any sense, regardless of which way they want to go.
From an extension perspective, the biggest hurdle is the gap between what Lindor wants and what Cleveland thinks it can afford.
Lindor (rightfully) believes he's worthy of a massive extension, while the Indians (questionably) believe they're unable to offer that. It's a situation which has remained relatively unchanged for the past few years.
Knowing this, you have to ask – if Cleveland is still exploring its ability to extend Lindor, what would be the point of shelving that until next year?
The number Lindor wants isn't going down. Another All-Star season in 2020 is only going to pad that amount. Likewise, if the money he's asking for exceeds the Tribe's limits now, that probably isn't going to change next winter.
Lindor knows what he wants. The Indians can either meet that number or they can't. Now is the time to come to that conclusion.
Should Cleveland still be serious about an extension, it needs to figure out the exact amount Lindor is demanding. This isn't as simple as presenting a number the team feels comfortable with and seeing how he reacts. The Indians have to determine what it's going to take to keep him long term and explore what needs to be done to make that a reality.
If Lindor isn't giving exact numbers, Cleveland can use contract extensions other players netted last year as baselines. Offers accepted by Bryce Harper (13 years, $330 million) and Manny Machado (10 years, $300 million) ought to serve as accurate benchmarks, though my guess is Lindor will angle for a little more than that.
At the end of the day, if the Indians are still balking at those numbers, it's doubtful waiting until next offseason will result in a change of heart.
With that in mind, kicking the can down the road also hurts Cleveland if a trade is what the team decides to do.
Dragging this ordeal out any longer, and doing so with the knowledge that an extension is out of the cards, is basically just voluntarily damaging Lindor's trade value. With less years of team control comes less appeal for other teams to offer massive returns.
What the Indians can fairly demand in exchange for their star shortstop will only diminish from here. Dealing Lindor is going to result in significant fan backlash no matter when it happens. The only way Cleveland can curb this vitriol is getting the best possible returns.
This isn't something the team can do next winter, or even at this season's trade deadline.
As you can see, waiting hurts the Indians no matter what they want to do with Lindor. It'll cause his monetary value to increase if they're hoping to extend him, and his trade value to drop if their intention is to move him.
So, despite the fact Lindor still has a couple more seasons of team control remaining, the real time to decide his fate has already arrived. Cleveland either needs to get serious about an extension, or it needs to start working the trade market.
Waiting any longer will only backfire for the Indians, regardless of which direction they're leaning.

NEO Sports Insiders Newsletter
Sign up to receive our NEOSI newsletter, and keep up to date with all the latest Cleveland sports news.