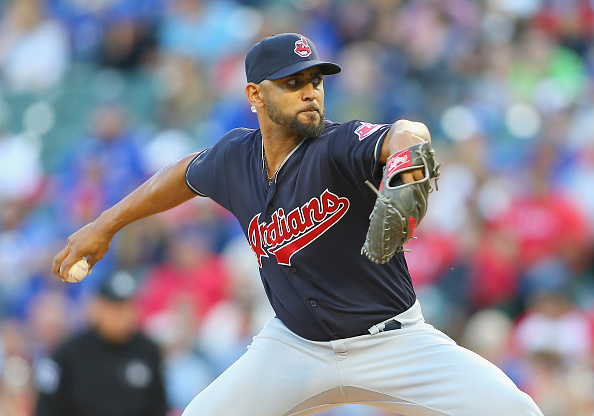 Danny Salazar is just 29 years old, a Major League Baseball player who should be entering the prime of his career.
Instead, the starting pitcher is waiting for what's next in his career, one that has had nothing but speed bumps since almost the moment he was named an American League All-Star in July of 2016.
That season, the same season that saw the Indians get to game seven of the World Series, Salazar was 11-3 after going 6.2 against the Royals, allowing two earned runs in an eventual Indians 7-3 victory.
It seems like since then all Indians fans have been waiting for is for Salazar to return back to form, as the last three seasons have been as frustrating as ever waiting on the promise of a pitcher the franchise had such high hopes for.
Fast forward to August 1st of this season, Salazar was, for the first time since September 27th of 2017, back on the mound as a starter, getting another opportunity to fulfill that promise that as a pitcher fans had been anxiously waiting for.
That night against the Astros, Salazar went four innings, allowing two runs on four hits, but left the game after he said that he suffered a groin injury that stopped him from pitching over 88 miles per hour.
The rest of the season seemed like setback after setback, as he ended up asking the team if he could have some time away, going back to Tampa.
So here we sit, now with the Indians deciding that Salzar is a free agent, this after paying him $4.5 million last season for numerous rehab starts and one start at the Major League level.
Will the Indians take a chance and try to bring him back one more time, paying him a LOT less this time (think between $1 and $2 million)?
The Indians know Salazar better than anyone, and if they think that he can even remotely reach the form of 2016, than to them it could be worth taking a chance.
On the other hands, it's feeling a lot like the situation years back with outfielder Grady Sizemore, who the team stood by as they waited for him to come back time after time to hopefully reach the form he had when he was a superstar, like in 2008 when he hit 33 homers with 90 RBI.
They waited on Sizemore through all the injuries through 2011, and finally decided they could no longer wait for him to be that same player he was during his All-Star years.
Now they come to a similar situation with Salazar. Paul Hoynes of Cleveland.com says that the team is 'worried' that Salazar could ink with another team and find that All-Star form.
It's crazy to think the Indians would bring Salazar back thinking that he could reach that form, but again, they know him better than anyone.
It will be interesting to see if the team does bring him back, or if they do what many fans think they should – let him walk and use the money towards another player who clearly deserves it.

NEO Sports Insiders Newsletter
Sign up to receive our NEOSI newsletter, and keep up to date with all the latest Cleveland sports news.