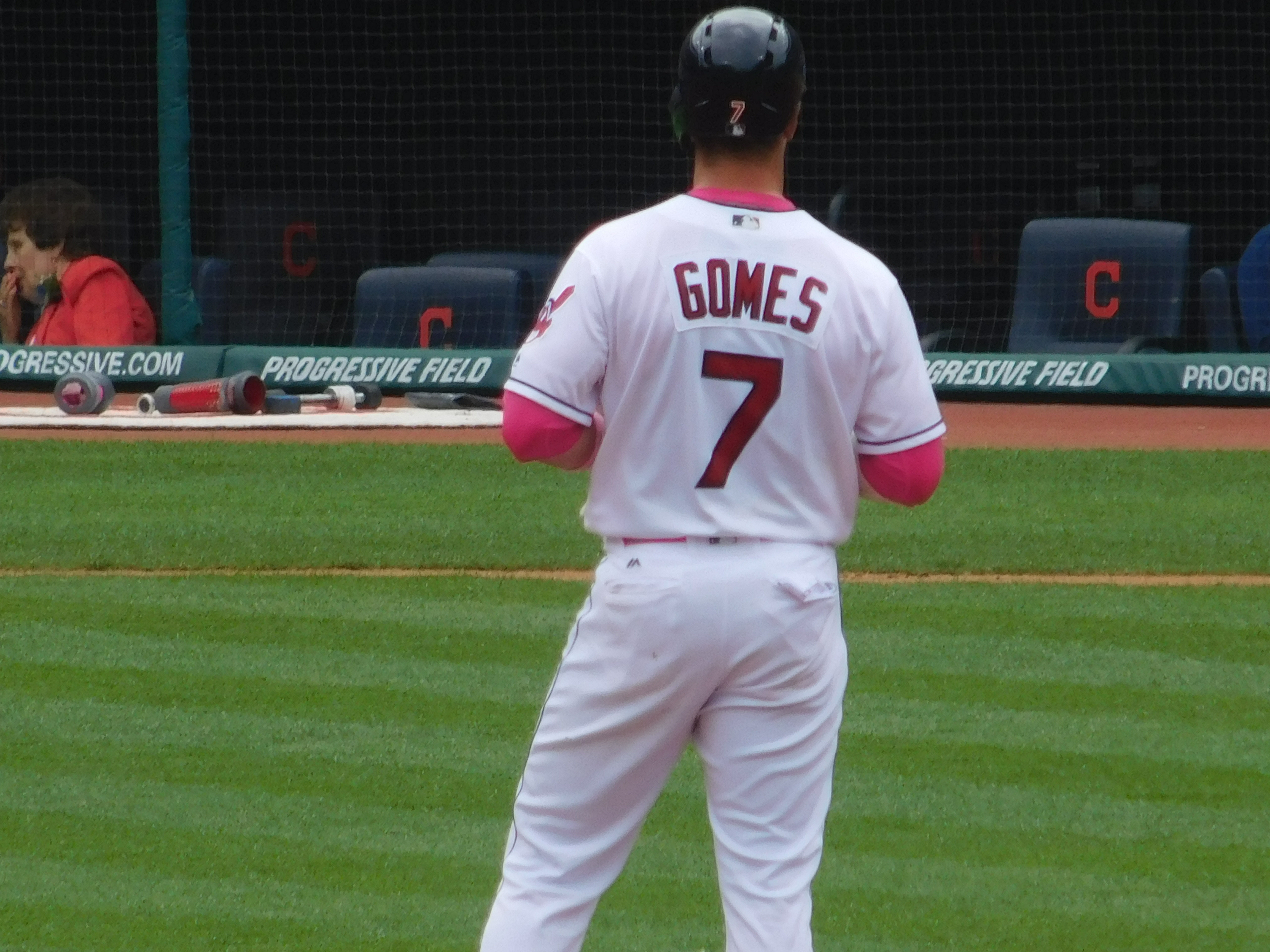 CLEVELAND– When manager Terry Francona went to the mound to make a pitching change in the eighth inning of Saturday night's game against the New York Yankees, he had what Yan Gomes thought at the time was a prophetic message with the Tribe down 5-4.
"(Gomes) was hitting third and I said 'You're gonna have a good at-bat,'" Francona said. "And he just looked at me and I said, 'Just wait, you're going to have a good at-bat.'"
As Gomes stepped into the batter's box, he found out why his manager said that in the previous inning— the team announced that the former Silver Slugger had been named to his first career All-Star Team.
What followed for Gomes, however, was not any late game heroics, but a three-pitch strikeout.
"I wanna say it was probably the happiest strikeout I've ever had," Gomes said. "It was the weirdest feeling walking back. … I don't think I've ever been that emotional in an at-bat before. I'm not gonna lie it was kind of hard to get back in the box. I tried to kind of focus in there but it didn't quite work out."
The Indians went on to lose the game 5-4 as they were unable to put together a late rally. However, the way his teammates reacted in the dugout when news broke that Gomes was heading to the nation's capital, you wouldn't have even known they were down.
"We kind of erupted in here as if we had just tied the game when we saw it," starting pitcher Mike Clevinger said. "So that speaks volumes for what he's done, for not just me, but for every pitcher in here and just being a good teammate all-around. And just what he brings to the table, especially putting up with me and (Trevor Bauer) has gotta be worth something."
Through the 2018 season so far, Gomes is slashing .251/.312/.244 with 31 RBI, 10 homers and 27 total extra-base hits. He will be the first Indians All-Star catcher since Victor Martínez in 2009. The Indians now have six All-Stars for the first time since 1999. This ties them with the reigning World Series champions, the Houston Astros, for the most All-Star selections in Major League Baseball.
Gomes was named to the team due to a left hamstring injury that Tampa Bay catcher Wilson Ramos suffered on Saturday against the Minnesota Twins. Ramos, a former Washington National, was slated to start the game for the American League team. But as news broke that Ramos would be inactive on Saturday, rumors began to swirl that Gomes would be his replacement.
While Gomes was aware of Ramos' injury, he didn't let his mind start to wander to the possibility of being named to the AL squad. But now, after calling his family, Gomes is going to have to adjust the plans he had for the break.
"I was going to the beach," he said. "but if I have to change my plans I'm fine with it."

NEO Sports Insiders Newsletter
Sign up to receive our NEOSI newsletter, and keep up to date with all the latest Cleveland sports news.